Dominant Opening Night for the Fillmore Flashes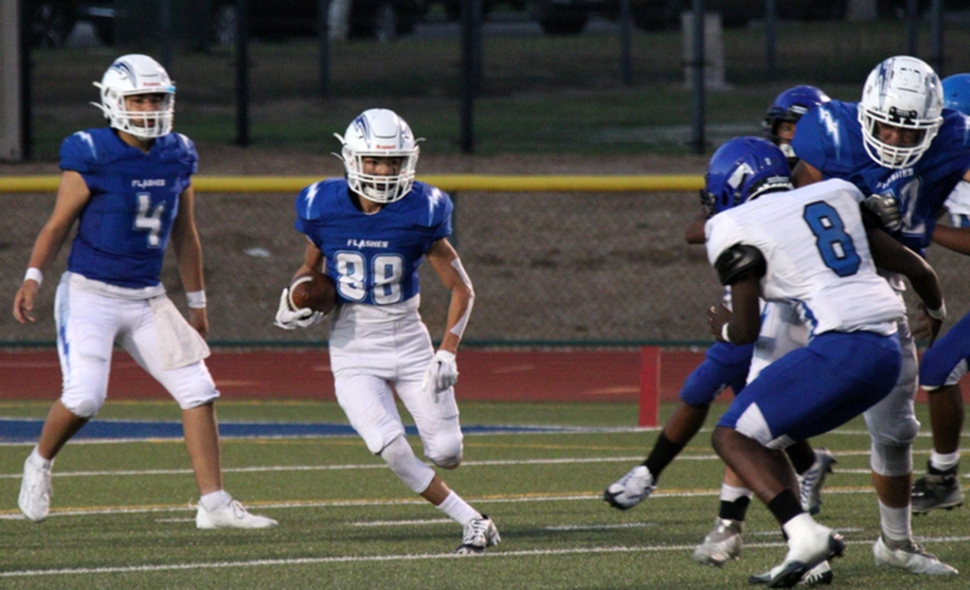 On Friday, August 19th, Fillmore Flashes Varsity kicked off the 2022 Season defeating the California City Ravens, 49–0. Pictured is Flashes #88 running the ball up the field for an 85-yard touchdown in Friday's game. Photos credit Crystal Gurrola.
By Gazette Staff Writers — Wednesday, August 24th, 2022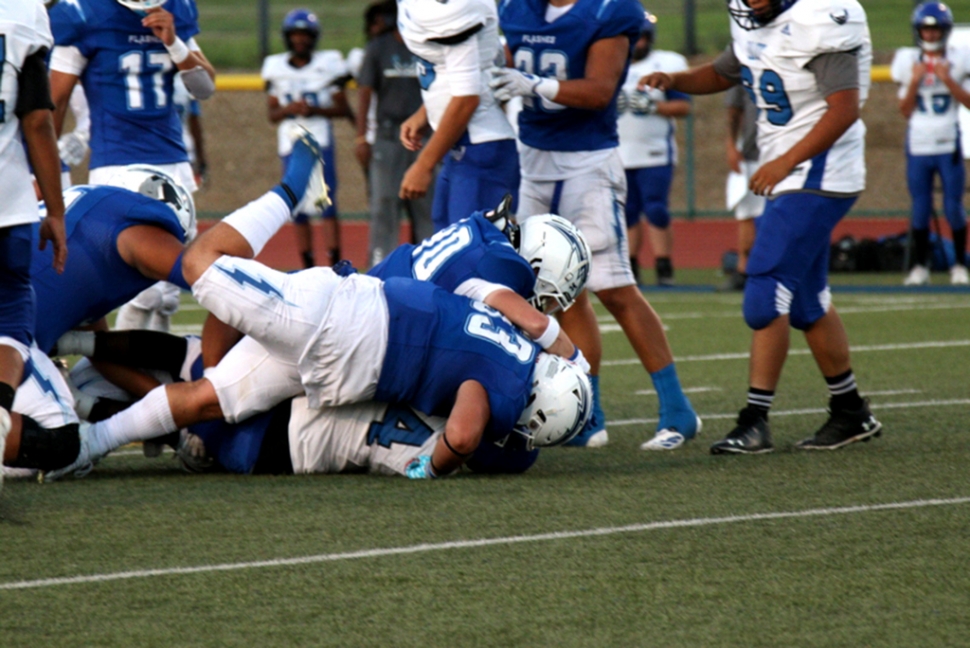 Courtesy Head Football Coach Charlie Weis
Last Friday the Flashes opened their season with a resounding 49-0 win over the visiting California City Ravens. Sparked by touchdown receptions by Jarod Uridel and Nate Delgadillo, the Flashes shocked their opponents with 28 unanswered points in the first quarter.
The defense played an impeccable game holding the ravens to under 100 total yards of offense and earning the only shutout in Ventura County. David Jimenez led the team with 8 tackles while Matt Pineda and Diego Alcaraz forced turnovers in the first and fourth quarters.
Six different Flashes scored touchdowns including Nate Torres, David Jimenez (two), Matt Magana, Jarod Uridel, Nate Delgadillo, and Josiah Cruz. The team totaled 416 yards of offense with 276 rushing and 140 passing yards. Sophomore Quarterback Anthony Tafoya finished his first Varsity start with 140 yards passing and 2 touchdowns. Returning All-County and All-League TE Jarod Uridel picked up where he left off last season with 4 receptions for 84 yards and a touchdown. Senior RB Nate Torres rushed for 127 yards and a touchdown including an electric 83-yard rush to the endzone. Junior David Jimenez added 66 yards on the ground and 2 touchdowns. Senior Matt Magana also took a 33-yard rush to the endzone while going 7 for 7 on extra-point kicks.
The Flashes are excited to continue their season this Friday at John Burroughs high school in Burbank with JV kicking off at 4pm and Varsity at 7pm.