Detectives Seeking Public's Help in Identifying Suspect in Fillmore Residential Burglary
By Ventura County Sheriff Department — Monday, June 9th, 2014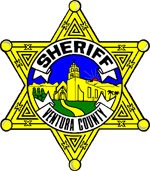 Ventura County Sheriff's Department
On 06/05/14 at about 10:35 A.M. a Fillmore resident was home when a burglar forced entry into the home and surprised her. The burglar was surprised himself to find the resident inside and fled the residence.
The events unfolded when an adult female resident (victim) living in the 1400 block of Cottonwood Ln. was home. The victim heard a knock on her front door. As she made her way to answer the door, she saw a stranger (suspect) walk into the hallway of her home. The victim was surprised and screamed. The suspect saw her and ran out of the house. He was last seen getting into a dark gray 4-door sedan with tinted windows. Nothing was stolen and nobody was injured in the incident. A subsequent investigation revealed the suspect entered the residence by forcing open a bedroom window.
The suspect is described as a light skinned male Hispanic in his early to late teens. The public is urged to contact the Ventura County Sheriff's Office with any information related to this case.
Nature of Incident: Residential Burglary
Report Number: 14-12851
Location: 1400 Block Cottonwood Ln. Fillmore, Ca. 93015
Date & Time: 06/05/2014 @ Approximately 10:35 A.M.
Unit(s) Responsible: Patrol / Detectives
(S)uspects, (V)ictims, (P)arty, (D)ecedent City of Residence Age
(S) Unknown male Hispanic Unknown Unknown
Prepared by: Detective Taurino Almazan
Media Release Date: 06/06/2014
Follow-Up Contact: Detective Taurino Almazan @ (805) 524-2233
Approved by: Captain Mark Franke
Ventura County Crime Stoppers will pay up to $1,000 reward for information, which leads to the arrest and criminal complaint against the person(s) responsible for this crime. The caller may remain anonymous. The call is not recorded. Call Crime Stoppers at 800-222-TIPS (8477).