Deputy Russell Grant, Officer of the Year and Tyler Hackworth, Santa Clara Valley Explorer of the Year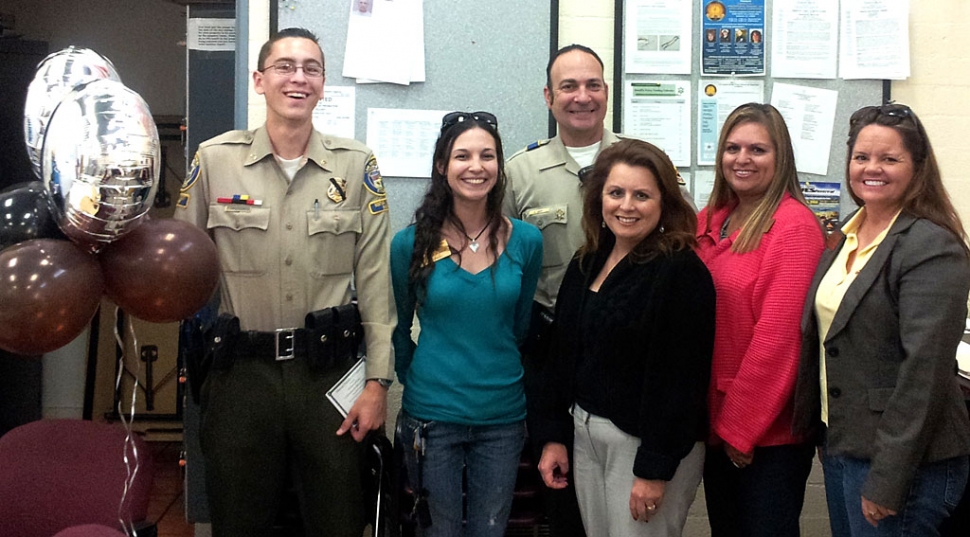 Tyler Hackworth and Deputy Russell Grant
By Gazette Staff Writer — Wednesday, March 27th, 2013
Fillmore Chamber of Commerce would like to congratulate Deputy Russell Grant for receiving Officer of the year for 2012. We appreciate all you do for our community.
Deputy Russell Grant is a native Californian, born in Canoga Park, California. He is married to his wife Lynda for 18 years this October and they live in the city of Simi Valley and have 4 children: John 12, Alyssa 16, Justin 24 and Christy 29. Lynda Grant has been a Registered Nurse for 20 years and is currently employed by the Simi Valley Hospital Aspen Surgery Center.
Russ was selected for this award by his peers and supervisors from the Santa Clara Valley Substation. Russ is a 13 year veteran and has worked a variety of assignments with the Sheriff's Office:
Dep. Grant graduated from the Ventura County Criminal Justice Training Center in July 2000 (Class 2000-1).
Dep. Grant's first assignment, as is the case with our deputy sheriffs was in our Detention Services Division. He worked as a security deputy at the Todd Road Jail in the unincorporated area of Santa Paula. Shortly after he successfully completed jail training, Dep. Grant transferred to our Court Services Bureau in Ventura and worked there from September 2001 - August 2002. He then transferred back to the Pre-Trial Detention Facility where he was selected to work the Classification / Risk Assessment assignment. This position is for those deputies that have shown the skill and desire to learn more about gang culture, narcotics trafficking, and maintaining the integrity of intelligence information. He worked in this assignment until he was transferred to patrol in 2009.
In August 2009, Dep. Grant was assigned to the West County Patrol Station of the Santa Clara Valley - Fillmore Police.
Although only in the Santa Clara Valley Station just shy of 4 years, Dep. Grant has been a great addition to the entire station. Several of his supervisors praised Russ for his work ethic and enthusiastic attitude toward police work:
The following are just some of the comments from Dep. Grant's peers and supervisors made that reflect his dedication to police work and to the community:
Dep. Grant is well respected by his peers and has a strong work ethic where he genuinely cares about the community he patrols. He is assertive without being overbearing. His knowledge and maturity make him a great role model for newer deputies.
Dep. Grant is effective in dealing with the public; victims, witnesses and suspects. His maturity is a plus in this area as he effectively communicates with all in the community. As such, he commands respect; a necessity to effectively do his job. Deputy Grant possesses the technical skills to effectively handle most patrol calls he is assigned to investigate. Dep. Grant, when possible, takes that extra investigative step to help detectives solve crimes. He also serves as a resource to the newer less experienced deputies for advice and guidance in patrol functions. As such, Dep. Grant has a wealth of information about the known offenders within the city and he readily shares this information. He never hesitates getting involved and maintains a high arrest rate.
This past year, Dep. Grant was commended for a series of vandalism crimes that had occurred within the city of Fillmore. He sought out the victims, did not wait for the calls for service to be generated, collected evidence, knew who to network with to identify the suspects, arrested the suspects, interviewed them, and secured confessions. Graffiti cases are usually the most difficult crimes to solve and to obtain confessions as he did was the key to the prosecution.
Additionally Dep. Grant has been involved in a number of significant calls for service involving critical incidents such as the murder / suicide scene on Father's Day last June in the unincorporated area of Santa Paula. He maintained composure, was organized, and demonstrated great teamwork with the massive incident.
On another incident he maintained a watchful eye on the area that a fleeing car thief might be en route, and his actions ultimately lead to the successful capture and arrest of the suspect. Dep. Grant, given his work on the case, became the overall case agent.
On a recent shooting in Fillmore, he directed the crime scene preservation from the onset and secured the scene as many people surrounded the area. Dep. Grant truly understands the important role he has as a peace officer and his dedication to the citizens of the Santa Clara Valley is unwavering.
Lastly, Dep. Grant is a field training officer, academy certified instructor, CalGRIP gang officer and a solid street cop. Dep. Grant is a true asset to the Ventura County Sheriff's Office and has become a valuable patrol deputy within the city of Fillmore.
***
Fillmore Chamber of Commerce would like to congratulate Tyler Hackworth for receiving Explorer of the year for 2012. We appreciate all you do for our community.
Tyler Hackworth is currently a senior at Fillmore High School where he has achieved a GPA of above a 3.5 throughout his high school career. He also received many academic acknowledgments including the High School Renaissance Award along with the District Award for Academic Excellence each year. He is the oldest of three other siblings, Ashley, Brandon, and Brooklyn. His proud parents are Debra and Bryan Hackworth. Getting ready to leave high school and go to college, he has been accepted to UC Merced, UC Santa Cruz, and UC Irvine as well as may other colleges. He is also currently in the late stages of the acceptance process for the Air Force Academy and has received recommendation from Congressmen Elton Gallegly.
On top of his academics, Tyler is also an avid runner. He has been a part of the high school's track and cross country team throughout his academic career and has earned additional recognitions including the outstanding Hurdle Award and has been given the title of the team's top hurdler.
Tyler has been in the Ventura County Sheriff's Office Explorer program since the revival of the Santa Clara Valley Explorer Post in 2010. Since that time he has volunteered for many community orientated details such as the annual Fillmore May festival, Fourth of July festivities, as well as the Christmas Toy Give away. He has dedicated over 600 hours of his own time to help not only Fillmore, but Ventura County as a whole. He also competed in several competitions over his Explorer career and has helped the Santa Clara Valley Explorer Post win several awards for excellence in a variety of specialty events. Most recently, Tyler has been promoted to the rank of Explorer Sergeant, the second highest rank in the Santa Clara Valley Explorer Post, due to his leadership and dedication to helping others throughout the community. Tyler Hackworth is truly a young individual who deserves to be recognized for all of his accomplishments and personal traits.