By Anonymous — Tuesday, September 9th, 2008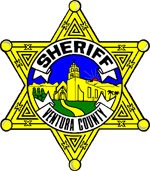 Ventura County Sheriff's Department
The Ventura County Sheriff's Department wants to alert the public of a current crime spree perpetrated against unsuspecting hikers. Theft suspects have been targeting hikers' unoccupied vehicles at the "Thomas Aquinas" trailhead located in the 10000 Block of Santa Paula Ojai Rd. North of Santa Paula.
In the past three weeks, victims have reported eleven vehicle break-ins at the trailhead. Investigators believe the suspects are opportunists that wait for hikers to park their cars. Once the unsuspecting hikers walk away, the suspects smash the vehicles' windows and steal any valuables left behind. The suspects seek cash, jewelry, I-Pods, credit and ATM cards, identity cards etcetera.
The Ventura County Sheriff's Department wants to remind the public to always lock their vehicles and not leave any valuables in their vehicles when left unoccupied. Covering a personal item with a towel is not good enough. These suspects know you have items hidden under jackets and towels. Please call with any tips of suspicious vehicles or persons in the Sulfur Springs/Santa Paula Canyon..
If a member of the public becomes a victim of a theft, report the crime to your local police immediately. Have them send the courtesy report to the Ventura County Sheriff, Fillmore Station. If credit or ATM cards are stolen, victims are encouraged to call their bank and cancel the cards immediately
Ventura County Crime Stoppers will pay up to $1,000 reward for information, which leads to the arrest and criminal complaint against the person(s) responsible for this crime. The caller may remain anonymous. The call is not recorded. Call Crime Stoppers at (805) 524-0970 ( Fillmore ), (805) 494-TALK (Thousand Oaks / Moorpark) or (805) 385-TALK (Camarillo / Oxnard / Port Hueneme).