Councilman Gonzalez delinquent sewer/water bill tops $95,000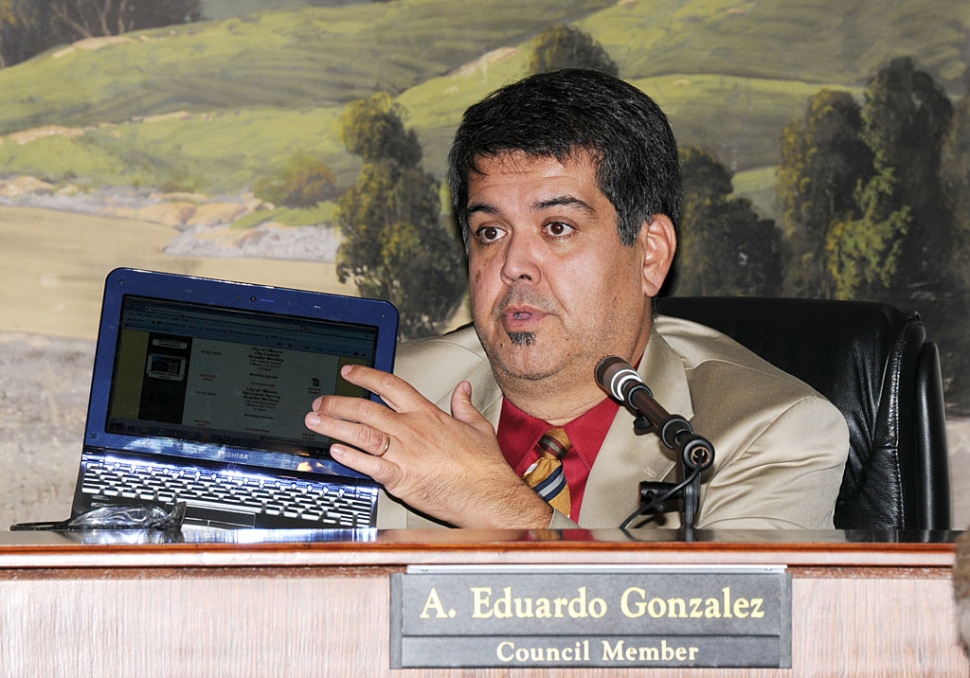 Council Member Edwardo Gonzalez, owner of Fillmore Convalescent Center and Orange Blossom Villa.
By Gazette Staff Writer — Wednesday, October 10th, 2012
City Clerk produces data four months after initial Records Request

Water Sewer Billing Records History received from the City of Fillmore on October 5, 2012, for Fillmore Convalescent Center, Orange Blossom Villa (pages 1-3), and an attached residence (pages 4-5).
[Update 10/16/12 - Added Public Records Request Images]
Questions were raised again about the Gazette's alleged bias at Tuesday's city council meeting. Several speakers, including the city clerk's wife, complained that the Gazette had falsely accused Clay Westling of being politically prejudiced. Mrs. Westling stated that the Gazette had wrongfully criticized the clerk of failing to comply with Freedom of Information Act emails and Public Records Requests. She maintained that all requests for information were answered completely and in a timely manner.
While each request made of all other council members for water/sewer billings were in fact provided in a timely manner, Councilman Eduardo Gonzalez' information was not. The first Freedom of Information Act request was made on May 25, 2012. Other requests for Gonzalez' billings were made in June, July, and two in October. On July 12 the Gazette received an email from Mr. Westling stating: "The City of Fillmore has provided you with all of the records on this topic [Gonzalez] that exist." "...In the meantime I am treating this topic as closed. Respectfully, Clay Westling, Fillmore City Clerk"
Copies of this message were sent to Yvonne Quiring and Glenda Jay, under "RE: Utility Bill-Council Member Gonzalez."
On July 11, 2012, the Gazette answered that the information was "significantly incorrect and incomplete, according to recent personal communications between Mr. Gonzalez and myself" [Martin Farrell]. A Public Records Request was sent on October 2, 2012, with this note: "In the event this request is again ignored this issue will be referred to the Ventura County District Attorney for resolution."
On October 5, the Gazette received some billing information on Gonzalez, though still incomplete, with copies sent to "Rigo Landeros; Glenda Jay; Laura Seo".
The Utility Billing Account History Report we received indicates Gonzalez has an outstanding balance of more than $95,000 as of September 27, 2012 on his Fillmore Convalescent property.
The Gazette also received billing information from Westling for Gonzalez' other property, Orange Blossom Villa, for $688 which appears to apply to a single unit of the 66 units involved. A second Public Records Request for Orange Blossom was emailed to City Clerk Westling on October 5 requesting water/sewer history for all units. No response has been received to date.
Mr. Gonzalez' delinquency amounts to nearly 20 percent of the entire outstanding water/sewer billings. At last night's council meeting council members Conaway, Sipes, and Washburn voted to send closed, delinquent accounts to collection. Councilmen Jamey Brooks and Gonzalez voted not to send the accounts to collection (under $250,000 in closed accounts were on the city books, with $131,000 of that now closed and in collections).
With over $500,000 in open delinquent water/sewer accounts outstanding, the question remains why wasn't Councilman Gonzalez vetted before being nominated by Jamey Brooks, seconded by Gayle Washburn, and appointed to the council? Gonzalez was appointed the week of January 11th, 2012; his delinquent bill as of January 26th was $46,189.98 for the Convalescent Center alone. At the January meeting Councilmembers Steve Conaway and Brian Sipes said they wanted more discussion with Conaway motioning for Alex Mollkoy to be nominated, but no one would second Conaway's motion. Then in a 3 to 1 vote with very little discussion, Washburn, Brooks and Conaway voted to give the seat to Gonzalez; only Councilmember Brian Sipes voted against it.
Another question remains - has the Fillmore City Clerk been involved in a cover-up of Councilman Gonzalez' delinquent water/sewer billings, which exceed $95,000 for his Fillmore Convalescent Center property? Or, is it merely a question of incompetence? Westling and Gonzalez have been long-time allies in Fillmore politics, dating back to Measure H and I, (November 2008) and the "Sewercide" group (opposing the water treatment plant).
A more complete timeline and record of communications between the city clerk and the Gazette will be posted to fillmoregazette.com next week.