Council Supports New City Volunteer Program
By Jean McLeod — Wednesday, April 9th, 2014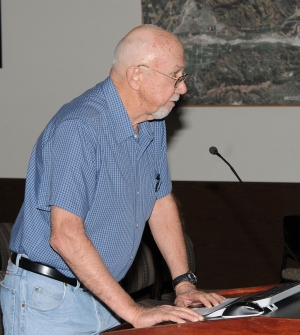 Bob Stroh objects to "In God We Trust" display
The Tuesday April 8, 2014 Fillmore City Council Meeting lasted 40 minutes and contained three agenda items. One item was a Successor Agency contract, another was establishing a volunteer program and a third was consideration to display our national motto in the council chambers.
A volunteer program that is expected to benefit Fillmore was unanimously approved by the Council. The program was one of the goals set during a council/community workshop held a few months back. City Manager David W. Rowlands explained that most people volunteer out of a sense of community pride, but other examples of why individuals step forward are; gain job experience, learn new skills, explore new careers, socialize, feel useful, keep active and learn about the city government. Councilmember Diane McCall responded saying she welcomes the program and what a value this will be the community adding, "Kids are looking for jobs." Mayor Manuel Minjares also liked the idea and stated, "I'm really happy this is coming forward" adding that many people from the community have told him they wanted to volunteer but did not know how to go about doing it. City volunteer opportunities are: filing, collate documents, receptionist, graffiti removal, fold documents, gardener, work with seniors, public relations, fire dept., photographer, phone calls, building dept. and police dept. and fingerprinting; criminal and sex offenders background check will be required. Once a year there will be a Volunteer Appreciation Day to recognize and thank those who stepped forward.
Another agenda item was considering a renewal lease with the Santa Clara River Valley Railroad Historical Society (SCRVRHS) at a price of one dollar per year for two years, and may be renewed for an additional two years. The 501c3 nonprofit was established in 1993 by Paul Haase, Dave Wilkenson, John Garlman and Pat Askren with the goal of restoration and preservation of the railroad corridor between Montalvo and Saugus, California. The nonprofit acquires, preserves, exhibits and operates historic railroad equipment, both large and small. Artifacts and other items include such things as the turntable the historic train in town uses, a 20-seat theatre, a Pulman Sleeper, a Pacific Fruit Express (where blocks of ice were used before refrigeration), and a 1928 wood baggage cart, along with photographs and operational documents unique to the region.
Ron Lewis representing SCRVRHS informed the Council of the many tourists that have come to the Railfest which they promote (due to legal issues between Fillmore Western and Ventura County Transportation Commission it was canceled this year). In their 21 years over 20,000 visitors have signed the quest book.
Councilman Rick Neal responded saying, "The only thing I hear from the community is they're (SCRVRHS) not open enough." The days of operation are usually Saturday and Sunday as volunteers schedules permit, with scheduled appointments for groups during the week. Neal suggested an ad hoc committee get together with the nonprofit members to discuss the days and hours they plan to be open. It was then suggested the item be brought back at a latter date and the Council agreed.
The third agenda item was to put the nation's motto "In God We Trust" prominently in the council chamber. McCall suggested putting the item on the agenda stating, "I think it represents our community." Councilman Douglas Tucker said, "Our federal government has it on the dollar bill" adding "I agree with this." And both Neal and Minjares voted in favor of moving forward with it. The cost will be approximately $2,200 for brass lettering and funds from Public Education and Government Access are available. The decision of where to display the motto has not been determined.