Council approves new park payments, turns down Cuevas junket to D.C.
By Anonymous — Wednesday, April 16th, 2008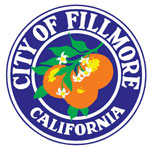 City of Fillmore
Park designer Tim Maloney explained the need for payment on many new changes that had to be made to the new city park. Payment was approved at Tuesday's special council meeting. The special meeting was needed because a majority of the council would not approve a half-hour extension of the last regular meeting. Redesign of the skateboard part of the park, as well as grading to protect against a 100-year flood, necessitated approval to avoid delay of ground work.
The Fillmore City Council met for an hour in special session Tuesday evening. According to Mayor Steve Conaway, the meeting was necessary to clear up unfinished business from the last regular meeting, namely approval of payment for park plan changes. Had three council members not agreed to extend the regular meeting, the special meeting would have been unnecessary.
Councilwoman Cecilia Cuevas expressed her anger at having to appear at this special meeting due to the fact that three of five council members refused to extend the last regular meeting for a half-hour to finish business. She pointed out the fact that this demonstrated disrespect for member's private time. Cuevas, with the Mayor, had voted to extend the regular meeting.
Mayor Conaway explained, again, that the special meeting was necessary to complete business relating to the new park which remained unfinished at the last regular Council meeting, which would avoid several weeks delay in bidding.
Former councilman Ken Smedley reminded the Council of the Crown Circus which Rotary Sunrisers has scheduled for four days, April 25 through 28. There are free children's tickets at the Toy Shop and other locations around town. There will be both English and Spanish sessions.
Smedley also reminded the Council that Sunrisers is putting on a 10-K race Saturday, May 17, beginning at 8:00 a.m. The event will begin and end at Delores Day Park.
Deputy City Manager, Bill Bartels sympathized with the shoppers who are having trouble negotiating the ongoing Central Avenue construction work. The laying of large storm drain pipe necessitates the closure of Central in the middle of the 200 block. He explained that all available pipe was laid Tuesday, utilizing extra work hours at no extra cost, in an effort to finish the job as quickly as possible. According to Bartels, traffic on Central Avenue should be accommodated for the May Festival.
The new skateboard park will be state-of-the-art, according to Director of Public Works, Bert Rapp and Mayor Conaway. Only three or four companies are sufficiently experienced to handle this work. Incorporating revisions to park plans entails many new drawings as areas are rescaled and aligned. The 100-year floodplain threat must also be dealt with, necessitating more grading. Council unanimously approved payment for numerous plan changes and additional grading work.
It was announced that the Fillmore Library is now open 6 days per week. The schedule is as follows: Beginning Monday April 14th, the Fillmore Library will be open: Monday 2-7 Tuesday 2-7 Wednesday 10-5 Thursday 12-5 Friday 12-5 Saturday 12-5
Mayor Conaway asked that an ad hoc committee be formed for the purpose of investigating his 2007 trip to Washington D.C. for a conference. Although his trip was cleared with city legal counsel, and properly, legally, and ethically paid for, political considerations have deliberately kept criticism of this trip alive. The Council finally, after unnecessary delay, and curious reluctance, agreed to place the matter on the agenda, but would not name an ad hoc committee. Councilman Scott Lee voted against the motion because in his words "we don't have an ethics code."
The Council moved into executive session to discuss a single personnel issue, believed to concern the recent investigation of allegations against Fillmore Fire Chief Pete Egedi.