Council acknowledges New Police Chief, discusses Central Avenue Overlay
By Jean McLeod — Wednesday, February 12th, 2014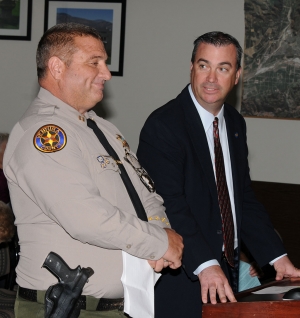 Incoming Chief of Police, Captain Dave Wareham was introduced at Tuesday night's council meeting by City Manager David Rowlands.
On Tuesday the Fillmore City Council introduced Captain Dave Wareham as the new Chief of Police. He will be replacing the present Police Chief Monica McGrath who has been promoted and reassigned to Commander West County Patrol Service, which covers Fillmore, Ojai and County areas of Ventura.
Wareham was recommended for the position by both Ventura County Sheriff Geoff Dean and City Manager David W. Rowlands, and endorsed by the Fillmore City Council. Originally from Pennsylvania, Wareham has worked in Ventura County law enforcement for 28 years with six years as Fillmore's Assistant Chief of Police. He has lived in Fillmore for 25 years with his wife Diane, son DJ and daughter Liz. His sister-in-law, Leslie Warren, has also served as Fillmore's Chief of Police.
Wareham, who has a teaching credential, graduated from Penn State and received his Masters from Cal Coast University; he often serves as a substitute teacher for the Fillmore Unified School District stating that staying close to the youth is necessary to be successful and, "I've always believed if I can make a difference in one persons life" which he equates with success. He usually wears his officer's uniform when substituting and prefers to work at both Fillmore Middle School and Fillmore High School. He returns the teaching pay he receives to the District which is a win for everyone.
Wareham will assume the position of Chief of Police on March 2, 2014. McGrath, who has worked as Fillmore's Chief of Police for three years, will help through the transition and attend her final Council Meeting February 25, 2014.
An agenda item that has long been waited for is the awarding of the contract for the Central Avenue Overlay Project. The $355,081.60 contract was awarded to Toro Enterprises out of Oxnard. The overlay of asphalt and concrete will be for portions of Central Avenue, Santa Clara Street, A Street, B Street, C Street and Sespe Avenue. The bulk of the cost will be paid for from a Federal Surface Transportation Project Grant of $267,410.00 and the Street Transportation Fund of $120,000.00. There will be a remaining balance of $350,000 in transportation funds after the project is completed.
Another agenda item was the first reading of an ordinance relating to Stormwater Quality Management to which Council Member Steve Conaway commented, "Stormwater is the next big elephant in the room.....this is going to be far reaching and going to get very intense." These new ordinances/restrictions are being put in place by counties throughout the state. Dave Smallwood addressed the Council on what Fillmore has done so far and presently doing to address the issue of runoff and soil erosion, saying that the new developments have built drainage that catches trash before runoff and parks have bio-filters. Smallwood said future ordinances will be much stricter starting with government properties, then commercial business and finally residential with such restrictions as no washing of cars on city streets, special handling of manure, fertilizer and yard waste just to start with.
Conaway also would like to inform the public that on February 25, 2014 at the Fillmore City Council Meeting the Ventura County Watershed Protection District (VCWPD) (formerly the Ventura County Flood Control District) will give a presentation on their findings and improvements of the recently built levies that should be of great concern to Fillmore residents. In the past requirements were proposed that would require Fillmore homeowners to purchase flood insurance due to a change in the 100 year flood plain. The building of the levies puts those requirements into question and if that requirement is still going forward. It should be answered that evening.