Congratulations Class of 2019!
By Bob Crum — Wednesday, June 12th, 2019
Part 1 of 3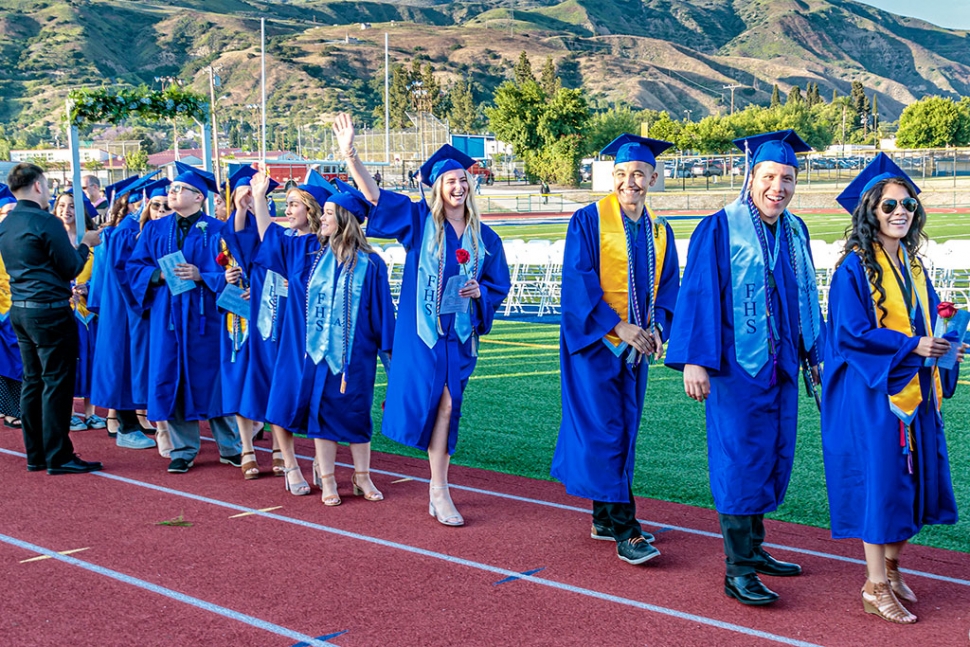 Fillmore's 2019 Graduating Class marched onto the high school field for the last time on Thursday, June 6th, after their final bus ride. Two hundred and fifty-six seniors waved to family and friends, who packed the bleachers, as the FHS band played Pomp and Circumstance, directed by Greg Godfrey. Principle John Wilber welcomed the students and visitors before Susie Garcia sang the National Anthem. ASB President Ariana Schieferle led the crowd in the Pledge of Allegiance. Senior Class President Ricky Cadena, Valedictorian Damian Meza, and FHS teacher Debra Hoffman all spoke. Live music was performed by Mariachi Los Rayos, before the Presentation of Awards by District Superintendent Dr. Adrian Palazuelos. Presentation of Class was made by John Wilber, with Presentation of Diplomas by school counselors Ronda Reyes-Deutsch and Dena Wyand, and Board of Education members Scott Beylik, Kellie Couse, Virginia De La Piedra, Sean Morris, and Lucy Rangel. The school alma mater was performed by the FHS Band, and Tassel Ceremony was led by Salutatorian Andres Romero. Photos by Bob Crum.