Colonel James Griffin Retires
By Gazette Staff Writer — Wednesday, January 2nd, 2013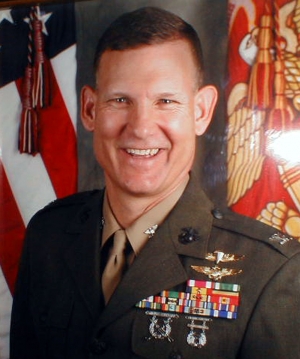 Colonel James Griffin
Colonel James Griffin retirement ceremony, USMC: James Griffin was commissioned a Second Lieutenant in May of 1983. Shortly thereafter at the basic school in Quantico he won the Iron man competition.
Next, he was selected for Naval aviator training and was winged in 1985.
After completion he was assigned to Kaneohe Bay HI. His first deployment was in Okinawa Japan, The Philippines and Korea, and earned his helicopter commander rating. Griffin was selected for Forward Air Controller training. After completion of a FAC tour, he received orders for Pensacola FL as Primary Flight Instructor. During his first year he was awarded Navy and Marine Corps Commendation medal, and received Flight Instructor of the Year Award. Later he received his training and Jump Wings. In 2003, he sought opportunities to support "Operation Iraqi Freedom" and was sent to Kuwait as a Forward Air Controller. He served more tours in Iraq and Afghanistan. Back at Camp Pendleton, CA, he eventually became Division Training Officer. In 2005, he was recruited by the Corp for "Lessons Learned", and demobilized from Division and was deployed to Fallujah, Iraq and aided in institutional changes. At the end of his tour, he was awarded the "Meritorious Service Medal". 17 months later, he was mobilized for "Operation Enduring Freedom".
He led his detachment in May, 2010, and had direct support in Southern Helmond Province of Iraq. While there, he worked in Marjeh, Iraq.
Upon returning to the US, he was assigned to IMEF operations at Camp Pendleton, CA where he finished his career in various assignments.
During the ceremony, remarks by General Spiese revealed that Col Griffin has left a lasting imprint on the Marine Corps.