City Utility Project Underway Along Highways 126 & 23 Until June 2020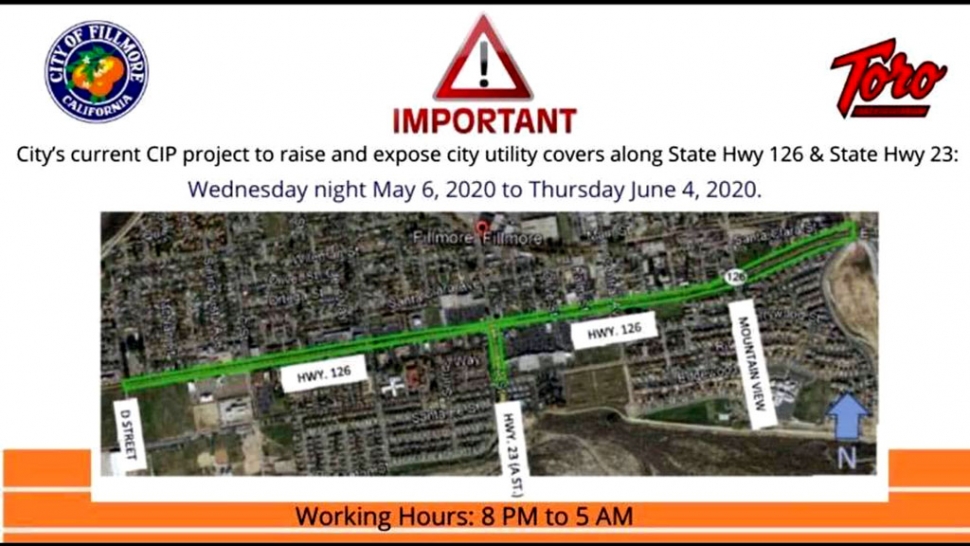 Map outlining areas where work is scheduled on city's utility project. Photo Courtesy City of Fillmore.
By Gazette Staff Writer — Wednesday, May 13th, 2020
The City of Fillmore has contracted Toro Enterprises, Inc. to perform street repairs on HWY 126 and HWY 23 on City owned utility covers. All work will be performed at night to limit the inconvenience to the public. The limits of the work will be as follows: - HWY 126 from D Street to Santa Clara Street - HWY 23 from HWY 126 to River Street - Estimated time of construction: 8:00 PM – 5:00 AM MONDAY – FRIDAY - Dates: 5/4/2020 – 6/5/2020 - PLEASE COMPLY WITH NO PARKING SIGNAGE. We apologize for the inconvenience. For Questions call Toro Enterprises: 805-207-2362 or City Contact: Julian De Anda: 805-202-6816.