City of Fillmore Names Next Police Chief Eduardo "Lalo" Malagon
By Gazette Staff Writers — Thursday, January 26th, 2023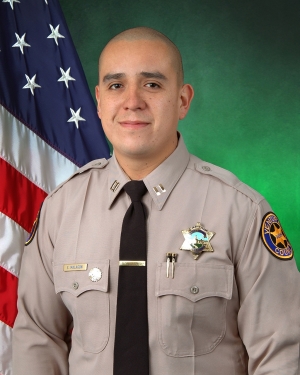 Captain Eduardo "Lalo" Malagon, Fillmore's New Chief of Police.
Sheriff Jim Fryhoff is pleased to announce the city of Fillmore has selected Captain Eduardo "Lalo" Malagon as its next police chief. Malagon has been selected to replace outgoing chief, Captain Garo Kuredjian after the announcement of his upcoming promotion to commander.
"I had an instant connection with Lalo, his diverse background and ability to speak Spanish will be a great asset. I am looking forward to working closely with him," said Fillmore City Manager David Rowlands. Malagon is a 23-year veteran of the Ventura County Sheriff's Office and a lifelong Ventura County resident. Lalo started his career with the Sheriff's Office in 2000, where he worked as a Cadet and Sheriff's Service Technician. After graduating the academy in 2003, Lalo worked a variety of assignments including Detention Services, Patrol Services, Special Enforcement Unit, Sheriff's Gang Unit, and Special Crimes Unit/Intelligence. Lalo has served as a supervisor in Court Services, Narcotics Unit, Sheriff's Gang Unit, and most recently as a Patrol Services Watch Commander. His collateral assignments have included the Tactical Response Team, SWAT Team operator, and SWAT Team supervisor. Lalo is happily married to his wife Carla of 20 years, and they are raising four children.
"I am excited for Captain Eduardo "Lalo" Malagon to continue the tradition of exemplary service to the city of Fillmore and the Santa Clara Valley," said Sheriff Jim Fryhoff. "Lalo comes to Fillmore with a strong and diverse background of assignments which will serve him and the community well."
Malagon will begin as Fillmore police chief on January 22, 2023. In speaking about the move, Malagon said, "I am blessed to have the opportunity to connect with the residents of Fillmore and provide the highest level of service possible."
Prepared by: Captain Cameron Henderson
Approved by: Sheriff Jim Fryhoff