City of Fillmore's 2022 Veterans Day Parade Events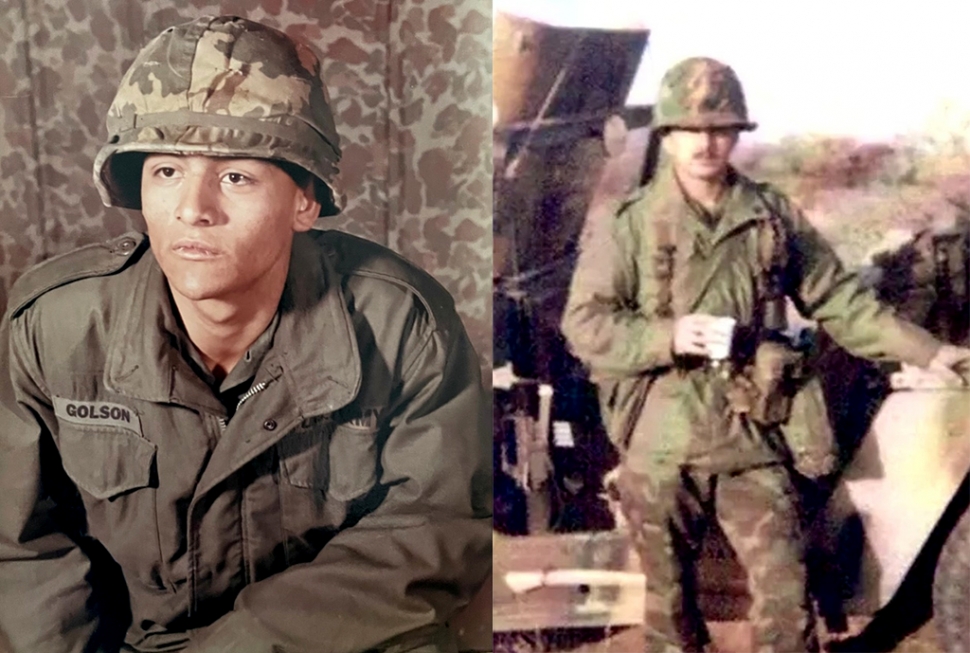 (l-r) Danny Golson, U.S. Army Spec. 4 Vietnam 1969–1970, who was named this year's Veterans Day Parade Grand Marshal and Veterans Day guest speaker Frank Renteria. Parade to take place Friday, November 11th at 10am on Central Avenue.
By Gazette Staff Writers — Thursday, November 3rd, 2022
On Friday, November 11th, Fillmore will host its Annual Veterans Day Parade at 10am on Central Avenue. A ceremony and BBQ will follow the parade at the Fillmore–Piru Veterans Memorial Building, 511 Second Street. This year's Grand Marshal is Danny Golson, U.S. Army Spec. 4 Vietnam 1969 – 1970, and this year's guest speaker will be Frank Renteria. You can read bios for Danny and Frank below:
Danny Golson graduated from Fillmore High School in June of 1968. Four months later, he was drafted into the United States Army. He served his basic duty and advanced training at Fort Ord, CA. He was ordered to Fort Benning GA. Where he completed a three-month Scout Dog training course. A month later, he was ordered to Viet Nam. Danny was a Specialist 4 Infantryman and served in Viet Nam from 1969 to 1970.
While in Viet Nam, he served with Company D, first of the twelve Fourth Infantry Division. His area of operation was the Central Highlands of Pleiku, Camp Enari and An Khe, Camp Radcliff.
Danny was awarded the Combat Infantry Badge (CIB), in October of 1969, for his participation in armed ground conflict. He was also awarded the Air Medal for his participation in more than 25 aerial missions over hostile territory for support of counter-insurgency operations.
He sustained wounds and was awarded the Purple Heart for wounds received in action while operating in the An Lo Valley of the Highlands. Other awards, pins, and badges were also received while serving his country proudly.
Post Viet Nam, Danny has served as President of the Piru Neighborhood Council and as the film liaison working with film companies. He served as President of the Piru Cemetery Board. He also coached little league and volunteered as an umpire for several years at One River Stadium. Unfortunately, he was forced to discontinue volunteer service due to cancer, heart, and liver/kidney surgeries. He is now doing well and is a life-time member of the American Veterans United organization. He is a strong advocate for our Veterans and is serving as a member of the Veterans Day Celebration Committee for our region.
***
Frank Renteria was raised in Santa Maria, Ca. He attended Santa Maria High School and completed his education in El Paso, Texas. Frank enlisted into the United States Army on July 15, 1980, and attended Basic Training at Fort Bliss, Texas. After completing basic and AIT, he was assigned to the 3rd Armored Calvary Regiment, Fort Bliss, Texas. Frank spent tours of duty in the states and overseas during the Cold War to include a stint of time overseas during the first Gulf War.
Frank applied for and was accepted to the U.S Army Drill Sergeant Academy, Fort Sill, Oklahoma. During his tenure at the Drill Sergeant's Academy, he was awarded the Distinguished Graduate Award and several other awards. Frank performed his Drill Sergeant assignment at Ft. Bliss, Texas. While serving as Drill Sergeant, he was certified as the Training Center's Hand-to-Hand Combat Instructor and Master Physical Fitness Instructor.
Throughout Frank's military career, he continued to educate himself, attending all Non-Commissioned Officer courses available thus earning his promotion to the rank of First Sergeant (1SG).
After 22 years of distinguished service, Frank retired on August 4, 2022, as an Artillery Battery First Sergeant (1SG).
After Frank's military service, he made it his "life-long commitment" to help Veterans and their family members obtain the benefits they have earned and deserve.