Christmas Comes to Fillmore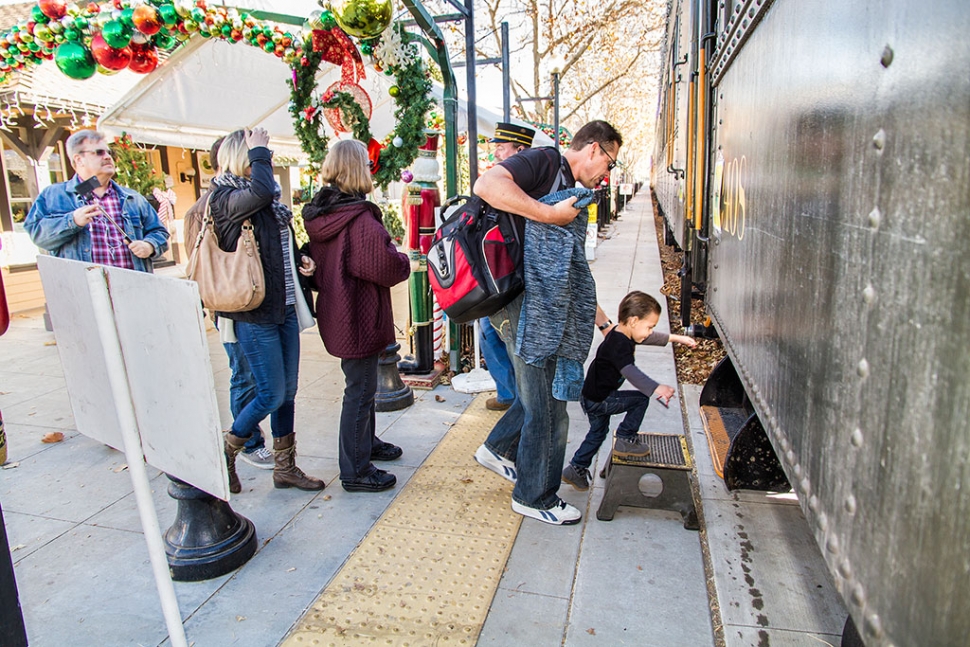 By Bob Crum — Wednesday, December 18th, 2013
Story and photos by Bob Crum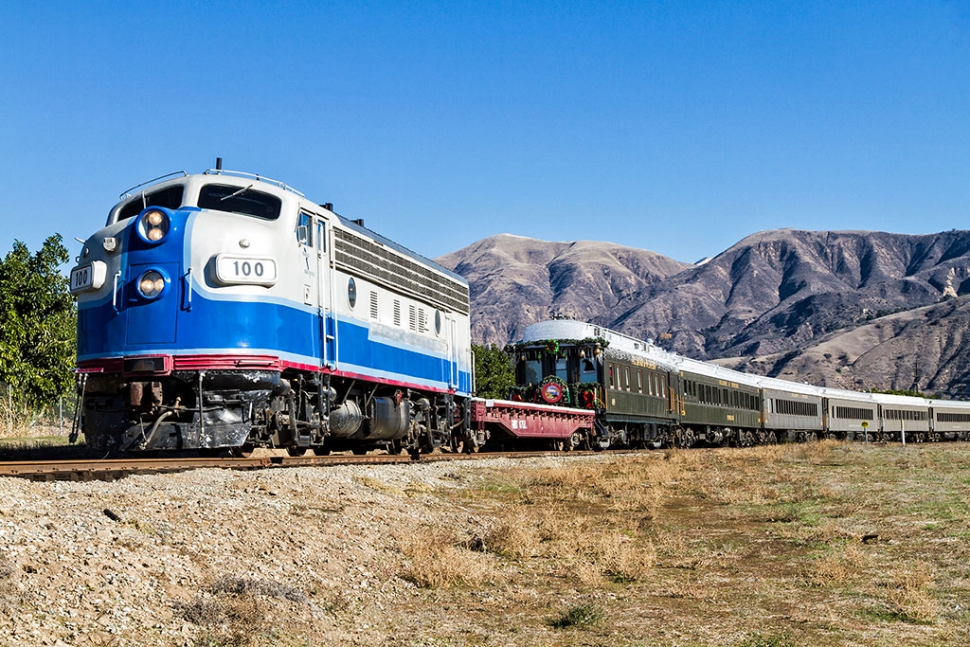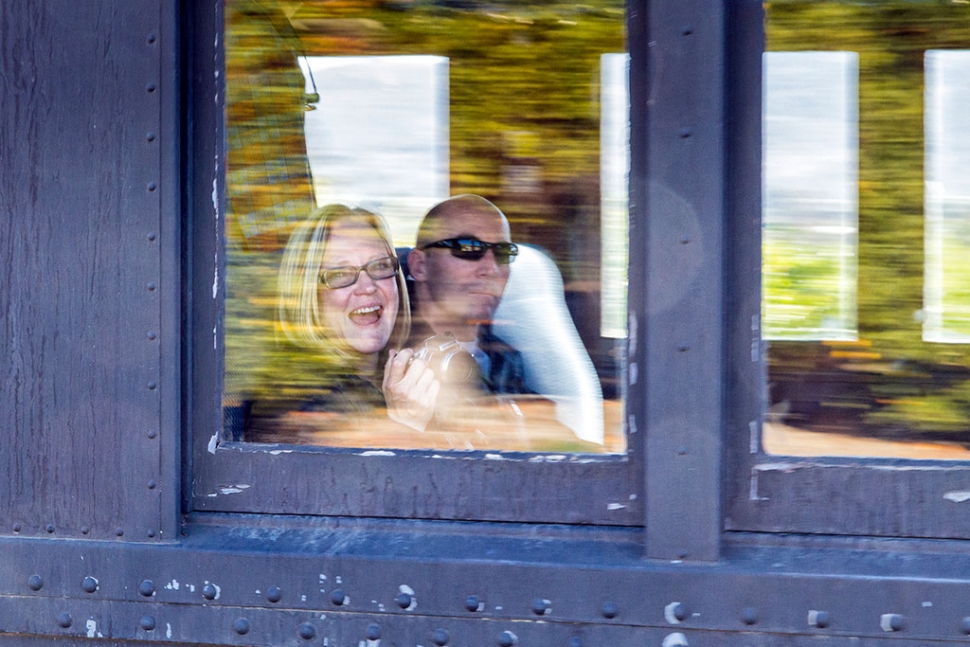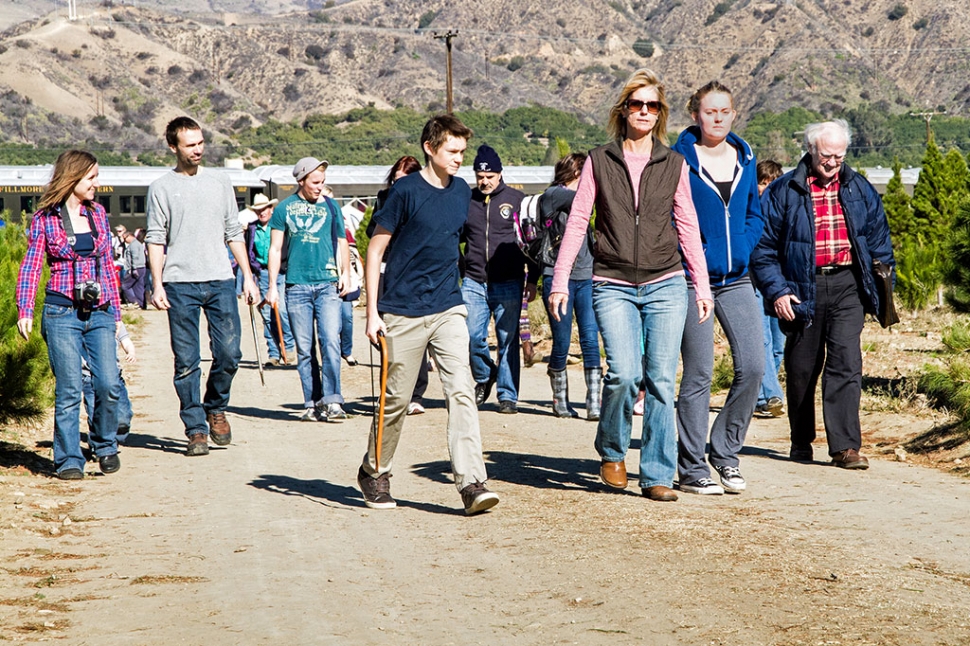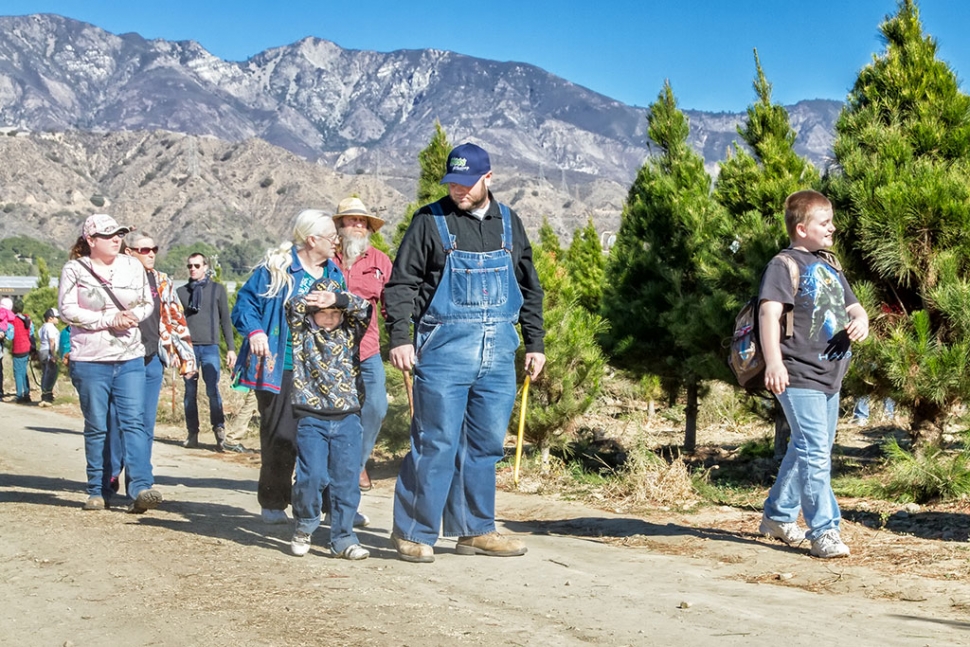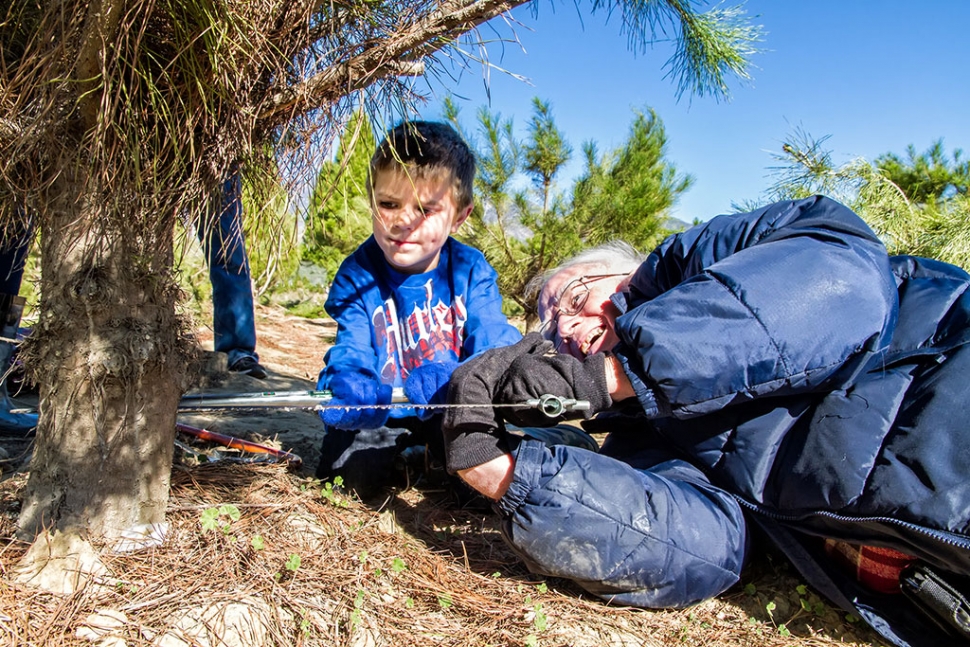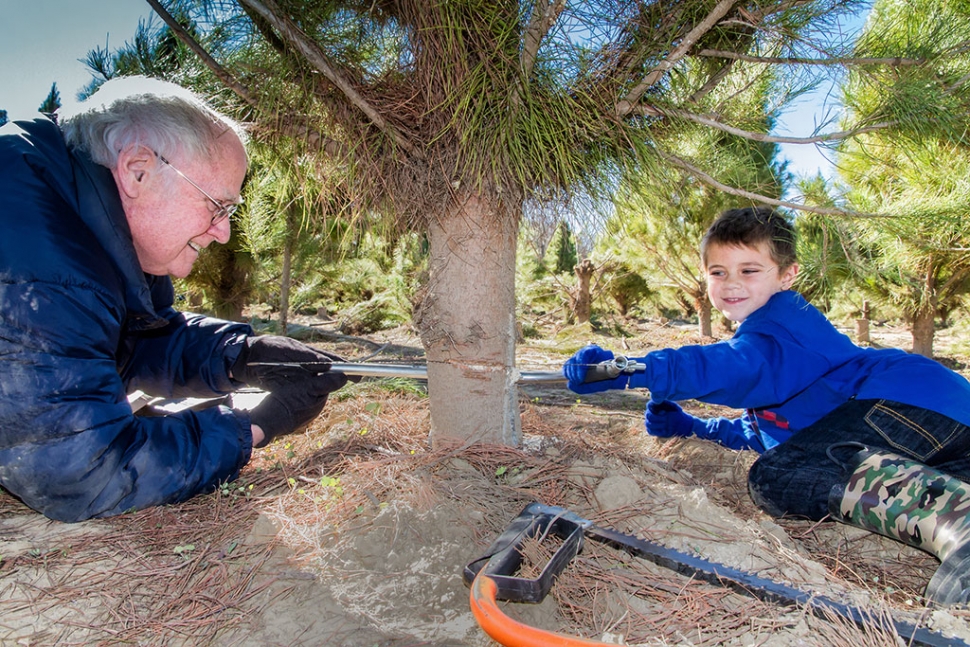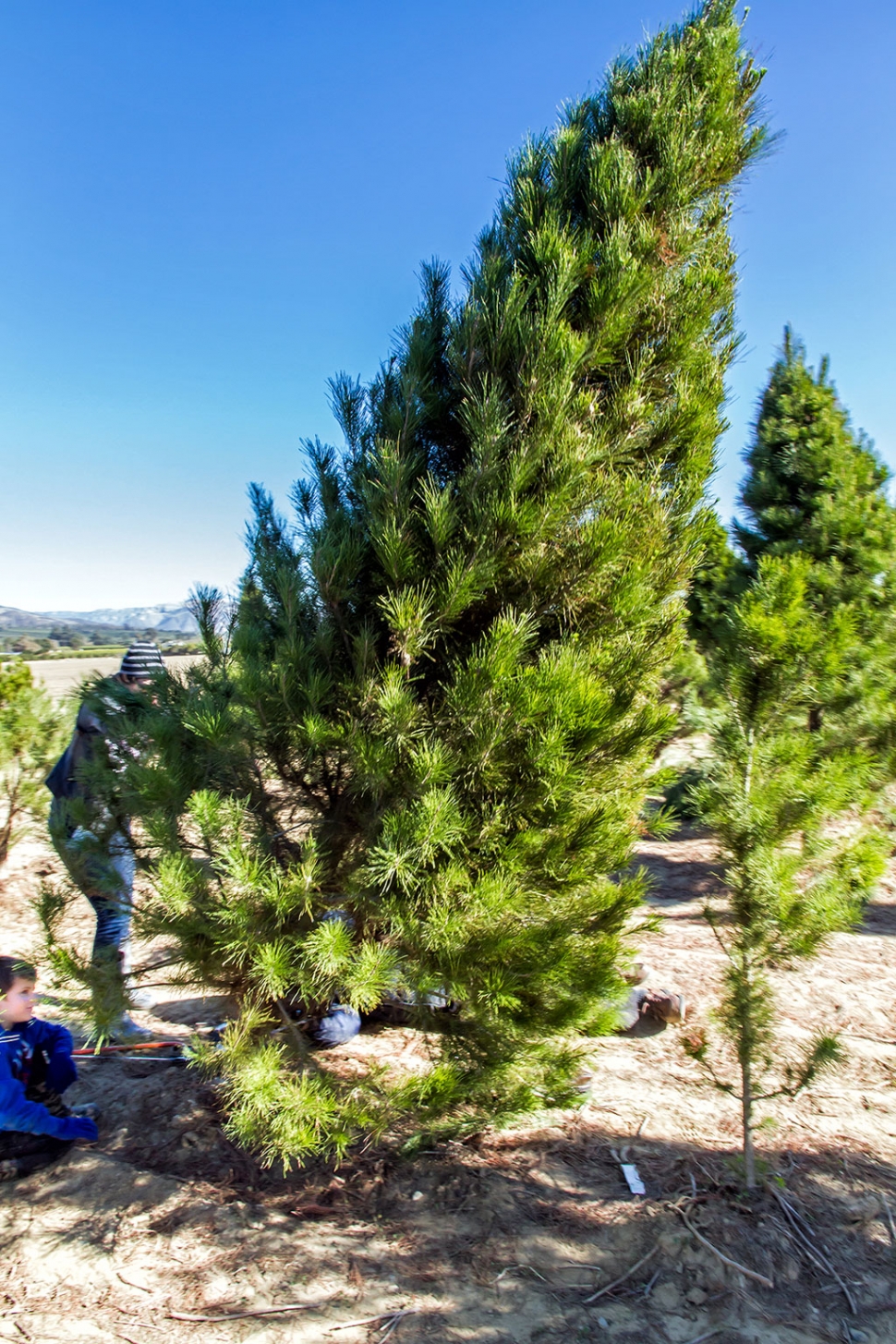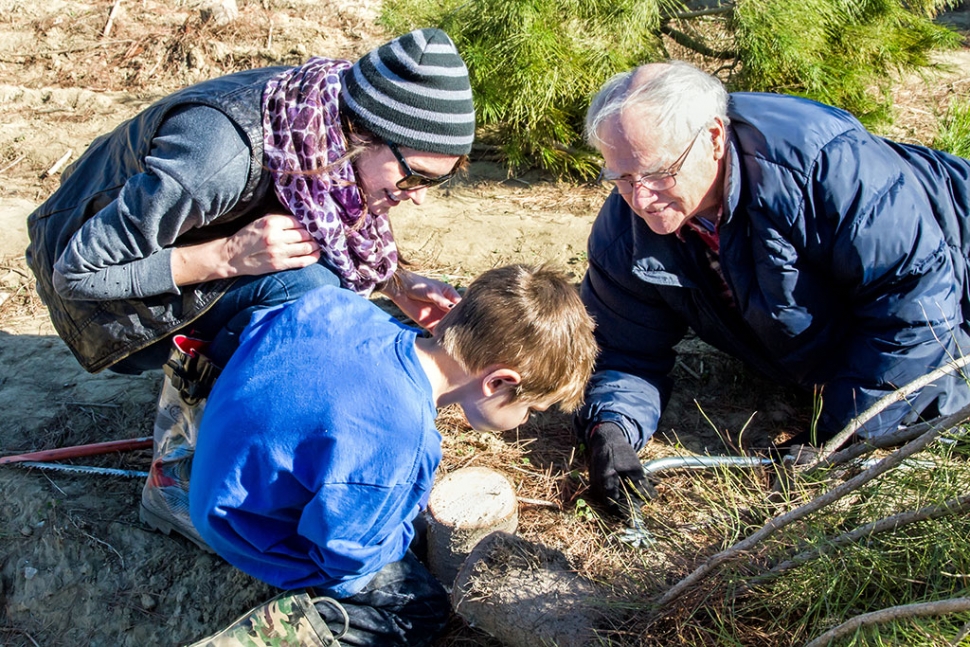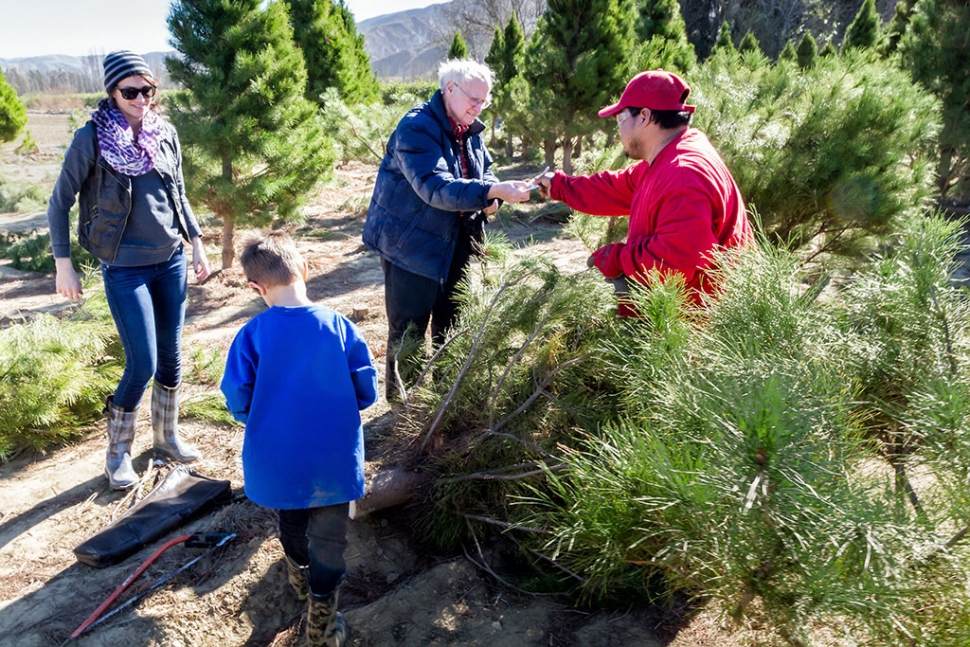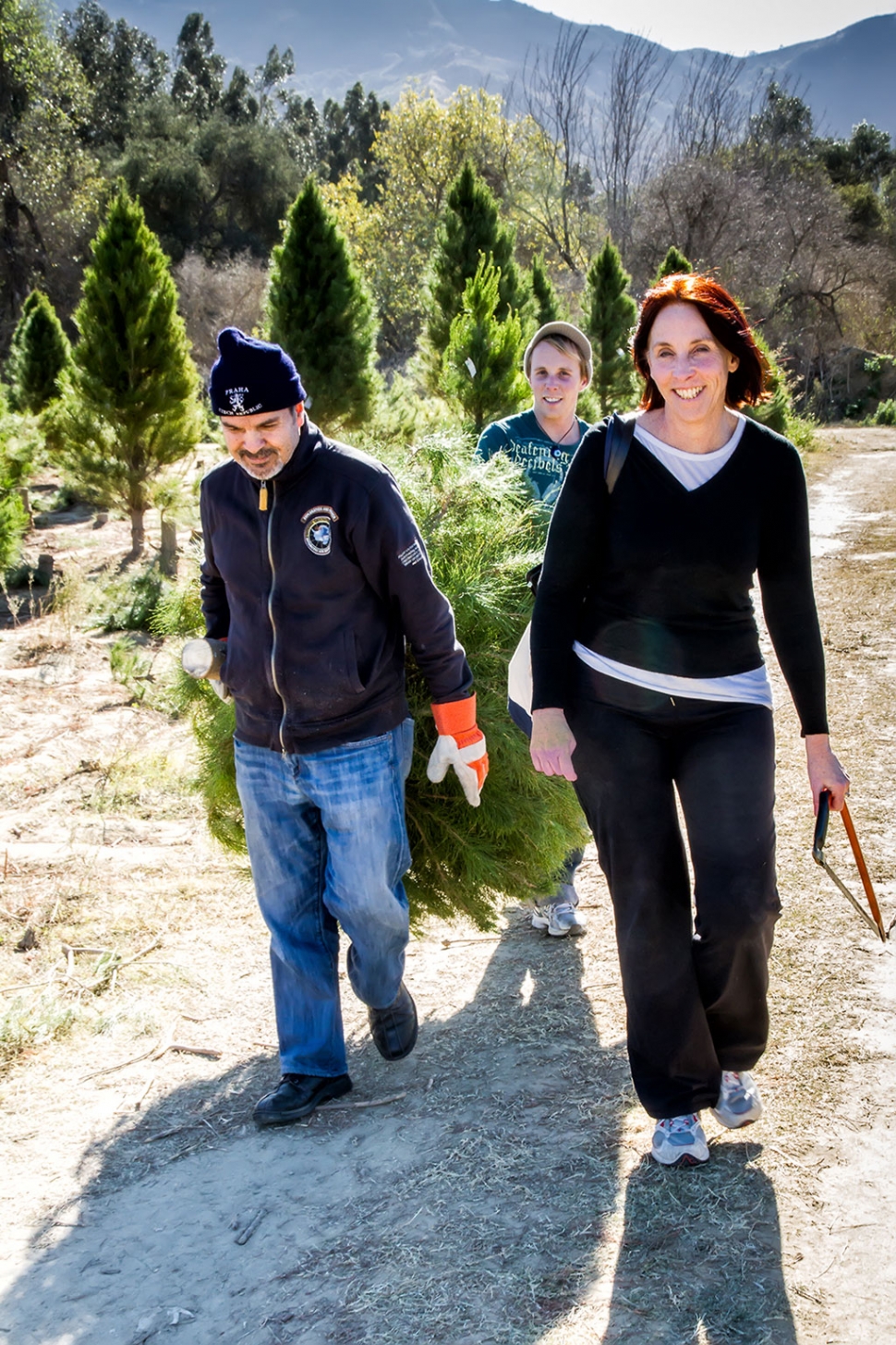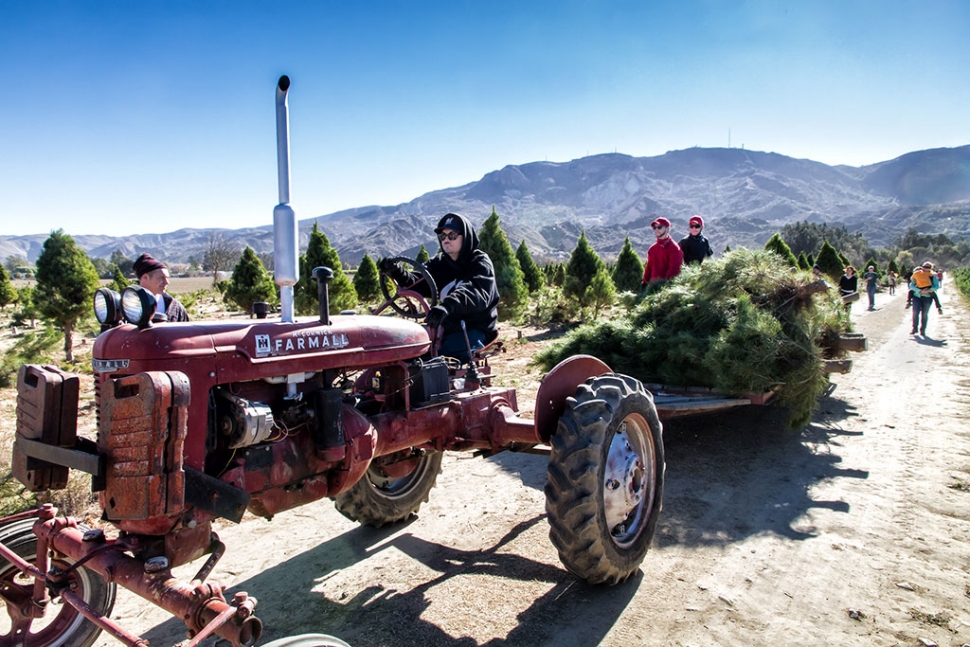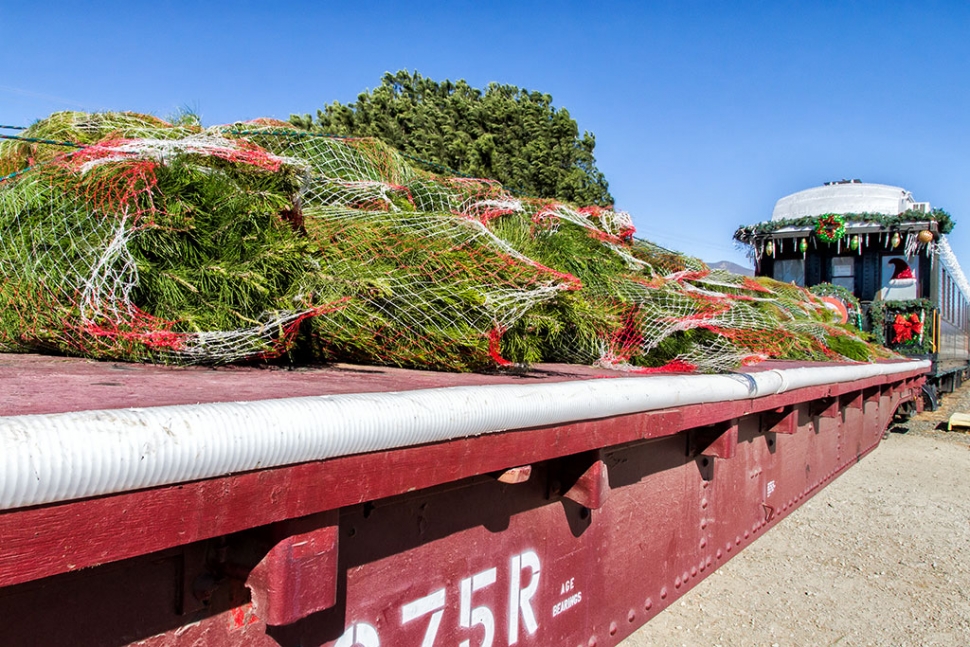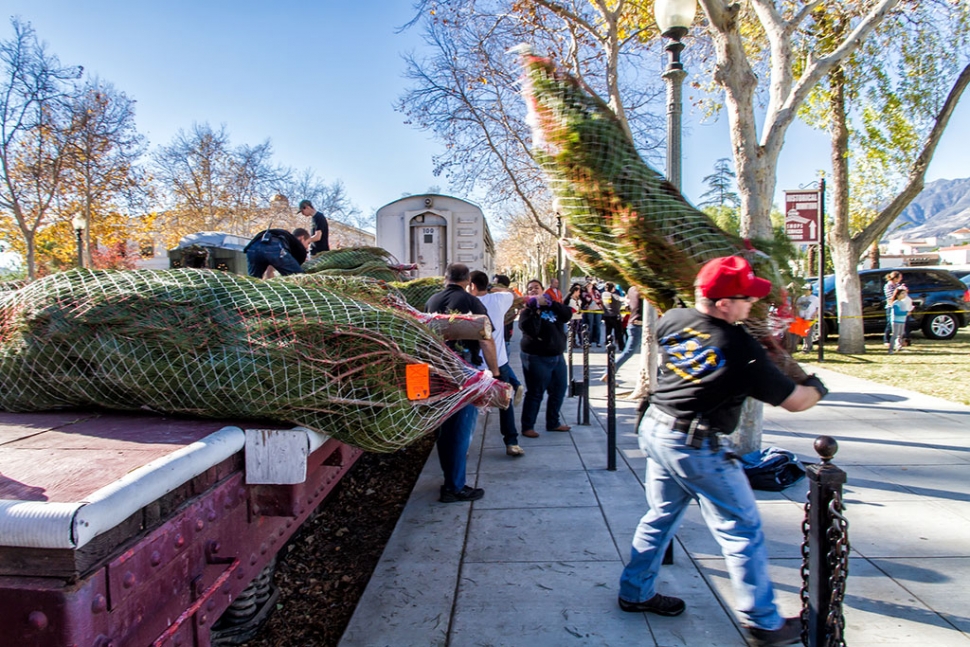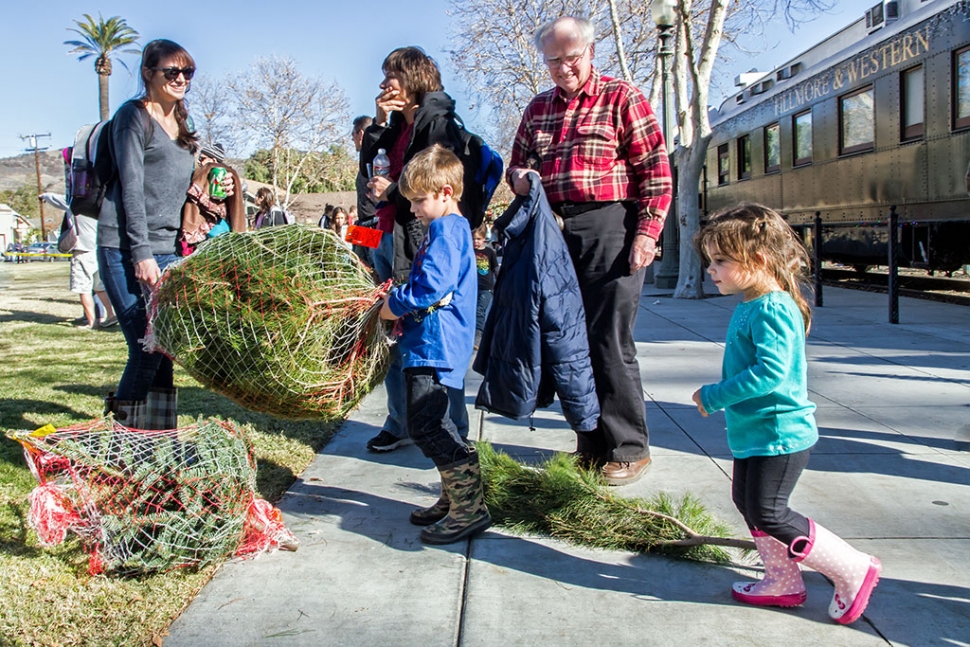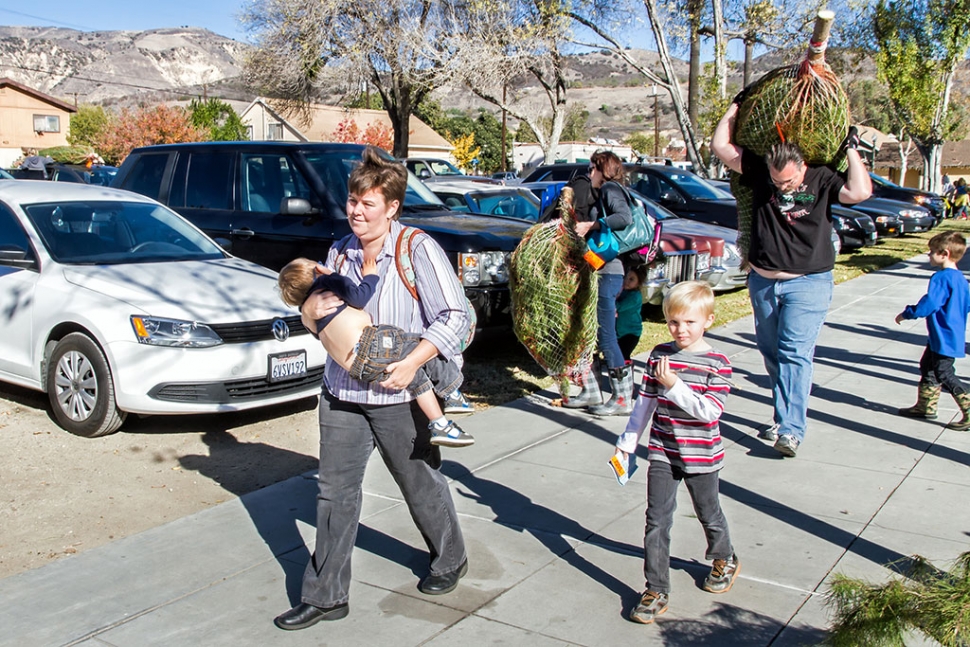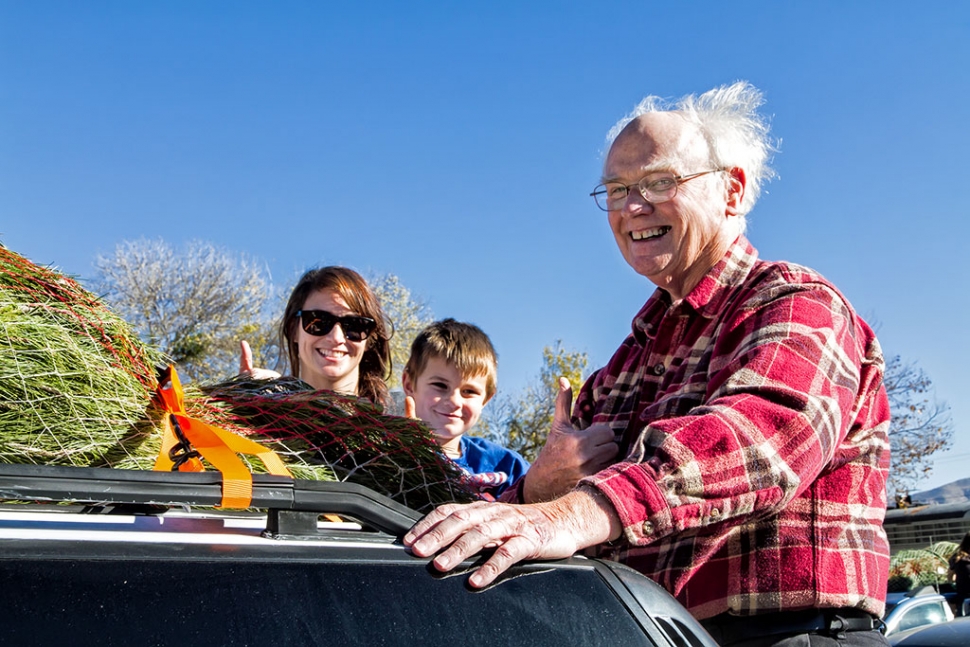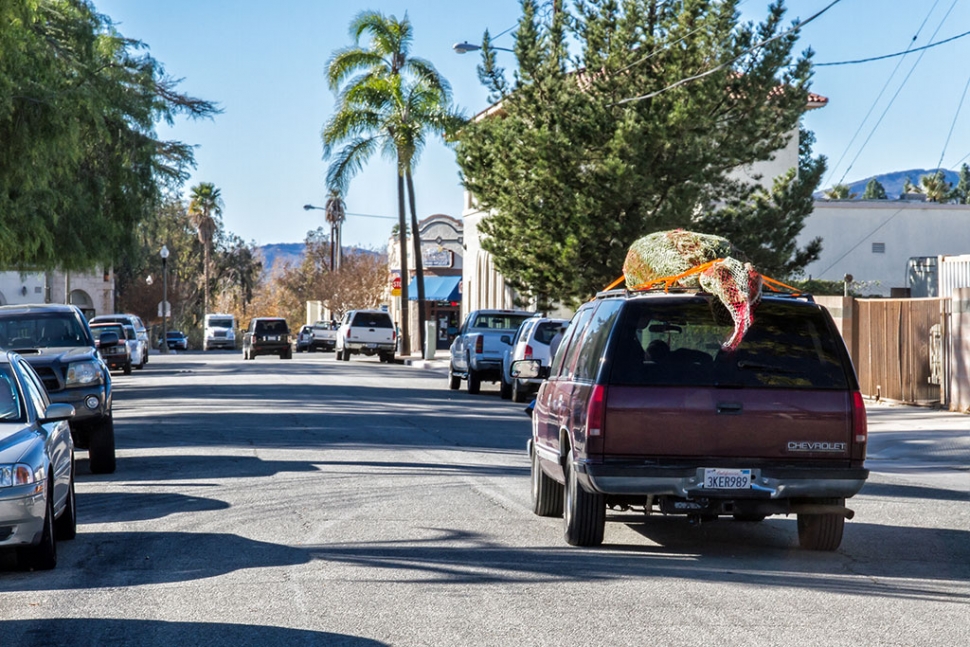 Is there a season with more family traditions than Christmas? A partial list: eggnog, fruitcakes, Christmas cards, fresh baked cookies, tamales, a smooch under the mistletoe, stockings hung someplace, Christmas carols, never-ending shopping expeditions and of course... figgy pudding. No easier to dismiss long-standing family Christmas traditions that it is to be rid of weeds. Oh... and the king of Christmas traditions... the Christmas tree... beautifully decorated... the centerpiece of so many homes. The GPS coordinates of the Tree will lead one to where all the Christmas presents are stashed.
Speaking of long-standing traditions... and Christmas trees... it's no secret that hundreds of people make an annual trip to Fillmore from all over southern California. Upon arriving in town, they proceed to the railroad depot where they board a train for the ride to the Santa Paula Christmas Tree farm. Of course, any one can drive to the tree farm and cut their tree to take home. Many do. But for many others, an important and engaging factor of the tradition is the round-trip ride on the Fillmore & Western train. Driving the Suburban or Explorer to the tree farm is just plain ugh!
Upon arriving at the Tree farm, armed with a saw... the fun of the hunt for the 'perfect' tree begins. Here and there they wander around the acres of trees until... aha!... there it is!... the 'perfect' tree! A few strokes of the saw... sometimes a lot of strokes... then the mighty yell... T__I__M__B__E__R! Once the tree is felled the farm crew tags it, picks it up and places it on the wagon for the trip to the shaker. The shaker dislodges tree debris. Then the tree is wrapped in mesh and put on the flat car for the trip back to Fillmore.
If you think that's all pretty mundane you'd be very wrong. All the people involved in finding their perfect Christmas tree could just as well gone to any neighborhood tree lot and bought a tree to take home and decorate. But that misses the point: Tradition! For the majority of families, the entire event... the train ride to the tree farm... searching and finding the 'perfect' tree... cutting their special tree... it's not just about a tree. It's an annual pilgrimage. Couples have been making the pilgrimage for years. For many... it's a family of three generations traveling by car... then train... then on foot in the field in their quest for the 'perfect' tree that will grace their home. It's grandpa and grandson sawing their very personal Christmas tree. It's the makings of long-standing, cherished memories never to be forgotten.
Example: Grandfather Peter Bueschem... affectionately known as Opa, with his 5-year old grandson Kane Brazell. Together... they located their 'perfect' tree. Quite large but 'perfect'. Together they cut it down. As Opa made the last pass with the saw... Kane watched the tree tumble to the ground... delighted with their mutual accomplishment. Their joy and memories cemented for eternity.
Many Gazette readers may be aware that the Ventura County Transportation Commission (VCTC) recently abruptly cancelled Fillmore & Western Railway's lease for their operations on what's called the Santa Paula Branch Line. Hence, Fillmore & Western trains would not be permitted to use the line in their normal operations. VCTC relented for the Christmas programs. Legal challenges are pending. In the meantime, there's the Internet. Surprisingly... many people from all over southern California are aware of the events involving the VCTC and the Fillmore & Western Railway. For example:
From Long Beach, California, Lidia Bowden and her son John made their annual Christmas tree pilgrimage last Saturday. Her story: "We have come here for the last 15 years to cut down a Christmas tree. I can't tell you what this means to our family. It's a tradition that we do every single year. We look forward to it. We're thankful for it. We're thankful to the county of Ventura for giving us the ability to do this. This means something to us. And it's something... for us... part of our heart at Christmas. We wouldn't miss it.
When we come here we eat in the local establishments. We spend money in your town. We remember it and for this to be gone... it's like a little piece of our heart taken out at Christmas. My son John... now 22... started doing this when he was five years old."
John added: "I think it would be a shame to get rid of this. I think a lot of people come to this to have a lot of fun... really possibly kicks off the Christmas holiday for them. To get rid of this would be really sad."
At the age of 22, it's still important to you I asked? "Yes", John quickly said, adding, "I love doing this with my family. Bring friends along as well. It's a lot of fun. I don't think you get to see a lot of this on the west coast. I think a lot of people go to a lot and pick up a tree. This is a place nice to go... find a tree that's actually all natural and you know what kind of tree you're getting. You get to pick it out and that's a lot of fun. And you also get to go on the train which makes things all very special."
Michael Simpson said: "This is only my third experience at the Tree Farm and and I said just this morning I look forward to this more than anything else the whole year."
Lidia added: "I understand bottom lines... I understand that... but sometimes there's a bottom line in the heart too." (at this point Lidia was tearful as she spoke) "There's no price that can be put on that. It's a crime that you wouldn't have this anymore. We look forward to it... it's a part of us. We understand money.... we get it... we have money issues just like everybody else. But... we love this!"
Another exciting tradition is a train ride to the North Pole. Every year, hundreds of children of all ages - along with young-at-heart adults - board the North Pole Express... many in their pajamas. On the way, Elves (Civil Air Patrol members) lead passengers in a chorus of Rudolph the Red Nose Reindeer and... Jingle Bells... Jingle Bells... Jingle all the way... oh what fun, it is to ride, in a six-car North Pole Express train. (Writer's prerogative to ad-lib.) At the North Pole, Santa Claus... yes... jolly ole St. Nick... boards the train to the delight of all for the lonnnnng trip back to Fillmore. On the way he passes out candy canes to all the... ahem... good boys and girls. Back in Fillmore, Santa takes up his position in a special Santa car where all the... you know... good boys and girls sit on his lap and tell him about what they hope to get for Christmas. Moms and dads usurp the opportunity to eavesdrop and as phonetographers capture the... ahem... Samsung moment!
Visited the Christmas village lately? If not you're missing a delightful treat. You'll enjoy a vast array of holiday decorations with all the icons... Santa, Rudolph, etc. Even a carousel all kids enjoy! You'll feel the energy of the holiday spirit... vibes of jubilation... as you leisurely stroll along the promenade. Photo ops abound. It's all right here in Fillmore. Around the corner at the train depot on Main Street. If you haven't bought your tree yet... well... you now know how to get a really fresh one you cut yourself. Aaaah... the magnificent aroma of a fresh cut fir tree. Back home, celebrate with a bowl of figgy pudding and a swig of eggnog! Aaaaaah! Long live traditions!
To one and all... from all at the Fillmore Gazette... best wishes for a very Merry Christmas.