Christian Conaway brings home 2nd place at IGSA World Championships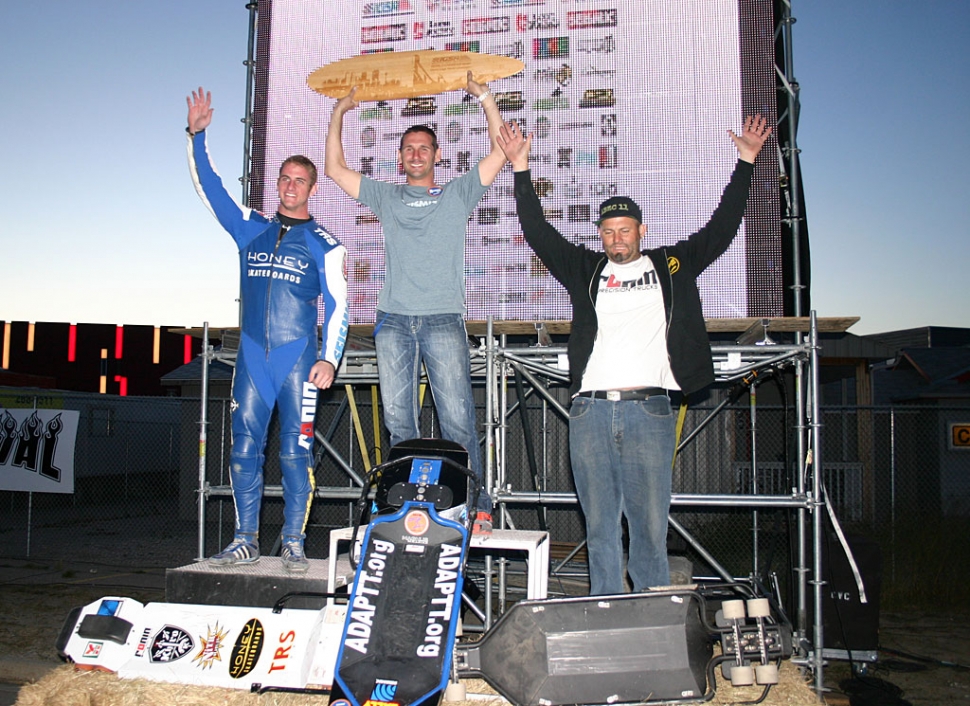 Andy Lally 1st, Christian Conaway 2nd, Mike McIntyre 3rd.
By Gazette Staff Writer — Wednesday, September 5th, 2012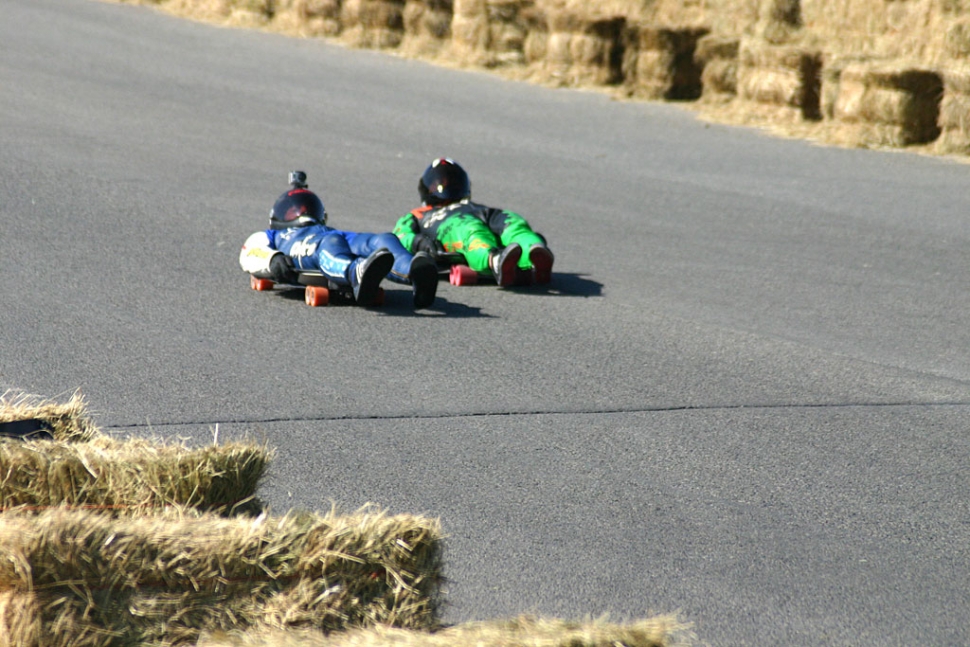 Conaway and Dean coming into the finish line during a practice run. (Conaway in blue/white leathers).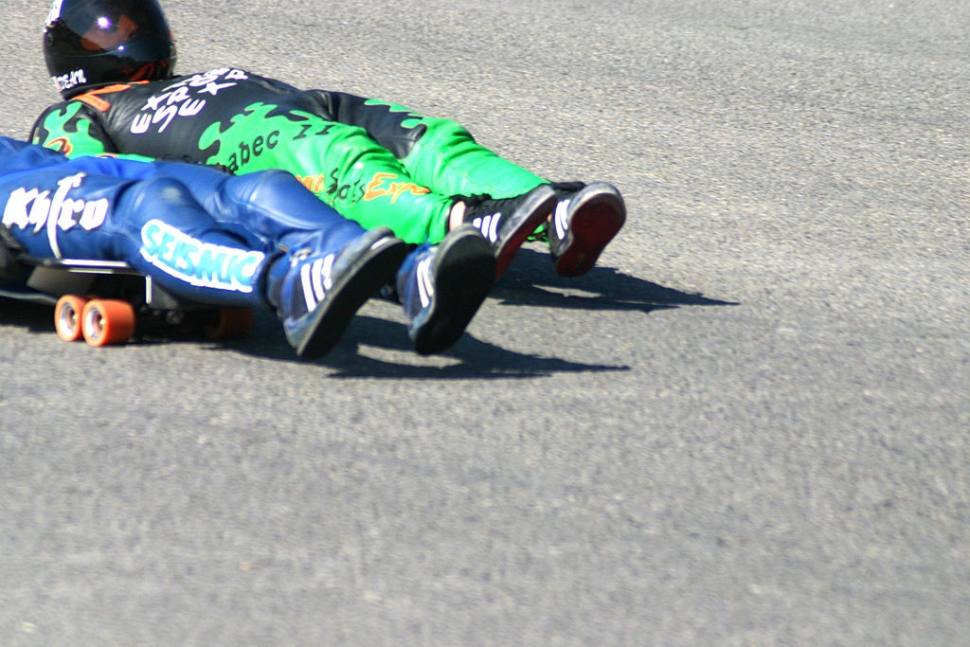 Close up of how close the racing is. Conaway leading Dean by inches after 1 mile of racing.
Christian Conaway traveled to Calgary Canada this past week to compete in the International Gravity Sports Association 2012 Winsport Canada Cup World Championship event. The race was held at Canada Olympic Park in Calgary, site of the 1988 Winter Olympics. Conaway races Street Luge and Classic Luge.
The course was 1 mile long and contained 2 sweeping corners and 4 hairpin turns. The course had two speed bumps which also added a level of complexity for the racers. Race speeds exceeded 58 mph.
Conaway qualified with the 4th fastest time down the course in both of his disciplines. In his first heat race while leading the remaining 4 racers Conaway drifted out of a corner and made contact with the hay bales and was dismounted from his luge. He was able to recover quick enough to finish in the 3rd position to allow him to advance to the next round of racing. Interestingly when he jumped back on his luge he did so with the luge backwards and managed to finish the heat to advance to the Semi Finals in which he took 2nd place in the heat.
Advancing to the Street Luge Final were Andy Lally, Mike McIntyre, Dylan Wall, David Dean, Frank Williams and Christian Conaway. As the Final race started David Dean out paddled the pack. Lally and Conaway paddled side by side and entered turn 1 with Dean in the lead. Conaway took up position and drafted Lally as they made their way down the course. After turn 3 Lally passed Dean in a straightaway. Conaway pulled off an inside pass in turn 5 on Dean which put him in second place at that point. Lally held a strong race lead with Conaway firmly in second place to the finish line. Dean, who was in third position, was contacted by Frank Williams which resulted in both racers wrecking. McIntyre made his pass while Williams and Dean were mixing it up in turn 5 and advanced to take 3rd place in the event. Taking the podium was Lally, Conaway, McIntyre.
When asked about the race Conaway said "The start really mattered on this course but the speed bumps and slippery road condition were a great equalizer, it really tested who was the better rider over all".
Racers who competed in the Consolation Finals included Kolby Parks who previously held the track speed record and Will Condon who was the 2011 US National Champion. "The competition was really tight, each heat was stacked with great riders" said Conaway.
Conaway will next compete at the Prince Edward Gravity Festival in Picton Ontario Canada Sept 15-16. Following that race he'll compete in the IGSA Nor AM Finals which will be held in San Dimas California at Bonelli Park in October.