Chloride committee seeks cooperation in getting rid of brine water softeners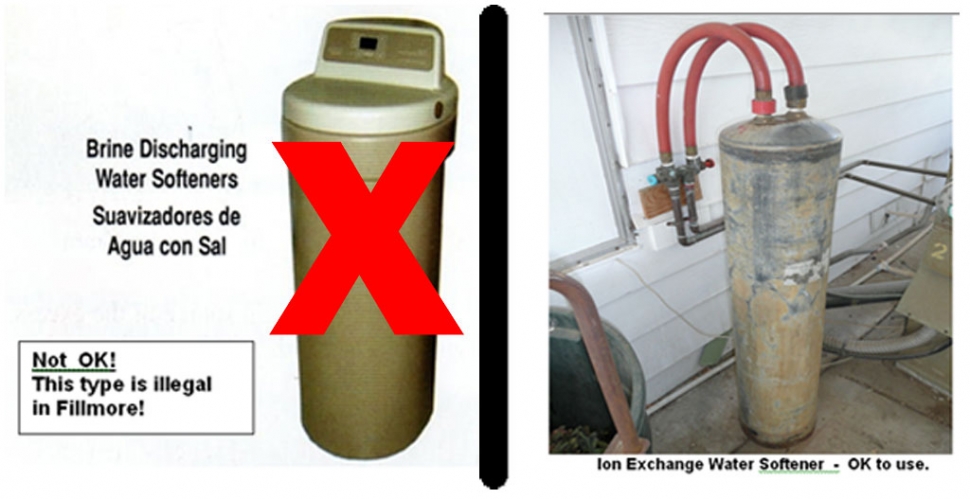 Out with Bad, in with Good Shown left, Brine (salt) Discharging water softener (BAD); right, Ion Exchange water softener (GOOD). The City will buy your brine discharging water softener from you. Just call 805-524-1500 ext. 234 to get money for this system. If the approximately 400 citizens who have the brine softener turn them into the city, our sewer bills will not increase by $25 to $35 per month.
By Anonymous — Wednesday, July 23rd, 2008
Mary Farkas led the City Chloride Control Committee in a productive, two hour meeting, Monday, at the Senior Center. Eleven volunteer Committee members worked diligently to find ways of ridding the city of brine discharging water softeners. Each of these devices puts one pound of salt into the city sewer system every day. It is estimated that about 450 city households are using these softeners, which means they deposit at least 450 pounds of salt into the system every day.
The State of California threatens severe fines against the city of Fillmore does not reduce the present chloride content to something under 100mg. At present the city is discharging water into the Santa Clara River with a chloride content of close to 140 mg. Eliminating the brine softeners will quickly bring the city into compliance with the new state regulations.
If the brine water softeners (those using salt) are not taken out, every Fillmore household
will have to pay an extra $21 a month. The fines are mandatory, and reach up to $50,000 per day against the city for non-compliance. The fix remains simple: Fillmore residents must stop
using brine softeners.
The city has a program to buyback these brine units, and the passage of Assembly Bill 2270
would make it unlawful to operate a brine discharging water softener. The Committee urges
everyone to vote yes on AB 2270 in November. A chloride level above 100 mg has been found to be detrimental to agriculture (particularly citrus and strawberries) and fish.
A strong effort is being undertaken by the Committee to inform the residents of Fillmore of the importance of halting the use of these brine softeners. Churches and social and business organizations will be contacted for assistance in getting out the word. The Committee urges all users of brine discharging water softeners to sell them back to the city, which will avoid making every household pay an additional $21 to $31 per month for water. Flyers, in English and Spanish, will be distributed around town in this effort.