Centennial Celebration Honors Fillmore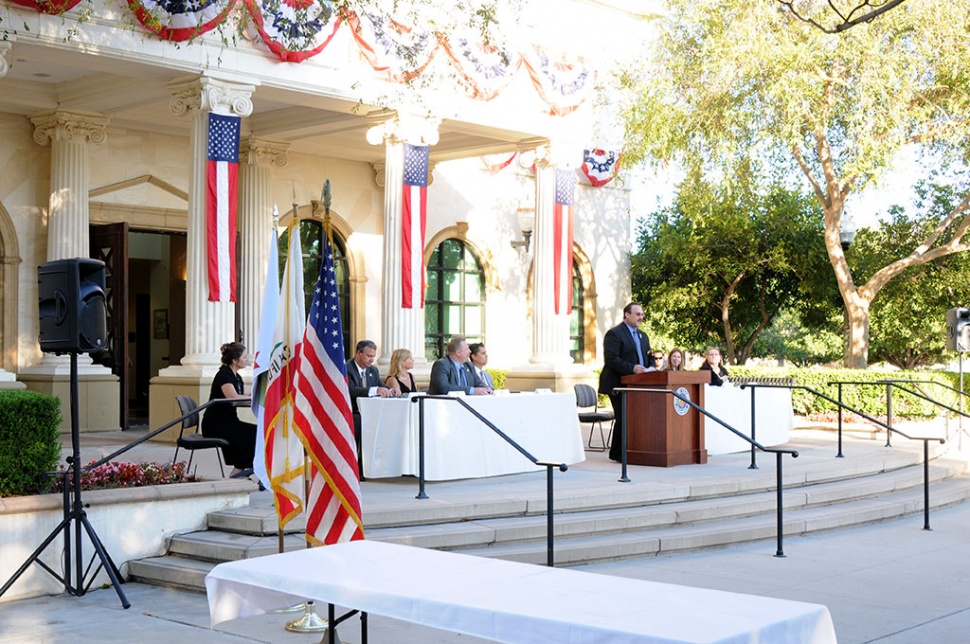 Fillmore Centennial in front of City Hall
By Jean McLeod — Thursday, July 17th, 2014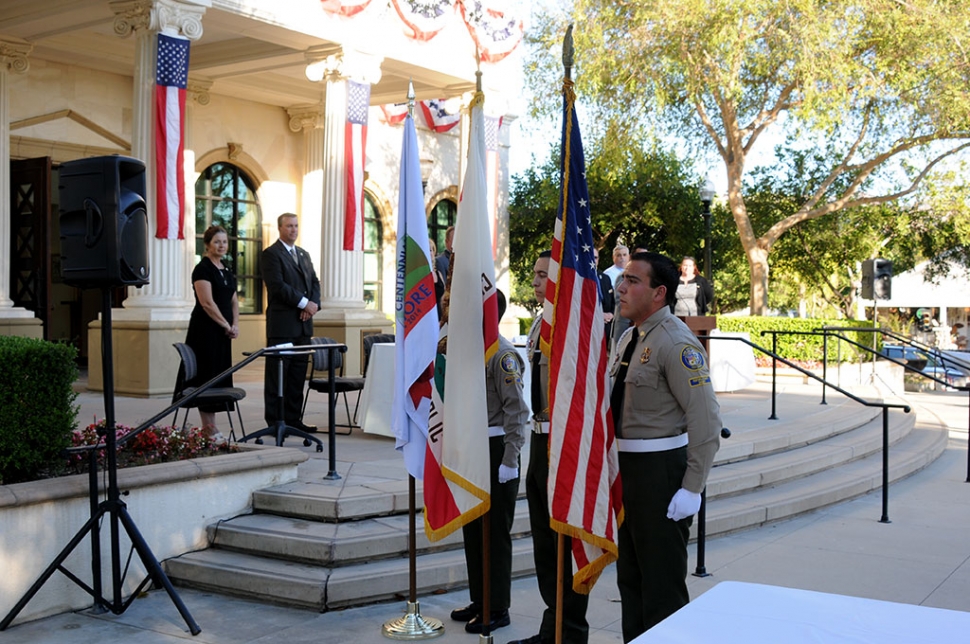 Presentation of our US flag by Explorers Adrian Mejia, Tyler Hackworth and Brandon Pina.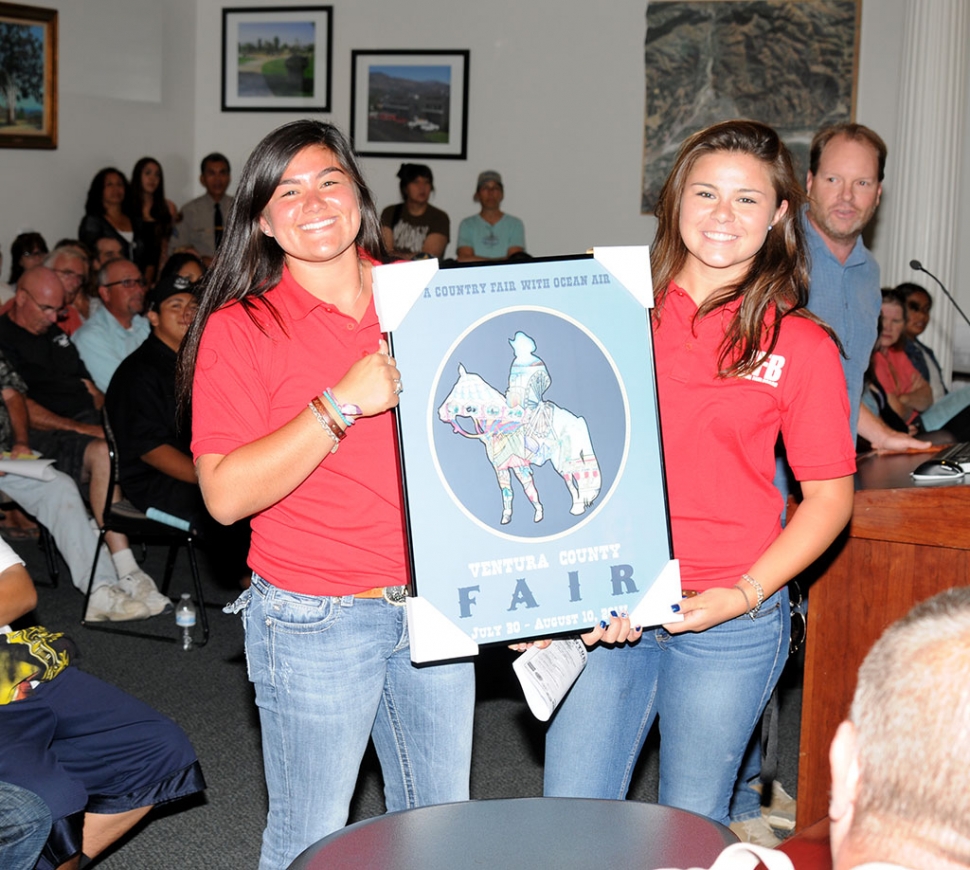 The new Ventura County Fair poster was displayed at City Council this week.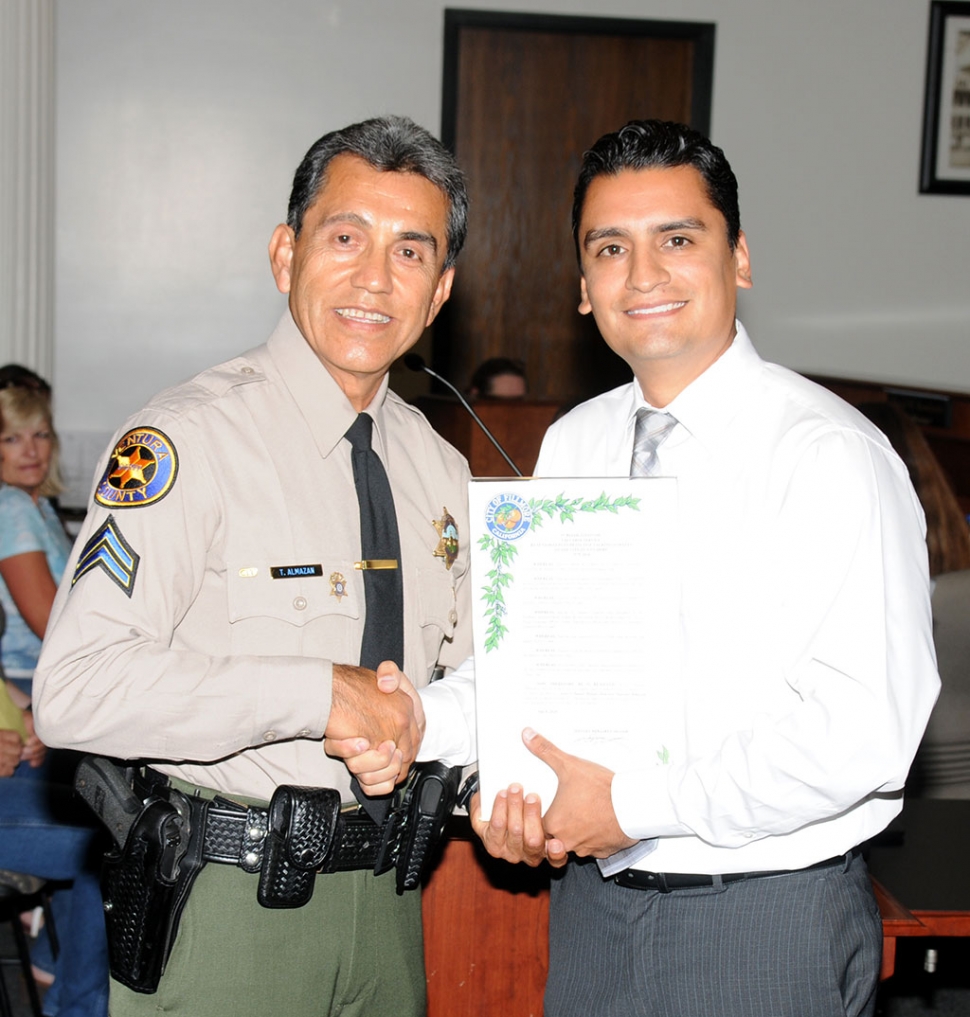 In Recognition Of Valuable Service, a Proclamation was presented to Senior Deputy Detective Taurino Almazan by Mayor Manuel Minjares on behalf of the City of Fillmore on July 8th at Council. Almazan served from 1979 to 2014.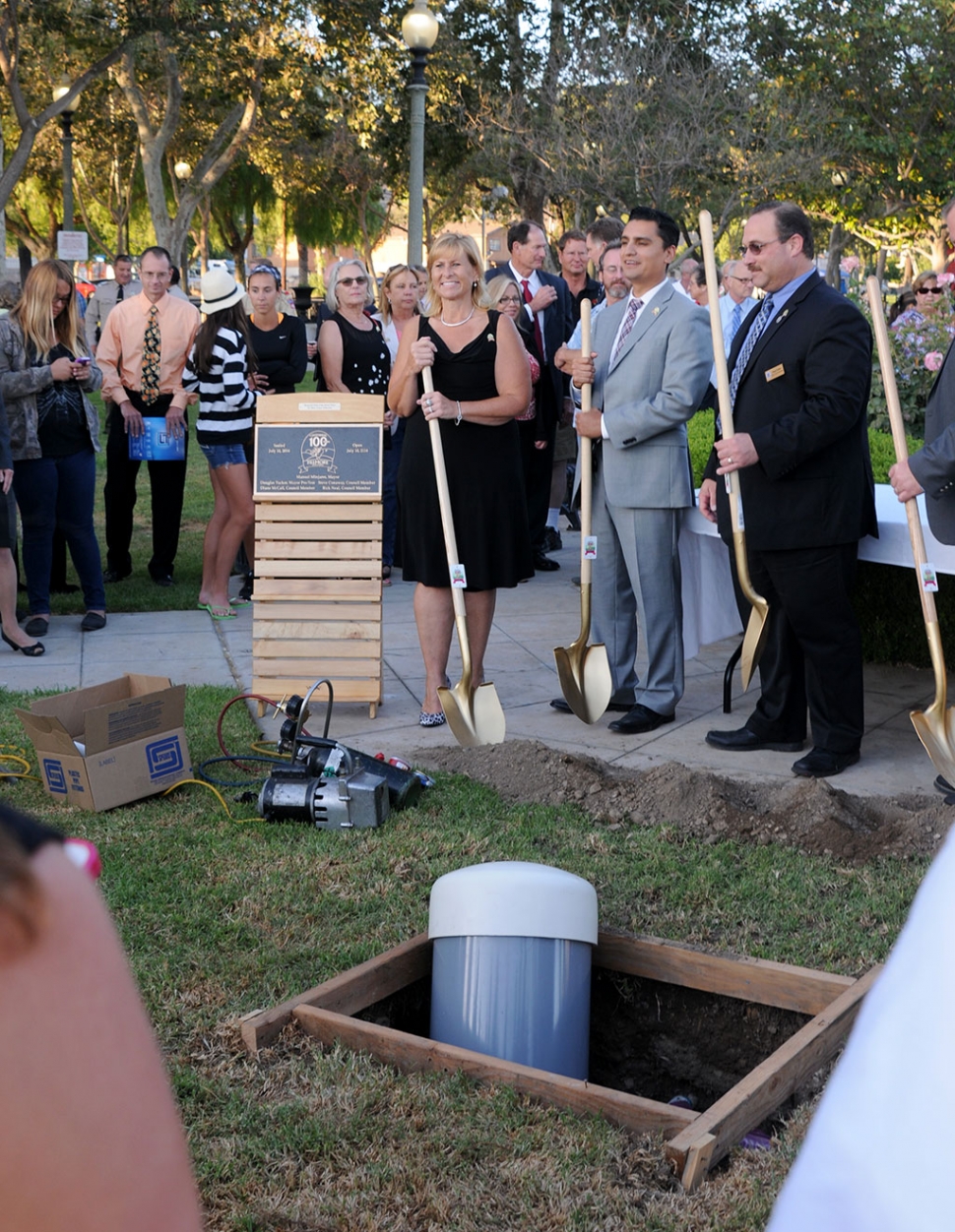 In honor of Fillmore's Centennial anniversary, a time capsule was buried in Central Park. Pictured with the capsule are Councilmembers Diane McCall and Douglas Tucker (right), with Mayor Manuel Minjares center. All councilmembers were present.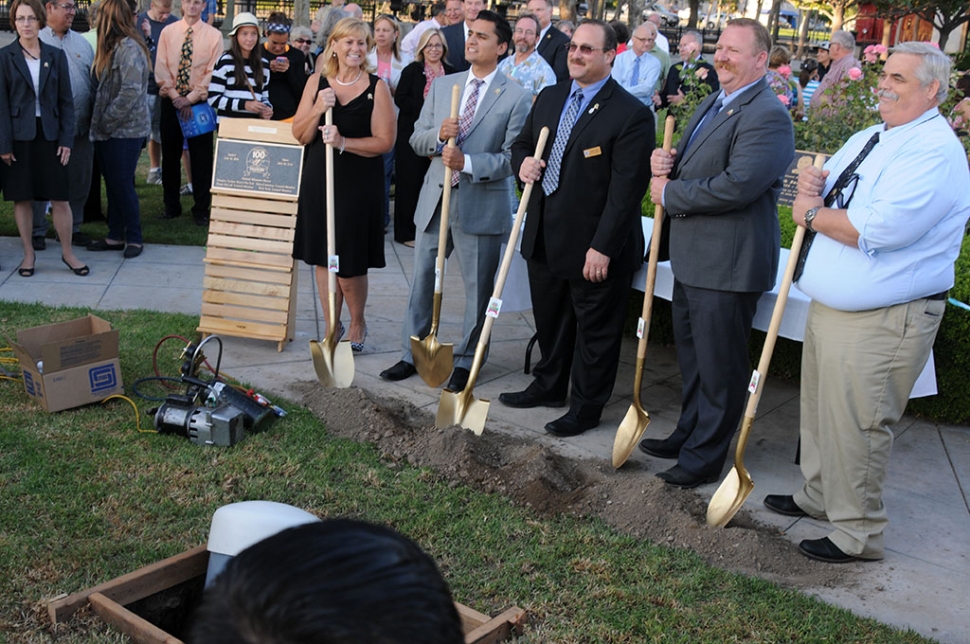 On Thursday, July 10, 2014 at 6:30 p.m., on a beautiful summer evening in front of City Hall, the City of Fillmore Centennial was honored, drawing elected officials from throughout Ventura County and Sacramento. Fillmore was incorporated one hundred years ago this year and is one of the oldest incorporated towns in Southern California.
With over 150 in attendance, the celebration began with the presentation of our US flag by Explorers Adrian Mejia, Tyler Hackworth and Brandon Pina, followed by the Pledge of Allegiance.
Each Council Member then commented on what Fillmore's Centennial Celebration meant to them personally. Mayor Manuel Minjares began with, "I want to state the importance of our incorporation....through floods and earthquakes we stood together." Council Member Rick Neal commented saying he was one of few words, then stated, "I'm honored to be serving at this time of our centennial." Council Member Steve Conaway stated, "What makes Fillmore great is its citizens...some people that don't even live here anymore, still give to the town.....I'm proud to say I'm from Fillmore. We're in an isolated little heaven, but without the people it is just geography." Council Member Diane McCall gave a short but heartfelt response, "Being on the council is so rewarding, there are no words for it.....it's fantastic."
The longest and most in depth response came from Council Member Douglas Tucker in a statement that was placed in the 100 years Time Capsule stating, "Author Michael Scott wisely said, 'We are nothing more than the sum of our memories and experiences.' Over the past 100 years, we have faced both difficult times and great accomplishments; from fires, floods, earthquakes and financial hardships to incorporation, economic development, rebuilding of our downtown including the completion of a beautiful City Hall and Vision 2020. Throughout the trials and tribulations, success and triumphs, our community has experienced one persistent theme: citizenship. Our community has rallied together to overcome, persevere and celebrate. We unite to come to each others aid in times of need and we rejoice in our collective success. We are there to welcome home our brothers and sisters from war or worse to mourn their losses, with the understanding that our way of life sometimes comes at a great expense. Our will to thrive shows in all our community does, with unmatched volunteerism to ensure we continue to blossom and grow.
Our enthusiasm for our mission has grown in the last 100 years and we are committed to creating a vision that will endure for centuries to come. Since you are reading this letter 100 years later, it would appear that our community has successfully continued this theme for over 200 years. One can only imagine what hardships and joys you have faced during this time, but we believe the spirit and foundation of our community set the tome for success will into the future. This foundation is rooted in the words of our forefathers, 'united we stand, divided we fall', and this excellent example of the United States spirit combined with the City of Fillmore's dedication to citizenship will ensure that it remains the best small town in California for future generations.
My hope is that the vision of this council and our predecessors will have set the tone and foundation for your future successes and carry you through the harder times. We strive to give future leaders the resources and tools to continue the tradition of citizenship and community unity that we have achieved to date. My advice is to look to the future and continue to evolve your vision for the coming years by building on what sets our city apart; Fillmore's tradition of success through perseverance, selflessness, volunteerism and passion. To me leadership is defined by actions and vision. Create a vision that will guide your future leaders or the next 100 years."
Following the Council member's comments, the elected officials and their representatives with Proclamations stepped up to the podium and expressed their congratulations at what Fillmore has accomplished in those 100 years. In attendance were; representatives for California State Legislative Assemblywoman Hannah-Beth Jackson and Assemblyman Das Williams, Ernie Villegas representing California State Assemblyman Jeff Gorell, Brad Hudson representing House of Representative Julia Brownley, Kathy Long Supervisor representing all of the County Board of Supervisors 3rd District Linda Parks 2nd District, Peter C. Foy Supervisor 4th District and John C. Zaragoza Supervisor 5th District (Long read a written statement discussing the partnership the Board and herself have with Fillmore to promote tourism and building new infrastructure such as roads and a medical center), Simi Valley City Council Members Mike Judge and Keith Mashburn and Assistant City Manager James Purtee and City Manager Eric Levitt, Sylvia Munoz Schnopp representing the City of Port Hueneme's Mayor Jonathan Starkey, City of Camarillo represented by Councilmen Mike Morgan, and representatives of BuenaVentura and Santa Paula. Representing Fillmore Unified School District was new Adrian E. Palazuelos, Ph.D. No School Board Members were in attendance.
The celebration ended with VFW Post 9637 Commander Jim Rogers, Al Rosette, Ismael Alonza, John Luna, Jim Mills, Richard Tansey, John Pressey, and Art Swetman standing in distinction as the 100 Time Capsule was place in the ground in front of City Hall.