Catalytic Converter Thieves Arrested After Vehicle Pursuit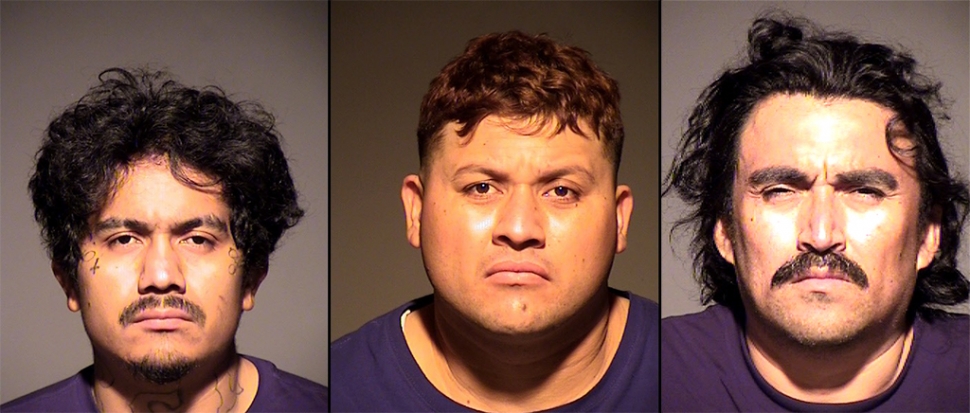 Pictured are arrested suspects Marcelo Ramirez, Victor Trujillo and Billy Nava, all from Los Angeles. Photos credit Santa Paula Police Department.
By Gazette Staff Writers — Thursday, January 26th, 2023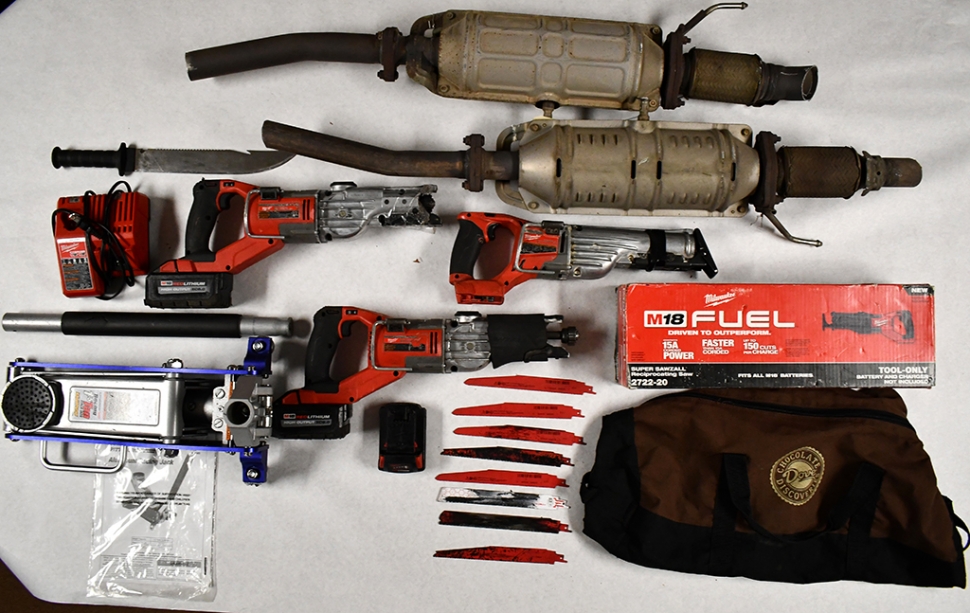 On Tuesday morning, January 17, 2023, three male suspects were arrested after stealing a catalytic converter, assaulting a victim, and evading arrest in a vehicle pursuit. All three suspect were booked into Ventura County Jail with bail set at $250,000 each.
Santa Paula Police dispatch received a 9-1-1 call at about 3:00 a.m. A witness near the 600 block of Venus St. reported suspects removing the catalytic converter of a vehicle in front of a residence. The victim, who was awakened by a surveillance camera alert, walked out to the front of the residence to check the area and the was encountered by one suspect while the other suspects removed the catalytic converter from the victim's vehicle using a portable electric saw.
While removing the catalytic converter, one of the suspects used the blade of the saw in an attempt to stab the victim as the victim tried to intervene. The suspects loaded the catalytic converter into a truck and drove away. The witness quickly provided suspect and vehicle information to the dispatcher. A broadcast was immediately announced and a Santa Paula Police Officer located the vehicle as it was leaving the city, eastbound on Highway 126. The vehicle failed to yield for a traffic stop and the Ventura County Sheriff's Fillmore Station patrol deputies assisted in pursuing the vehicle.
The vehicle continued eastbound into Los Angeles County on Highway 126 and California Highway Patrol (CHP) officers deployed a spike strip in an attempt to disable the vehicle. The vehicle became disabled southbound on Interstate 5 near Rye Canyon Rd. All three suspects were taken into custody and were transported to the Santa Paula Police Station.
The victim did not sustain any injuries during the catalytic converter theft. The suspects were arrested for a variety of charges including conspiracy, robbery, assault with a deadly weapon, vandalism, evading arrest, and grand theft. All three suspects were arraigned in Ventura County Superior Court on January 19th. The suspects were identified as Victor Trujillo, Billy Nava, and Marcelo Ramirez, all from Los Angeles.
Arrests were able to be made due to an alert resident reporting suspicious activity, the quick broadcast announced by the dispatcher, and the actions of Santa Paula police officers, Ventura County Sheriff's deputies, and CHP officers. The victim's catalytic converter, another catalytic converter, and tools of the crime were recovered as evidence. Anyone who believes their vehicle had a catalytic converter removed can report it the Santa Paula Police Department by calling (805) 525-4474.
The Santa Paula Police Department would like to remind citizens that, for safety reasons, do not attempt to intervene with suspects during the commission of crimes. Our community can help us best by observing and reporting crimes in progress. Residents are encouraged to report suspicious activity by dialing 9-1-1. In reference to catalytic converter thefts, suspicious activity such as the sound of electric saws operating in the early morning hours should be reported to police immediately. Residents can safeguard catalytic converters on their vehicles by etching/marking them with unique numbers. For more information, please view the following video link: https://tinyurl.com/zsb9zpx3
Agencies Responsible: Santa Paula Police Department, Ventura County Sheriff's Office, California, Highway Patrol
Press Release Prepared by: Don Aguilar, Interim Chief of Police