Carlos Valdovinos Selected as New Principal of Fillmore Middle School
By Gazette Staff Writers — Wednesday, July 13th, 2022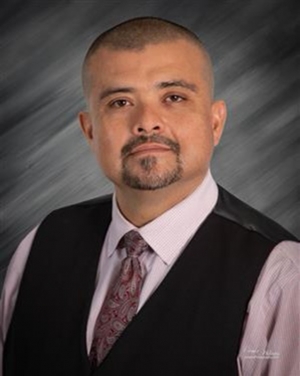 Raised in the small agricultural farming community of Santa Paula, CA, Carlos Valdovinos is the first-born son of two Mexican immigrant farm workers. From a young age, watching his parents perform backbreaking work in the fields to provide for him and his siblings instilled a grit and perseverance that has served him well over the course of his life and career. Growing up in an immigrant family of humble means developed a desire and ability to value everyone with respect and dignity no matter the circumstances. As a migrant education student and despite being born in this country, Mr. Valdovinos did not learn to speak English until the 3rd grade. His formative years and family background have shaped his desire to be an educator and gives him a special understanding of the experience of second language learners and those that come from poverty and disadvantage. At a young age he understood that academic success would be the road to realize his dreams and honor his parents' sacrifice. Mr. V, as his students fondly refer to him, has dedicated his career to being of service to students in the pursuit of their dreams and aspirations through academic success.
After graduating high school, Mr. V went on to attend Ventura Community College, where he earned his associates of arts degree. He was then accepted to UCLA to complete his bachelor's degree in Chicano Studies with a minor in Math Education. Mr. V. went on to earn two additional master's degrees from UCLA. He earned his first master's degrees and math teaching credential in 1999 and returned for his second master's degree and administrative credential in 2002. Mr. V. started his career as a math teacher, a dean of discipline, and at the age of 32, Mr. V was one of the youngest assistant principals in LAUSD. His wide breadth of experience has helped honed his skills at being able to ascertain the pulse of a school and its community which helps him tailor his service and leadership. His favorite part of his job is working with youth because they keep him young at heart. He believes that there is nothing more important than being a positive influence on his students today because they will be the leaders of tomorrow.
Mr. V's philosophy on education is simple: "improve our communities, one student at a time." Mr. V attributes much of his success to a couple high school teachers and one UCLA professor who took an interest in him beyond the scope of their role. Their advice and influence have been invaluable, and he honors them with his service to every student he serves. He knows that not all students' dreams require college, but what he is certain of, is that all students' dreams do require: hard work, determination, patience, and above all, a solid plan. His goal with every student is to help them forge a plan for success in whatever is "next." It is his hope to inspire the students of Fillmore by playing a positive role in their lives, just as many educators had a role in his. As he prepares to begin his tenure at FMS, he is extremely grateful and humbled to be able to come back "home" to serve the Fillmore community.