Business of the Year - Fillmore & Western Railway Co.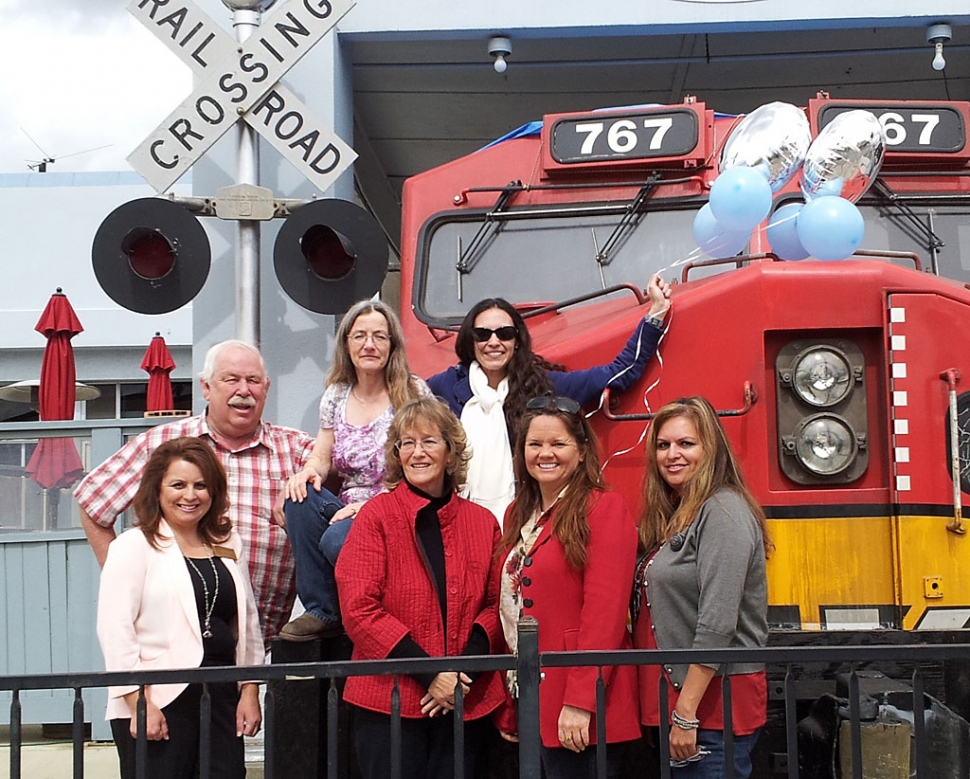 (l-r) (back row) Dave and Tresa Wilkinson, Rene Stoevsand-Martels. (front row) Theresa Robledo, Kathleen McCreary, Cindy Jackson and Ari Larson.
By Gazette Staff Writer — Wednesday, March 20th, 2013
Fillmore Chamber of Commerce would like to congratulate Fillmore & Western Railway Co. for receiving Business of the year for 2012. Thank you for all you do for our community.
Short Line Enterprises was founded in 1967. Between 1967 and 1972, the company bought, sold and traded locomotives, passenger cars and freight cars, mostly of 19th century origin. The majority of the equipment was acquired from the property departments of three major movie studios: MGM, Paramount and 20th Century Fox. This activity, combined with Short Line's experience in buying, selling and evaluating railroad equipment led to the company's emergence as one of the foremost appraisers in America of rolling stock and other railroad-related items. It also focused the company on its long-term path of providing movie trains for the film industry.
During this time (1985), Short Line moved its movie operations to the Newhall Ranch, placing it within the Hollywood production zone. Between 1985 and 1990, Short Line was used in over seventy feature films, television series and commercials. No Hollywood railroad location had ever amassed that number of credits in such a brief period of time. The track lease was cancelled in 1990 when the Newhall Land and Farming Company decided to develop the surrounding area in a way, which was incompatible with movie operations.
A search began for a new home for Hollywood's "movie trains". The only line that met the specific needs of the film industry was Southern Pacific's Santa Paula Branch in rural Ventura County. The pastoral surroundings of the area also bode suitable for development of a passenger excursion business. The City of Fillmore showed great enthusiasm for the operation of a vintage train in conjunction with the revival of its 1920-era Central Business District. The objective—to create a major visitor destination that features the movie trains, passenger excursions and dinner trains as the master theme for the community redevelopment. To date over 400 feature films, television series, commercials and still shoots have been filmed on Fillmore & Western Railway, home of "The Movie Trains".
The "Movie Trains" found a home, and Fillmore became known as "train town".
In 1996, Short Line Enterprises became the film division of the Fillmore & Western Railway Company, when Dave and Tresa Wilkinson purchased the railroad from the former owners. Operations expanded from movie work and limited passenger trips to regularly scheduled daytime passenger excursions and Saturday night dinner trains, and have gone on to include widely recognized "train themed" events such as Day Out With Thomas, the first tourist railroad to present PumpkinLiners, the North Pole Express and Xmas Tree Trains. Because of the mild valley climate, Fillmore & Western is one of the few historic railroads that operates year round. Many southern California school children have ridden one of the "school field trip" trains either to the Fillmore Fish Hatchery or "Ichabog", Fillmore & Western's private pumpkin patch.
The antique trains of Fillmore & Western continue to attract visitors and railfans to the Heritage Valley and is as involved as ever in the magic of movies, while the company's passenger excursions, dinner trains, private parties and corporate events provide the means of travel to a bygone era. The owners and staff of Fillmore & Western are involved in many community based organizations and contribute to county wide and local fundraisers. Fillmore & Western has partnered with 5 tourism bureau organizations, several regional Chambers of Commerce all in an effort to bring more visitors and prosperity to all businesses in Fillmore and the valley. The owners have proven time and again that they are committed to giving back to their community by donating train trips and sponsoring non-profit organization. When the Heritage Valley Tourism Bureau lost its funding, the railroad owners stepped up and provided full time staffing to keep the Tourism Bureau operational. The train partners with local museums and businesses to promote not only the train, but all the historical and cultural treasures, festivals and events that our community has to offer. The original tracks, depot and trains arrived in Fillmore in 1887 hauling citrus and passengers, now one hundred and twenty six years later it is still "chugging down the tracks" carrying tourists and locals because Dave and Tresa Wilkinson have devoted the last twenty years of their lives to ensuring the history and heritage of railroading stays alive and thriving.