Boy, 3, struck by passing flatbed truck
By Ventura County Sheriff Department — Wednesday, September 4th, 2013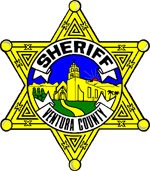 Ventura County Sheriff's Department
On Thursday evening, August 29 at about 6:30 p.m., a 3 year-old boy was hit by a passing truck on Third Street in Fillmore. Deputies from the Fillmore Police Department were notified about an hour after the collision when the boy was taken by his parents to the Emergency Room at the Santa Paula Hospital.
The deputies investigating the collision were told the boy had followed an older brother who had gone across the street previously. The 3-year old ran out between two parked cars and into the side of a large white commercial type flatbed truck that had left the nearby citrus packing house on Third Street. The boy's father was the first to come to the boy's aid and the driver of the truck stopped and checked on the boy's condition.
According to the boy's father, he mistakenly presumed his son was not seriously injured and dismissed the truck driver before obtaining any information and without summoning police or EMS. Shortly thereafter, the boy's parents realized something was wrong and they took their son to the hospital where he was admitted with a serious head injury.
Deputies from the Fillmore Police Station are still investigating this collision and will follow-up at the citrus packing house to locate the driver of the truck. At this time in the investigation, there does not appear to be any criminal or improper procedures committed by the truck driver. If you are the driver of the truck involved or you have any information about this collision, please call the Fillmore Police Station at 805-524-2233.
The Fillmore Police reminds parents and the guardians of small children to teach and practice looking both ways before crossing a street. Do not allow small children to play unsupervised in proximity to streets, even if the roads are not particularly busy. Finally, both parents and anyone driving in residential areas need to be vigilant for hazards that might dart out between parked cars. Be aware the warm temperatures we have been experiencing increases the number of children and people outdoors.
Nature of Incident: Injury Traffic Collision
Report Number: RB# 13-19386
Location: Third Street Between Lemon Way and B Street, Fillmore
Date & Time: August 29, 2013 6:30 p.m.
Unit Responsible: Fillmore Police Department / Patrol Services
(S)uspects, (V)ictims, (W)itnesses (D)ecedent City of Residence Age
V Male toddler Fillmore 3
Deputy Preparing Media Release: Craig Smith, Sergeant
Media Release Date: 08/30/2013
Follow-Up Contact: Craig Smith, Sergeant 805-524-2233
Approved by: Captain Monica McGrath
Ventura County Crime Stoppers will pay up to $1,000 reward for information, which leads to the arrest and criminal complaint against the person(s) responsible for this crime. The caller may remain anonymous. The call is not recorded. Call Crime Stoppers at 800-222-TIPS (8477).