The Big Dig on Central Avenue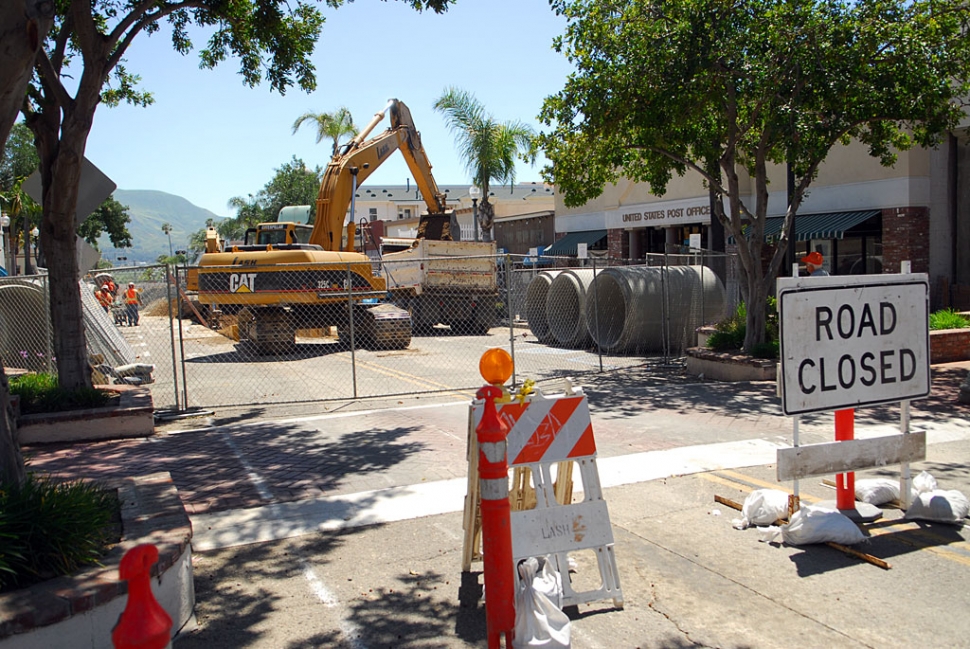 Work continues on the Central Avenue drainage project. Closure of Central Avenue has caused substantial fi nancial loss to shop owners, and a major inconvenience for the driving public. The much-needed new storm drain will be appreciated during the next major rainstorm, as "normal" fl ooding will have been eliminated.
By Joyce Schifanelli — Thursday, April 10th, 2008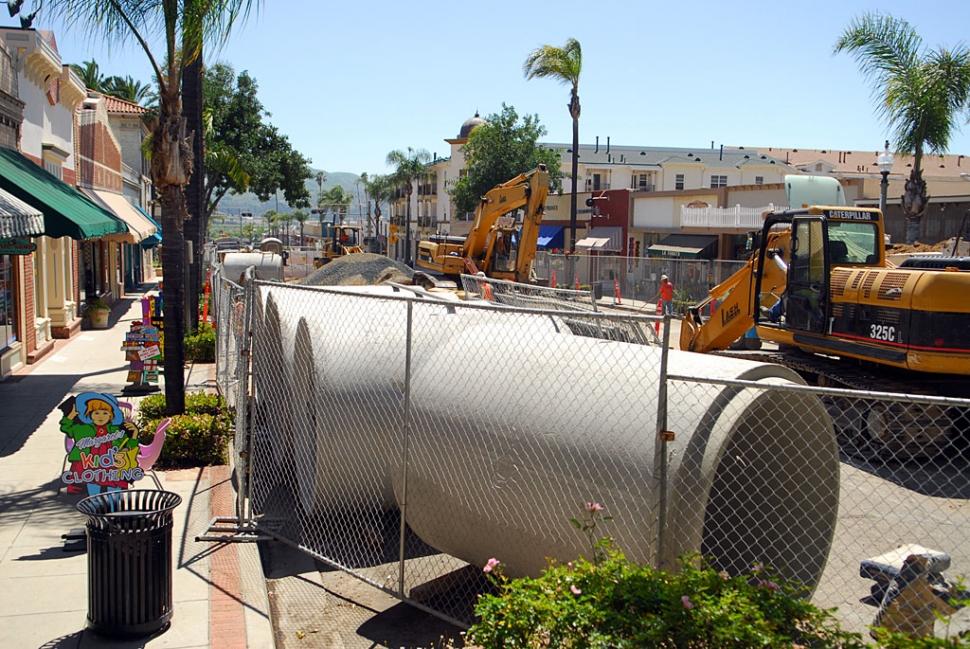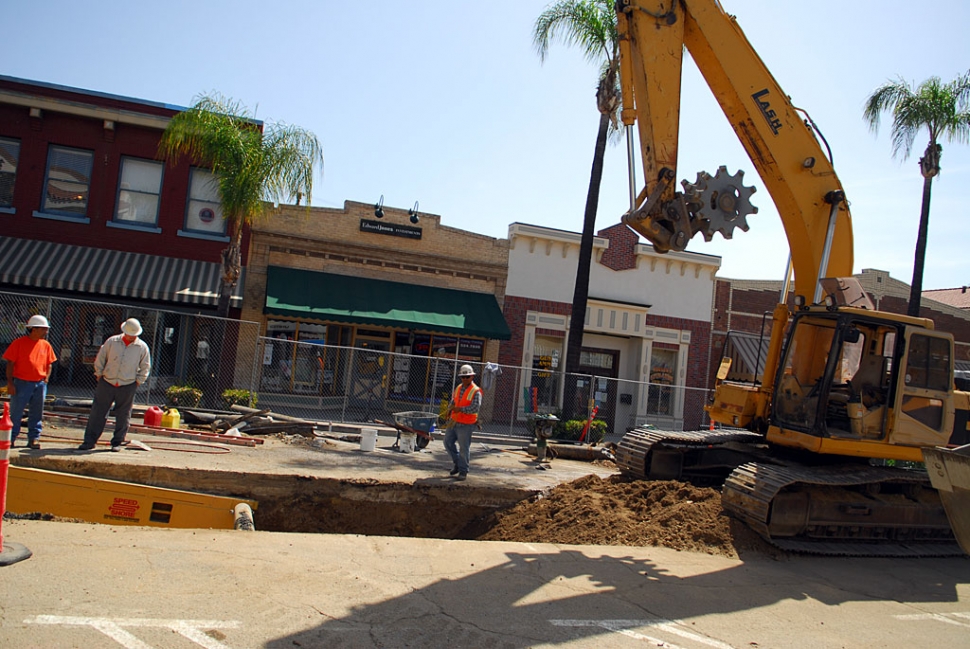 By now, everyone has surely noticed or been affected by the massive project that has Central Ave., Fillmore's downtown business district for the past several weeks, in a state of dust, fences, signs, holes, noise, street closings, detours and the general concern of shopkeepers and residents alike. If you have not kept up with the newspapers, you might not know that the City has retained Lash Construction, Inc. to replace the existing 10" water line with a new 20" line, and the leaking, corroded, cast-iron storm drain with a 60" epoxy coated, concrete drain which can have a life of up to two-hundred years. Choosing the Central Ave. location minimized costs to the City for the much-needed work. "Completion of the project is expected to bring flood relief to Downtown and North Fillmore neighborhoods," says Bert Rapp, Public Works Director.
However, completion of the project is tentatively slated for January 2009. While the construction crew, a fine group of workers, receiving nothing but compliments and praises from merchants and residents for their professional and courteous behavior makes progress, the confusion of access to the mini business area has taken its toll. Most stores and businesses have noted significant decreases in foot traffic and sales.
Nadir Ghafouri, owner of SportsWear, says, "No traffic means no sales, and no sales means no money." He worries, as he stands in his empty shop amidst racks of affordable, name brand clothing, how he will pay the rent and feed his young family. He has contacted the Economic Development Collaborative of Ventura County for assistance. Kathy Vargas, owner of the Mail Stop, a copy, shipping and passport photo shop, agrees that business has dropped notably since construction commenced. She feels that signage directing perspective customers to parking could be much better, and considers herself luckier than other shop owners across the street, for continued access to her back entrance. The owner of Vintage Pleasures, Norma Amaro, admits that traffic is slower than usual. Nevertheless, aside from the need for larger signage on State Road 126 directing shoppers into town, she feels the City is doing what it can to lessen the project's impact. Mrs. Amaro believes it is up to owners and managers to find creative ways to increase business during difficult times, and has helped to organize merchants' meetings. Her shop, an eclectic display of unusual treasures, is open seven days a week unlike many that close on Sundays and Mondays. The residents of Parkview Senior Court, represented by resident Little Bear Woman, have more complaints with management than with the City. Although notification was prepared one week before construction began by Lash Construction, Inc., many elderly Parkview residents were frightened by vibrations from drilling, assuming tremors, because, they claim, management neglected to pass out the notification letters on time. They also complain of a similar situation when the water was turned off.
Bill Bartels, Deputy City Manager, has worked closely for nearly a year, with Downtown merchants and residents of Parkview, up-dating, addressing problems and offering suggestions to help increase business. The City is acutely aware of the disruption to local businesses and accompanying financial consequences. It has tried to assist by developing a Downtown map, distributed by the Tourism Bureau, installing lighted signage and banners, allowing every business to post signs along the promenade near the train on weekends, and placement of lighted signs on State Road 126 East of Mountain View and West of A Street intersections to direct motorists to the Downtown area. Mr.Bartels says, "The City, as part of the construction contract, will stop all work for the four days of the May Festival, and the immediate goal is for both affected intersections on Central, Santa Clara and Main Streets, to be opened by Friday, April 11th." It is also the City's hope to complete the work involving Main Street, across Sespe Ave., including the catch basin, before the end of June. There will be no impact on the July 4th Car Show, however work will commence under the highway on July 7th.
The community has an obligation to support local businesses, for they are the backbone of any town, large or small. However, in light of the negative impact this confusion and inconvenience has on tourism, it is even more essential to shop locally. Take a walk up and down Central Ave., and surprise yourself with the treasures and bargains you will find there. People travel far and wide to experience a town like ours. You can do it today, right here in Downtown Fillmore. "Shop 'till you drop" while helping our merchants survive "The Big Dig".