Bestselling Author Moves To Fillmore
By Gazette Staff Writer — Wednesday, December 23rd, 2020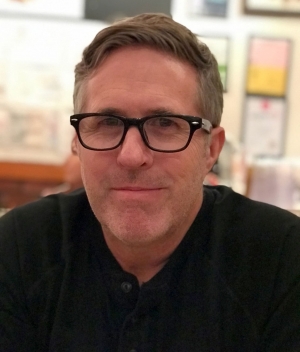 Bestselling Author Brett Battles
Brett Battles, bestselling author of nearly 40 novels, has moved to Fillmore. Born and raised in Ridgecrest, California, Battles lived most of his life in the greater Los Angeles area, but felt ready for a change.
"I was looking for a place outside of Los Angeles, but close to Simi Valley, where my kids live," said Battles. "Ventura County seemed like the perfect solution. I checked out several places, and really liked the feel and size of Fillmore. Plus, one of my best friends lives here, so that was a bonus."
Battles has sold over one million copies of his novels. He is a USA Today bestselling author of several series including the Jonathan Quinn series, the Project Eden series, and the time bending Rewinder trilogy. His debut novel, The Cleaner (A Jonathan Quinn Novel Book 1), was nominated for The Barry Award for Best Thriller, and The Shamus Award for Best First Novel. His second Jonathan Quinn novel, The Deceived, won The Barry Award for Best Thriller.
Battles has traveled extensively to many international cities, Ho Chi Minh City, Berlin, Bangkok, Angkor Wat, Singapore, Jakarta, London, Paris, and Rome, all play parts in his current and upcoming novels. Although he enjoys traveling, Battles loves being at home to write and spend time with his three adult children, Ronan, Fiona, and Keira, who now enjoy driving up to Fillmore for visits and to play with Maggie, Brett's neurotic, paranoid, and very cute, Australian Shepherd.
"I love the pace of Ventura County. It's both energetic and relaxed, perfect for me. I feel like I've lived in Fillmore for years. It really feels like home. I've made some great friends here already, and look forward to making even more."
Battles says, "If you like James Bond, Jack Reacher, or Jason Bourne, give my Jonathan Quinn series a try. I get the best feedback from Quinn fans. They seem to really love the main characters." Battles latest Quinn novel, The Vanished, was just released this December and has already reached #1 in several Mystery, Thriller, and Suspense categories on Amazon. You can lean more about Battles and his novels at his website www.brettbattles.com