Austin Roy Davis Graduates From USMC Basic Training
By Dick Diaz — Wednesday, September 18th, 2013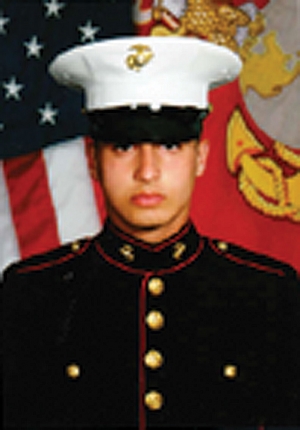 Austin Davis
United States Marine Corps (USMC) Private First Class (PFC) Austin Roy Davis, 19 years old, graduated from United States Marine Corps Basic Training on August 9, 2013! Austin enlisted for eight years and left for USMC Basic Training on May 13, 2013. His Basic Training was in San Diego at the Marine Corps West Coast Recruit Training site, Marine Corps Recruit Training Depot (MCRD). Austin is a 2011 graduate of Fillmore High School. Austin also attended Piru Elementary School and Fillmore Middle School. While growing up in Fillmore Austin participated in 5 years of Fillmore Raider's Football, 3 years of Fillmore High School Football and l year of Fillmore High School Wrestling. After graduation from Fillmore High School Austin attended Ventura College for one year. Austin is a graduate of the Ventura County Police and Sheriff Reserve Officer Academy, Class of 2072J.
Austin is the son Royce Davis of Ventura and Esmeralda (Hernandez) Davis and Joe Garcia (step parent). Austin's parents all grew up in Fillmore, attended school in Fillmore and graduated from Fillmore High School. Austin's siblings are sister(s) Kendall 18 years and attending California State University Chico and Aubree 17 years a Senior at Fillmore High School, Cesar 14 years and Diego 10 years. Austin's maternal grandparents are Elia Hernandez, of Fillmore and Jose Hernandez of Santa Paula. Paternal grandparents are Judy and Royce Davis of Arizona. Austin's step-parent, Joe Garcia, is a Veteran having also served in the USMC. Austin's girlfriend is Aime Lopez of Fillmore.
PFC Austin Davis is now home on a 17 day leave (ten days of leave and seven days as a Recruiter's Assistant for a USMC Recruiter. On August 27 he is to report to Camp Pendleton in Oceanside, California for Infantry Training with the 2nd Battalion, Echo Company, Platoon 2113. PFC Austin Davis has earned the National Defense Medal and Sharpshooter Medal. Austin's Military Occupation Specialty is 0300, Infantry.
When I first spoke with PFC Austin Davis's Mother, Esmeralda, I warned her that she would see big changes in her Son when she next sees him at Recruit Training Graduation! Now that he has graduated I asked her for her impressions: "Well at first sight I was shocked at how thin he was! He was floating in his fatigues. After the 4 mile run he was dressed in what I think is called his CHARLIE'S and my heart swelled with so much pride and love! Geeez... just remembering makes me tear up. He walked a little taller with his shoulders back and his head held high. He looked sooo... handsome! After we finished showing him how much we had missed him he took my arm and escorted me like a gentleman thru the base I felt so proud and honored. He gave us a tour of the museum and I was so impressed with how much he knew. When he spoke of our history, battles, wars, missions, fallen soldiers and hero's he spoke with such pride and heart I was so touched to see that my son had become not only a United States Marine, but a man. He displayed such patience, which was something my son never possessed before. When he spoke of his new brothers he said it with such affirmation and commitment. It felt good to know that my son was not only proud, but happy with his accomplishment. So, today I walk a little taller with my shoulders back and my head held high because my son is one of the few and proud. My son is a United States Marine! OORAH!!!" Having served in the USMC myself, and having a Son currently serving in the Navy, I am all to familiar with Esmeralda's description of Austin on Graduation Day; my parents shared the same feelings when they attended my Graduation in 1966, and I felt the same when my Son graduated from Basic Training in 2005!
Although PFC Austin Davis has just begun his journey as a United States Marine we thank him for his service and for the sacrifices he and his family have made and will make in the future. All of us here in the communities of Fillmore and Piru wish him safe travels. We are proud of PFC Austin Davis! He is truly an American Hero!