Assistant Fire Chief Recounts Rattlesnake Bite Ordeal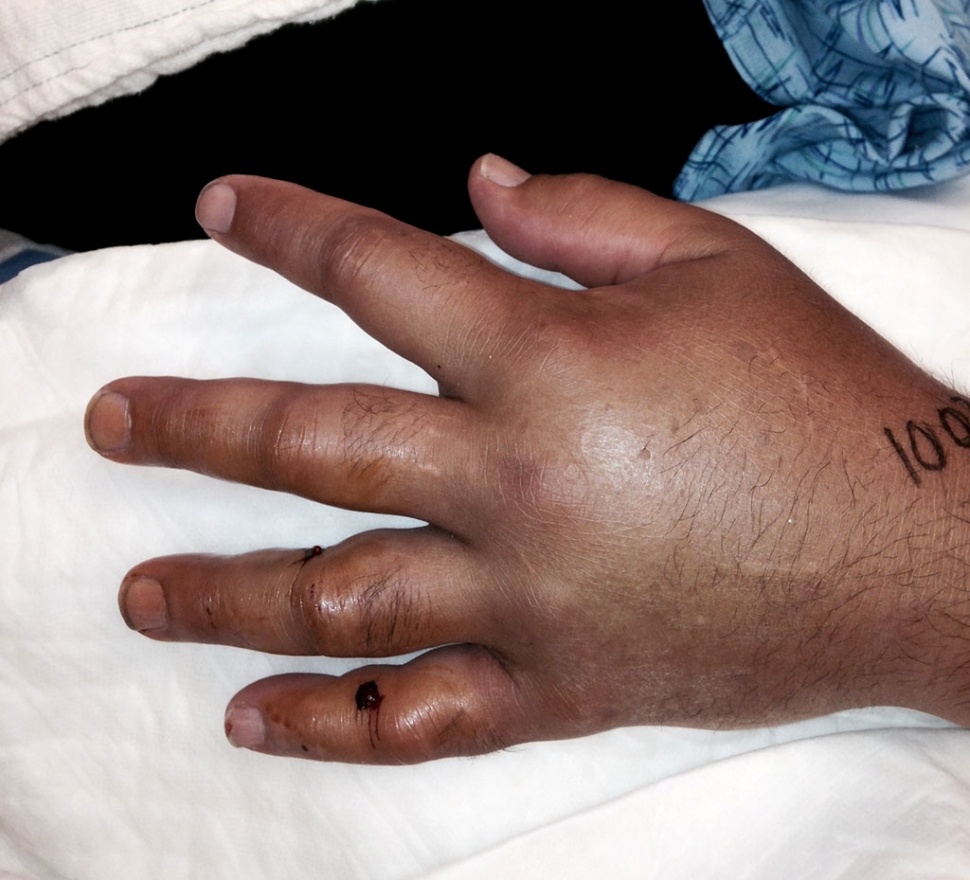 Fillmore Assistant Fire Chief Bill Herrera's hand, with rattlesnake bites showing on two bottom fingers. A 15-year volunteer of the Search & Rescue Team, Herrera was bitten in June while searching for missing Arcadia Firefighter Mike Herdman in the wild Sespe reserve. Herrera wanted to thank the community for their prayers and support.
By Anonymous — Wednesday, August 20th, 2014
Herrera thanks community for support in Letter to the Editor
Bill Herrera
On Monday 06/16 we were called out to search for a lost hiker, Mike Heardman an Arcadia Firefighter and his dog; who's friend had reported him missing for 1.5 days. The search last 18 days until he was unfortunately found deceased from what appears to be blunt force trauma from a significant fall.
The morning of 6/16 our team was flown into an area called Shady Camp; in Alder Creek in the very rugged territory of the Sespe Wilderness and our objective that day was to retrace the first 8 miles of what was a planned 4 day hike for Mike, his friend and dog. We flew in, hiked out the 8 miles and found no sign of him or his dog.
On Thursday 06/19 I returned to the search. I was assigned Division Sup with an 8 person search team to cover 2.5 miles of the Sespe Creek area where Mike was last seen. Our objective was to search this 2.5 miles of Sespe Creek and try to accomplish an 80% probability of detection. This was very rugged terrain and the temperatures were in the high 80's low 90's. We were coptered into our search area, about a 10 minute ride from the command post. The copter landed on a small sand bar where two teams of 4 off loaded. I gave a safety briefing and believe it or not the last thing I told my group before we started our line search was to watch out for rattle snakes. Famous last words
At 9:50 AM is was lowering myself down a three ledge formation on the side of the creek. I had sat down on my bottom with my hands at my side getting ready to push off to the lower ledge just above the creek bottom. At that moment I was struke by the snake. I never saw him or heard him before the strike, but I knew instantly I was struck by a snake. I barley caught a glimpse of it out of the corner of my eye. He struck my left little finger and ring finger. As I proceeded to jump off the ledge I was able to look back and I saw what looked to be a large snake body coiled and nestled on a shelf just to the left of and behind my seated location. It was very dark in color almost black. The snake never made a noise, not before and not after. I was certainly where no person would normally go hiking or camping. But again we were searching with the intent of 80% probability of detection. Every member of the team were in places they could have encountered a rattlesnake. I just happen to be the lucky one. It was reported that crews were encountering many snakes during this search.
At 9:55 I was attended to by one of my team members. Pulse was 118, I was working very hard to stay calm, to the point they could not count my respirations. I asked my communication guy to get hold of our radio relay plane which was Air Patrol 415 for an emergency evacuation. Air Squad 8 (Ventura County Helicopter) was also working in the area, flying teams in and out with search assignments. It took about 10 minutes to communicate our issue and location for pickup. During the 10 minutes this is what I felt: Ringer finger swelled and tingled immediately, hand started to tingle and swelled slightly over the 10 minute period, mouth and jaw area tingled and felt numb, top of my head felt like I was wearing a tight hat and it also tingled, I was salivating and got the dry heave's. At 10:02 my hand was marked at my wrist to track swelling. Copter pilot did an amazing job and landed about 40 feet from my location, as I walked over to copter I felt some general weakness in my legs. We flew about 10 minutes to the command post to pick up a paramedic and his ALS (advanced life support) gear. We sat on the ground for about 5 minutes while a line was started in my right hand. Copter flight to hospital was about 10 to 15 minutes. It was estimated that from the time I got bit, it took them 38 minutes to get me to the ER. All things considered this was a tremendous response time. I was unable to walk from copter into the ER due to weakness. I got my first anti-venom (Crofab) treatment around 10:20. All of the signs and symptoms that started in the first ten minutes remained the same in the ER. In the ER my wife said that my body was twitching all over, in what appeared to be small muscle spasms. She also said the area around my mouth was twitching.
Over the course of the next 24 to 36 hours, my hand, arm, shoulder, front left torso, back left torso, and left side swelled to pretty stiff proportions. I also had some swelling in the left side of my neck and face. This is a rough time table of how the swelling moved up my arm. At 10:02 I swelled to my wrist, 10:30 swelling was below my elbow, 11:15 above elbow and below bicep; 11:30 above bicep, 12 something at shoulder joint. I received over 100 vials of Crofab. My signs and symptoms and swelling all improved over the following 14 days. Main concerns that were verbalized to me were the swelling in my hand and arm, low blood platelets and kidney functions. All seemed to have improved over time.
I spent 5 days in ICU and another 9 days in a regular hospital room. Last 5 days in hospital I felt 95% good, left hand and arm would intermittently swell. Always had good pulses, cap refill and feeling in hand and finger tips. Platelets just did not seem to be cooperating. I was released from hospital on July 3rd at around 12PM with a platelet count of about 22000. On July 11th my platelet count was 159000. Now I am still felling 95% good, energy is a little low but improving every day.