By Anonymous — Tuesday, September 9th, 2008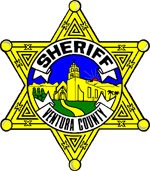 Ventura County Sheriff's Department
Location: Mountain View Street at Sespe Avenue, Fillmore, CA
Date & Time: 09/05/08 / 6:35 P.M
Suspect: Hispanic male, 30's. No physical description
Victim: 11 year-old female
On 09/05/08, at approximately 6:35 P.M, deputies with the Fillmore Police Department responded to a reported assault that occurred in the area of Mountain View Street and Sespe Avenue.
The victim's guardian reported that her 11 year-old told her about the incident immediately after it occurred. The 11 year-old told her that a Hispanic male adult had just approached her on Mountain View Street and pushed her to the ground. The victim stated that she was able to fend off the adult male suspect who then fled in a black,1980's Honda with rear tinted windows.
Anyone with information regarding the incident is asked to contact the Fillmore Police Department, at (805) 524-2235. Additionally, Ventura County Crime Stoppers will pay up to $1,000 reward for information, which leads to the arrest and criminal complaint against the person(s) responsible for this crime. The caller may remain anonymous. The call is not recorded. Call Crime Stoppers at 805-385-TALK (385-8255).