Assault with a Deadly Weapon Arrest
By Ventura County Sheriff Department — Wednesday, May 14th, 2014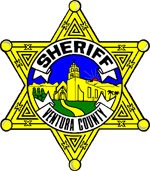 Ventura County Sheriff's Department
On May 5, 2014, at about 9:00 P.M., suspect Jorge Izarraraz confronted a sixteen year-old minor in the alley of the 900 Block of Blaine St. in the city of Fillmore. Izarraraz assaulted the minor with a pocket knife, battered him, threatened him and stole some personal items from the minor.
The incident unfolded as the minor was talking to a friend in the alley. Izarraraz walked-up to the minor and placed the blade of the knife against his neck and then struck him on the head with the butt of the knife. The minor fell to the ground and Izarraraz continued to batter him. The minor was able to get away and take refuge inside a nearby home. During the incident, Izarraraz threatened to hurt the minor if he called the police. Izarraraz left the scene with the minor's baseball cap and money he dropped during the attack. The minor sustained minor injuries.
Patrol deputies and detectives located Izarraraz near his house and arrested him. He was found in possession of the minor's property. Izarraraz was charged with assault with a deadly weapon, making criminal threats, brandishing a knife and theft. His bail was set at $100,000.00 dollars.
Nature of Incident: Assault with a Deadly Weapon Arrest
Report Number: 14-10378
Location: 900 Block Blaine St. Fillmore, Ca. 93015
Date & Time: 05/05/14 @ 9:00 P.M.
Unit(s) Responsible: Fillmore Patrol / Detectives
(S)uspects, (V)ictims, (P)arty, (D)ecedent City of Residence Age
(V) Male, Fillmore, 16
(S) Izarraraz, Jorge Rodriguez, Fillmore, 21
Prepared by: Detective Taurino Almazan
Media Release Date: May 08, 2014
Follow-Up Contact: Detective Taurino Almazan @ (805) 524-2233
Approved by: Captain Dave Wareham
Ventura County Crime Stoppers will pay up to $1,000 reward for information, which leads to the arrest and criminal complaint against the person(s) responsible for this crime. The caller may remain anonymous. The call is not recorded. Call Crime Stoppers at 800-222-TIPS (8477).