Army Private First Class George T. Poppic III about to Deploy to Afghanistan
By Dick Diaz — Wednesday, May 7th, 2008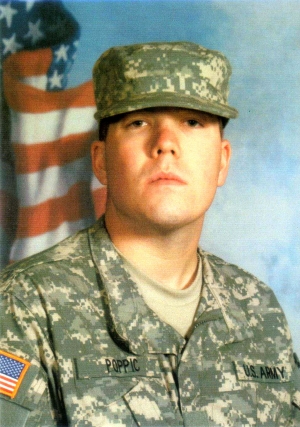 Army Private First Class George T. Poppic III
Army Private First Class George T. Poppic III, 23 years old, is a 2002 Villanova Preparatory School Graduate. Located in Ojai, Villanova Preparatory School is a Catholic, co-educational, day and boarding school where cultural, ethnic and socioeconomic diversity are welcomed and embraced. Founded in 1924, Villanova is the only Augustinian co-ed boarding school in the United States. PFC George Poppic III also attended Mt. Carmel School in Santa Barbara for elementary and middle school. After high school, he went to Wyotech in Sacramento; he received his diploma for Automotive Technician. He currently has 1969 Bronco under construction. He is a Fillmore resident and is currently stationed at Fort Hood, Texas with the 3rd Brigade 1st Infantry 6-4 Cavalry.
Army Private First Class George T. Poppic III is the son of Debra (Kevin) Edwards of Fillmore and George Poppic Jr. of Sacramento. Grandson of the late Maternal Grandparents Nick and Gladys Niederkorn of Glendora, California and the late Paternal Grandparents George and Lois Poppic of Santa Barbara. Prior to enlisting in the Army PFC George Poppic III was employed at William L. Morris as a mechanic and worked in the oil fields for Excalibur.
PFC George Poppic III enlisted with the Army on January 4, 2007 and his job specialty is as a "Cavalry Scout". He tells me, "A cavalry scout are usually referred to as the "eyes and ears of the battle field" meaning we are out front watching and reporting on the enemy and their movements. We are sent out in smaller groups than the normal infantry and are not meant to engage the enemy as they are, but to report to the higher echelon and they will make decisions on what to do (have us engage, call for fire, bypass, call for reinforcements)."
PFC George Poppic III will be deploying soon to Afghanistan with the expected departure date of some time in June. He has been awarded the Army Service Ribbon, Global War on Terrorism Service Medal, National Defense Service Medal and two Army Accommodation Medals.
In addition to anything automotive, his interests, PFC George Poppic III tells me; have to do mainly around any sort of off road racing. He said he mostly likes desert racing.
All the citizens of this Valley wish PFC George T. Poppic III safe travel, deployment and we look forward to his return home.