Airman Kailey Andrews Completes United States Air Force Training
By Dick Diaz — Wednesday, July 30th, 2008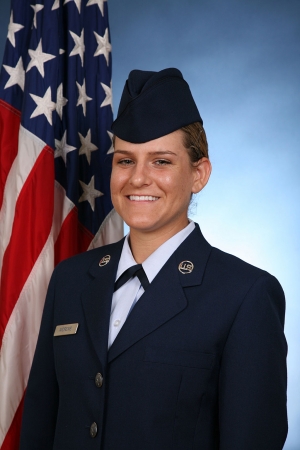 Airman Kailey Andrews
Life-long Fillmore resident, Kailey Andrews, 19 years, a graduate of Fillmore High School (FHS) in 2007 recently finished United States Air Force Recruit Training. Kailey attended Los Nogales Elementary and Camarillo Heights Elementary Schools, and Los Altos Middle School in Camarillo before attending FHS. After graduation from FHS Kailey attended Ventura College before enlisting into the United States Air Force. Kailey was an avid softball player since she was 4 yrs. old and played year-round softball through high school at both second base and center field.
Kailey is the daughter of Greg and Stacy (Robertson) Andrews of Fillmore. Kailey has one brother, Ryan Andrews, 23 years, a graduate from Fillmore High School Class of 2003, now attending Cal Poly Pomona studying Kinesiology. Ryan is employed with 24 hr. Fitness as a Personal Trainer.
Kailey's maternal grandparents are Grandfather Charles Thomas Robertson of Fillmore and Grandmother Vicki Robertson (deceased). Grandfather Charles Thomas Robertson is a retired Assistant Fire Chief from the Point Mugu Naval Base, Point Mugu Fire Department. Kailey's paternal grandparents; Grandfather Norman Andrews (deceased) and Grandmother 'Mike' Andrews (deceased). Norman and 'Mike" were long-time Fillmore community leaders. 'Mike Andrews' was a school teacher for many years at the then Fillmore Jr. High School before switching careers to become a Realtor/Broker/Owner from 1977-2006 of Andrews Property Store. Both Norman and 'Mike' were active Rotarians and members of the Fillmore Sunrise Rotary Club.
Kailey follows a long line of family members with military service with three of her grandfathers also serving in the Military: Grandfather- Charles Thomas Robertson in the United States Navy, Grandfather- Norman Andrews, United States Navy having served in the Korean War and Great grandfather-Marvin Brandt serving in the United States Army seeing action during The Battle of the Bulge.
Kailey enlisted in the United States Air Force in December of 2007 and completed 6 1/2 wks. Training with the 326 TRS/FLT 444TRS (Training squadron) FLT (Flight) at Lackland Air Force Base, Texas graduating on July 11, 2008. At graduation Kailey was awarded the "Thunderbolt" award in physical fitness which is the second tier from the top of the three awards given for physical fitness to graduating recruits. To be presented with the Thunderbolt Award a woman recruit must complete the following tasks within the minimum criteria; Run (1.5 mile) in 12:00 minutes, complete 32 push-ups, 55 sit-ups and 2 pull-ups in the technically correct manner. Airman Kailey Andrews is currently attending Technical School in Wichita Falls, Texas for training as a surgical apprentice.
All of us here in the Fillmore/Piru area are proud of United States Air Force Airman Kailey Andrews' service, appreciate the sacrifices she and her family have made and wish her safe travel and a successful tour of duty in the United States Air Force.