$950,000 Shortfall for Fiscal Year 2011 to be addressed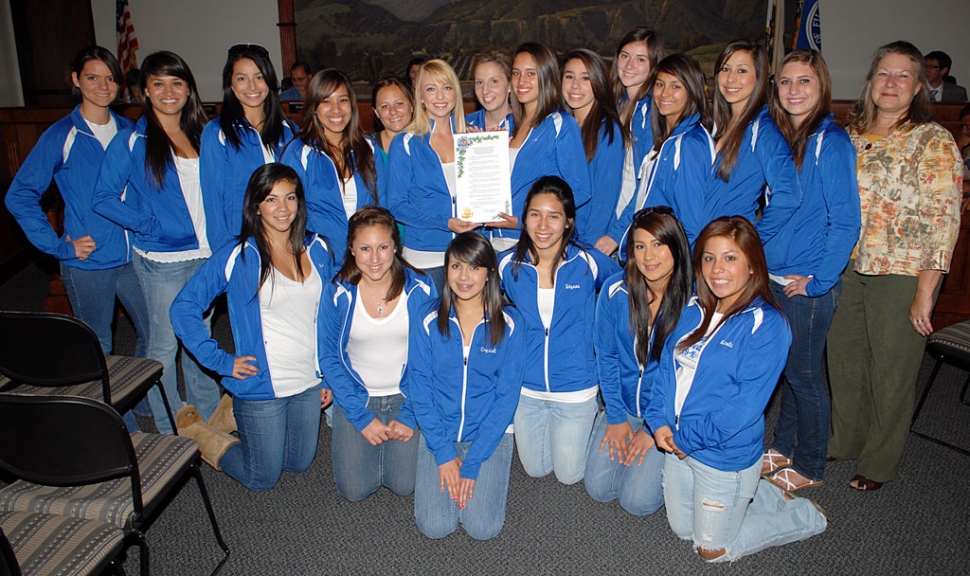 Mayor Patti Walker presented the FIllmore High School Cheerleading Squad with a proclamation for the winning track record at numerous competitions. In March the cheerleaders won First Place in the California State Championships.
By Naomi Klimaszewska — Wednesday, June 9th, 2010
Announcements
Fillmore High School Graduation is this 7 pm Thursday, June 10 at the Fillmore Football Stadium.
Presentations
Mayor Patti Walker presented a proclamation to the Fillmore High School Fillmore Flashes Cheerleading Squad in recognition of their winning track record at numerous competitions including March's California State Championships, where they won First Place for the third consecutive year. Of over 30 squad members, 16 are on the Competition Team. Walker commended coaches Katrina Tafoya, Eddie Rios, and Katie Aguilar "for motivating the cheerleaders to be champions."
Public Comments
Councilwoman Laurie Hernandez announced a slow pitch softball tournament fundraiser for the Amber Leon Memorial Fund at 9 am Sunday June 13 at Shiells Park. Cost is $300 per team. Please support the Leon family with the cost of Amber's memorial service. Contact Melissa Long: 794-5280.
Fillmore Chamber of Commerce President David Crockett announced an open house at the Fillmore Family Medical Group to be held 5-7 pm on the first floor at 828 Ventura Street.
Crockett also gave a last call to advertisers for the Chamber's Business Directory. Any changes from the last two months need to be called in this week to Evelyn at 524-0351.
Crockett then reported on the results of the Chamber's May Festival debriefing meeting held Saturday. While acknowledging the Lion Club's hit bingo booth and the Rotary Sun Risers 5K race, he noted the lacking presence of community service clubs. Crockett proposed arranging a compromise on the extensive environmental health regulations that may be prohibiting organizations from taking part in the festival. Proposed future events include demonstrations of Boy Scouts' scouting skills, showcasing children's talents, providing a kids' climbing wall, encouraging the local 4-H clubs to take part, having a fire engine on display, inviting Search and Rescue, and extending invitations to Giessinger winery, downtown merchants, and Fillmore & Western Railway to get involved. Crockett mentioned that the festival's 100th anniversary in 2012 could be a particularly special event to plan towards as the festival grows.
Citizen Brian Sipes commended the City's Graffiti Department staff for doing "a fantastic job" eliminating graffiti. He then spoke of his and Trinka Reynold's lunch at the Senior Center's Salad Bar program at the invitation of Marie Wren. Sipes reported he saw that over 40 individuals had signed in and saw Mayor Pro-tem Gayle Washburn there as well. Sipes encouraged the community to support this "nutritional program for low-income seniors" through donations and by patronizing the salad bar. Washburn added that the salad bar costs $2.50 for seniors and $5 for non-seniors.
Former mayor Roger Campbell stated that he was "very encouraged" by the May Festival ideas presented by David Crockett and volunteered his expertise in looking into the environmental health regulations through his permit expediting business that also deals with conflict resolution for Code violations at the county level.
Campbell then spoke to clarify some distorted information presented at the Business Park meeting held June 3. An attendee claimed the proposed Self-Storage facility potentially offered 77 new jobs, but the current Self-Storage owner told Campbell that there is only one person employed at his facility, and 77 is an unreasonable projection. Campbell states that the site features four acres of storage and two acres for light industrial space with 38,200 square feet of light industrial building space in three separate buildings along the highway.
City Manager Yvonne Quiring announced the Economic Development Collaborative's upcoming workshops to be held 7-9 am Monday, June 21 (marketing), and 7-9 am Monday, June 28 (financial planning) at City Hall. The events are free, and a Spanish translator will be available. For more information, contact Kelly Noble: 384-1800 ex.21.
Debbie Galarza of the Fillmore Band Boosters thanked the Council for waiving the fees to use the theater for the April 17 Unsung Heroes concert. She announced that the Fillmore High School Marching Band has been trying to raise money for uniforms without which they cannot perform or compete in various events. The uniforms cost about $300 each, and the band is looking to acquire 60-70 uniforms. They have over $6,200 in donations so far. Galarza also asked if the City could show band events on Channel 10 and thanked the Council for its support. City Attorney Ted Schneider clarified that the channel is officially "government use, not public access," but it may be possible to incorporate municipal events.
$950,000 Shortfall for Fiscal Year 2011 to be Addressed July 13, 14,, and 20
The City of Fillmore faces a $950,000 General Fund shortfall in the 2011 Fiscal Year budget due to diminished General Fund revenues, stated City Manager Yvonne Quiring. Quiring noted that the shortfall does not account for the $1.5 million in the General Purpose Reserve or the $2.2 million in the Sales Tax Dispute Reserve.
Quiring reported that she had met with employees for ideas to save money, enhance revenue, and consider service realignment in an effort to address the deficit. Other proposed measures include the construction of a "bare bones" budget that covers only mandated travel and training for certification purposes and required publications such as codebooks needed for people to do their jobs. "Non-essential vacant positions have been removed," Quiring said. Organizational changes will include "rethinking how the City provides service and what services the City will provide" in light of the Classification and Compensation Study. The personnel costs that comprise 75-80% of the budget is being reviewed, and the City is in the process of labor negotiations with unions. The City is also looking to reduce General Fund subsidies such as the theater and will consider service levels and a policy to prospectively support nonprofit groups that ask for funding.
A continuation budget providing up to 60 days for the Council to adopt will be presented July 13, with hearings held July 14, and adoption set for July 20. Councilman Jamey Brooks recommended looking into "having budget meetings always, always televised." Mayor Patti Walker thanked the City Staff's efforts to minimize the effects of the shortfall and expressed her hope to find "an amicable solution to the problem." To Fillmore viewers of Channel 10, she encouraged, "Put you thinking caps on, community…Your input is imperative."
In a written memo, Quiring noted that the "shortfall is consistent with what neighboring cities are dealing with as well the State of California."
City gives $2,500 to Fillmore & Western for Fourth of July Car Show Security
Provisional Administrative Specialist Ky Spangler introduced Fillmore & Western Railway Company's request for financial support to offset security costs for the Fourth of July Car Show. Spangler noted that since 2006, the City has provided assistance to the event, which attracts both local residents and visitors from across the county. Last year, the City provided $2,700, and the "Sheriff' Department's estimate is expected not to exceed $3,000." The costs covered by the City for special events services this fiscal year total $8,277. Spangler added that these funds would come from a budget not yet approved.
After acknowledging the City's current financial situation, Julie Latchshaw of Fillmore & Western explained that around 2006, the event was facing the possibility of being discontinued when they stopped beer sales that brought in revenue for security. The enclosed beer gardens were difficult to set up and also required a large number of officers. Latchshaw said the company has food and craft vendors on board for the one-day Car Show to be held 9 am-5 pm.
Sgt. Dave Wareham said five sheriffs—four A-level patrol reserves and a supervisor—were slated to provide minimum security. There have been three motorcycle thefts in each of the last two years, with one motorcycle recovered with an arrest made last year.
Mayor Patti Walker noted, "We've been a very generous council" and has dispensed $26,000 through waivers and financial support. She asked Latchshaw whether she would cancel the car show if they did not receive financial support for security.
Latchshaw replied that the show "hasn't produced a lot of income," and the company hasn't sought outside support. While she noted that she does not make the final decision about retaining the event, the company is "really just keeping it going for the community."
Councilman Jamey Brooks said, "I'm going to be inclined to suggest we say yes to $3,000 and let everybody know, and their mother [about next year's severe cuts]…It could be that Fourth of July might not happen." He said that no one knew about the state of the budget; "however, next year is plannable." Councilwoman Laurie Hernandez agreed that the company "didn't know," and asked the event to "look for sponsorship next year." Washburn also agreed, and added a request to the Staff to include a Profit & Loss account for future events. Walker noted that of the $2,700 given last year, Fillmore & Western spent $2,200 and suggested a compromise of $2,500. Brooks agreed the adjustment would be "a gesture of budgeting." Brooks moved, Washburn seconded: 4-0.
City Council Comments
Councilwoman Laurie Hernandez mentioned her and Mayor Patti Walker's attendance at the League of California Cities' dinner in Solvang June 4. She reports the Channel Islands Division is discussing further State cuts and assures that they will work to "stop the State from taking all our money from our coffers." Hernandez says the State claimed $2.3 million from Fillmore's RDA funds May 10; the City's gas tax may be next.
Walker stated, "most of the county committees I sit on are struggling," and that the loss of $45,000 at the Ventura County Transportation Committee will result in the Dial-a-Ride program to not run after 6 pm, commencing July 1. This will most affect those riding into Piru. She is arranging a meeting with the County Representative of VCTC and Ventura County Supervisor Kathy Long to discuss the possibility of acquiring additional funds.
The VCTC is also considering to "mothball" the entire line from Montalvo all the way east to LA, as the Santa Paula branch line has a $600,000 deficit. Closure "will definitely affect" Santa Paula's International Paper and Fillmore & Western. Discussion is ongoing with Ohio-based Union Pacific. Walker stated that she is meeting on an almost monthly basis with Keith Millhouse and other Metrolink chairs to find a solution. "It may take a community to move the mountain," she said. There are sufficient funds in VCTC's 2010/11 budget to allow to the branch line run through Dec.