$500,000 CalGRIP grant presented to City of Fillmore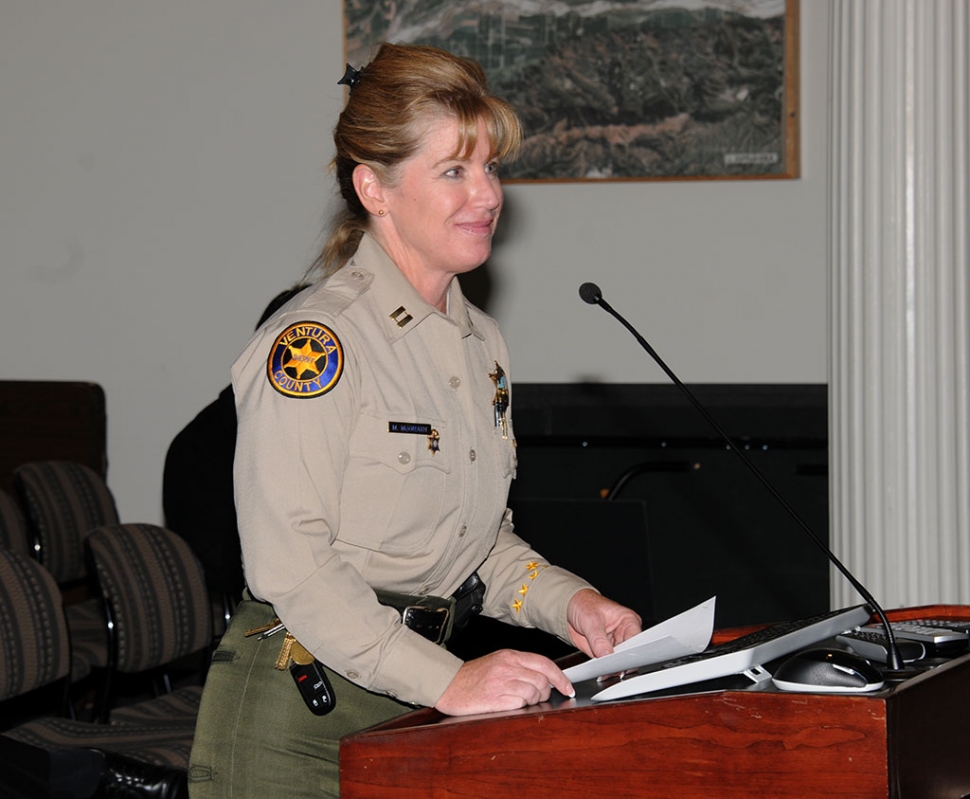 Capt. Monica McGrath informed Council of a $500,000 grant received by the City for gang reduction, intervention and prevention.
By Jean McLeod — Wednesday, December 11th, 2013
CalGRIP: California rang Reduction Intervention and Prevention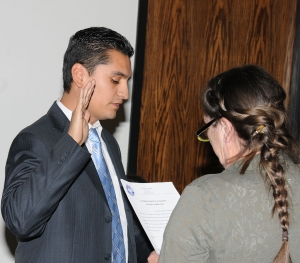 Councilmember Manuel Minjares is sworn in as Mayor at Tuesday night's meeting.
There was good and bad news at this Tuesday's Fillmore City Council Meeting. The good news is that Fillmore received a $500,000 grant. The bad news is an increase of both water and sewer rates. Also, Fillmore also has a new mayor, mayor pro tem, Code of Ethics and logo for the 100th Year Celebration.
Back in August 2013 Police Chief Monica McGrath informed the Council of a $8,215,000 (for the entire State) restitution fund available for the fiscal year 2014-2015 and her plans to apply for a grant of $500,000 from the California Gang Reduction, Intervention and Prevention (CalGRIP) Program. The grant is for the period of January 1, 2014 through December 31, 2015. These grants are a competitive process controlled by the Board of State and Community Corrections and require a dollar for dollar match. Back when announcing she was applying for the grant McGrath told the Council she may not get the large amount she was asking for and that asking for such a large sum is really reaching out there, but she felt it was worth a try. At Tuesday's meeting McGrath announced the grant was approved for the full amount of $500k and will cover Fillmore, Piru and Rancho Sespe.
CalGRIP was introduced by the California Emergency Management Agency, also known as Cal EMA and previously known as OES. In July 2012, The Board of State and Community Corrections took over the program and became the lead state entity on adult and juvenile criminal justice policy and will be prioritizing state and federal funds guiding local policy and programming.
Preference is given to those cities that incorporate a regional approach to anti-gang activities by using an Evidence-Based Program, Practices and Strategies (EBT) which includes a prevention (43%), intervention (36%) and suppression (21%) approach on how the grant is used. The EBT requires measurable outcomes that reliably produce significant reductions in recidivism (participants who entered and left the program or returned to illegal behavior) and practices known to produce positive outcomes. This requirement ensures the grant monies are being used effectively. CalGRIP provides for a three prong approach with financial resources for counseling, youth outreach and education with, as mentioned, an emphasis on funding programs that have been proven and successful, which Fillmore has shown. Receiving such a large potion of the grant funds says a great deal about the quality of our police/sheriffs leadership under Chief McGrath.
The grant funding will target 12-24 year olds with strategic goals of early intervention to reduce future public safety threats. The distribution of funding will be; 50% ($250,000) community based organizations including City Impact, Santa Clara Valley Boys and Girls Club, One Step A La Vez, Big Brothers & Big Sisters, Palmer Drug Abuse Program and Successful Living; 40% ($200,000) law enforcement suppression efforts; 10% ($50,000) evaluation and data collection.
McGrath stated the model used will be composed of five core components; Community mobilization, youth outreach, public education, faith-based leader involvement and law enforcement participation, with the objective of reducing overall gang related violence and the number of weapons on the street and in the hands of gang members. Other objective are to reduce recidivism and afford opportunities for those at risk kids to plan for a future in the job market instead of a gang lifestyle. Results since January 2012 thru October 2013 are impressive: Gang contacts: 467, Field intervention: 279, Arrested persons: 169, Probation/parole searches: 378.
Also, Councilman Manuel Minjares was nominated for Mayor by Councilman Douglas Tucker and seconded by outgoing Mayor Rick Neal then approved by a unanimous vote of the Council. Minjares then nominated Councilman Douglas Tucker as Mayor Pro Tem with Councilman Steve Conaway seconding the motion which received unanimous approval. Outgoing Mayor Neal commented, "I want the community to know I really appreciated being in this position and I'm thankful for their support." Minjares responded, "I have had two previous Mayors (Conaway and Neal) to follow their directions." Both Minjares and Tucker were sworn in by City Clerk Nancy Blenderman-Meyer. Both mayor and mayor pro tem hold the office for one year.
The bad news approved at meeting being a 3% increase in both sewer and water rates. This increase comes even though the replacement of the membrane was not required and the increase of revenue through payments for porta-potty dumping. Tucker explained the slow down of housing construction has not produced the revenue once expected and without the incremental increases water utility users would see a 20% ($18.93 projected rate) jump not too far off. There has been some construction; Heartstone are building here in town and Williams Homes submitted an application to construct 45 residential units south of River St. Tucker told those in attendance, "My intent when I ran (for Councilman) was to find some solutions and there are some things coming down the pike....It's 3% now or 20% real soon." Conaway added that due to a great deal of work the rates are where they are and the Council must do what they can to meet the bond obligations. Councilwoman Diane McCall responded, "No matter how you put it this is not popular.....we don't have a lot of (leeway) regarding the service rates." Minjares said they were turning over every stone to find ways to keep the cost down.
Also on the agenda was the approval of a new Code of Ethics. Neal and Tucker worked on drafting two versions and presented both to the other council members. Conaway was pleased that this was finally being done saying, "I've worked on getting a Code of Ethics for about four years now," and said either version would be fine with him. McCall stated that they both were very similar but that she did prefer #1 over #2. Minjares had no preference. The #1 version was then approved.
Another item approved was a logo for Fillmore's 100 Year Celebration created by Patrick Maynard. There will be flags, shirts and banners made using the logo.