2019 Fireworks Safety Tips
By Gazette Staff Writer — Wednesday, June 26th, 2019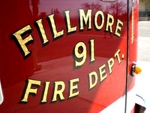 Fillmore Fire Department
Courtesy of Fillmore Fire Chief Keith Gurrola & The Fillmore Fire Department
• Never allow young children to handle fireworks.
• Older Children should use fireworks only under close adult supervision.
• Never use fireworks while impaired by drugs or alcohol.
• Do not hold lighted fireworks in your hand.
• Never light them indoors.
• Only use fireworks away from homes, vehicles, people and flammable material.
• Never point or throw fireworks at another person.
• Do not ignite fireworks in containers.
• Do not try to re-light or handle malfunctioning fireworks.
• Do not put hot fireworks into garbage receptacles.
• Keep a bucket of water nearby to soak spent fireworks for disposal or in case of fire.
• Report any unsafe acts or illegal fireworks activity.