2013 Fillmore High School Graduate Ryan Calderon Graduates From Naval Basic Training
By Dick Diaz — Wednesday, March 19th, 2014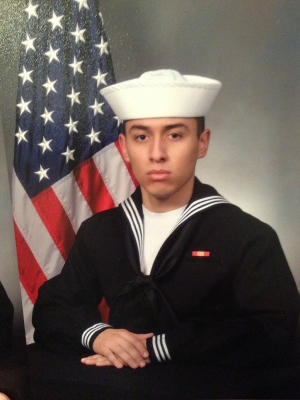 Fireman 3rd Class Petty Officer Ryan Calderon
Eighteen year old, 2013 Fillmore High School Graduate, Ryan Calderon, recently completed Naval Basic Training at Naval Recruit Training Command Great Lakes, Illinois. Ryan enlisted in the United States Navy on November 19, 2013 for a six year enlistment. Ryan graduated as a Fireman 3rd Class Petty Officer and he is currently assigned at the Naval Nuclear Power Training Command, in Goose Creek, South Carolina. In addition to Fillmore High School, Ryan attended Sespe Elementary and Fillmore Middle School. Ryan was active with football, basketball, 4-H and Future Farmers of America where he held a position of leadership as an FFA Officer with the position of Sentinel. Ryan was also active in his church.
Ryan is the son of Baltazar and Martha Calderon of Fillmore. His siblings are Arlene Morales, 29 years of Santa Paula and Michael Calderon, 25 years of Fillmore. His Paternal Grandparents are Baltazar Sr. and Lucila Calderon of Santa Paula and Maternal Grandparents, Rafael and Ramona Sandoval of Santa Paula. In addition to Ryan's serving with the Navy, his uncles, Anthony Pineda II, served with the United States Army and Joe Edward Garcia with the United States Marine Corps.
Navy Fireman Third Class Ryan Calderon has earned the National Defense Ribbon and the Pistol Marksman Medal. A new recruit qualifying for the Fireman Rate at time of enlistment will find that he/she has achieved selection into a very historic group of Naval personnel. This enlistment program option enables men and women to qualify for one of several Navy engineering or mechanical skill specialties (ratings) through on-the-job apprentice training. The training received as a Fireman or in the related engineering skill specialties is equivalent to that received as an electrician, electrical or power plant/co-generation plant operator or supervisor, diesel mechanic, or electronics repair technician. Equipment associated with Fireman training includes propulsion and electrical generation gas turbines, and diesel engines; electronic machinery plant control systems and networks; and intricate electrical wiring and distribution systems.
The rate of Fireman enjoys a proud and storied history. The name originated in the days when the Fireman was responsible for keeping the fires burning in the ship's boilers which were used to make steam. The steam powered large turbines then produced the ship's electricity and turned the ship's propellers.
After completion of recruit training, enlistees in the Fireman Apprenticeship Training program attend a three-week course on naval engineering fundamental skills in shipboard operations and evolutions. After successful completion of this training, Firemen are usually assigned to shipboard duties where the Navy needs them the most.
Although Fireman Third Class Petty Officer Calderon has just begun his Naval Career all of us living in the Santa Clara Valley thank him for his service and wish wish him smooth seas as he proceeds through his Naval experience. We thank him and his family for their sacrifices already made and for the future sacrifices that they will make throughout his military service. Fireman Third Class Petty Officer Ryan Calderon is truly an American Hero!