1999 FHS Graduate David M. Warnock-Ortiz Promoted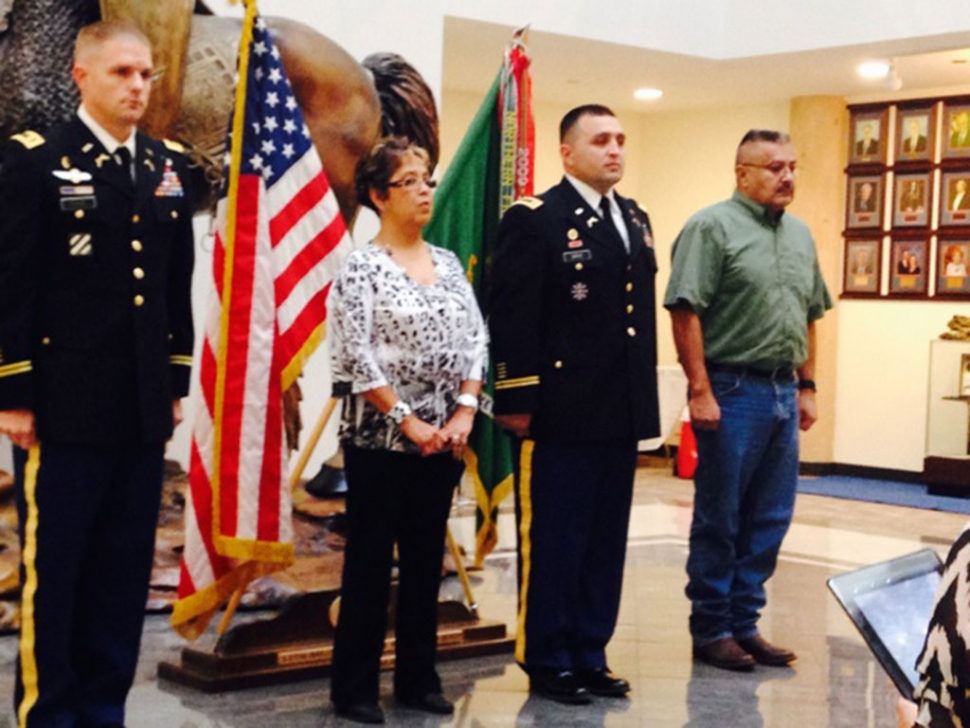 Major Steven Kane, Executive Officer, 11th MP Battalion (CID) David's Mother: Julia Winters WO3 David M. Warlock-Ortiz David's Uncle Richard Ortiz.
By Dick Diaz — Wednesday, April 2nd, 2014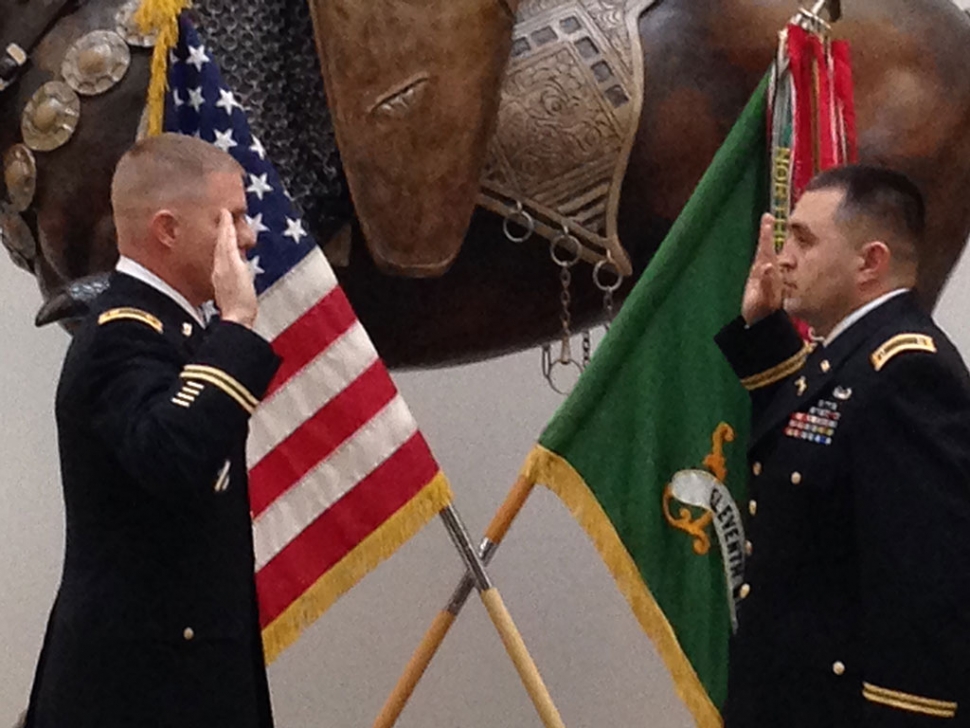 1996 Fillmore High School Graduate David M. Warnock-Ortiz was recently promoted to Chief Warrant Officer 3 (WO3) in the United States Army. WO3 David M. Warnock-Ortiz, 36 years, is a career soldier serving as a Senior Digital Forensic Examiner, Army Criminal Investigation Division (CID), Fort Hood, TX. The Army's Fort Hood located in Killeen, Texas. He also attended San Cayetano Elementary School and Fillmore Junior High School. While in the Army David has taken college level courses pursuing a degree in computer science.
(WO3) David M. Warnock-Ortiz is married to Sonja (originally from Mississippi), who he met while stationed in the military in Korea. Together they have three sons; Isaiah 12 years, Israel 11 years and Zion 7 year. (WO3) David M. Warnock-Ortiz is the son of Julia Ortiz-Winters and James Warnock of Fillmore and the stepson of Donald Winters. His Maternal Grandparents are the late Fred and Virginia Ortiz of Fillmore and his Paternal Grandparents are the late Ronald and Lillian Warnock of Fillmore. He has one sister, Darlene Leighton, 38 years, living in Texas.
(WO3) David M. Warnock-Ortiz comes from a long line of family members who have served in the United States Army; Grandfather Fred Ortiz served during Korea, Grandfather Ronald Warnock also served in the Army as did Uncles Ray Ortiz Sr. and Pete Cervantez and Cousin Ray Ortiz Jr. all of Fillmore.
(WO3) David M. Warnock-Ortiz enlisted in the Army in September 1996 after graduation from Fillmore High School where David played football for two-years. He initially enlisted as a Military Policeman and was stationed at Fort Campbell, Kentucky, where he was assigned to the 101st Airborne Division (Air Assault). While there he completed Air Assault School, and then deployed to Egypt as part of a multinational training exercise. (WO3) David M. Warnock-Ortiz has also been assigned in Korea, where he worked at a Military Intelligence compound protecting classified materials. He then returned to the United States and moved to Fort Carson, Colorado where he was assigned to patrol and direct combat support of the 3rd Armored Cavalry Regiment (ACR).
(WO3) David M. Warnock-Ortiz is a career soldier and he is proud to serve his Country protecting all of us here at home. We wish (WO3) David M. Warnock-Ortiz safe travel and thank him and his family for their sacrifices. His service is greatly appreciated. Congratulations on your promotion to United States Army Warrant Officer 3! (WO3) David M. Warnock-Ortiz is truly an American Hero!