"Adopt a Cop" a big success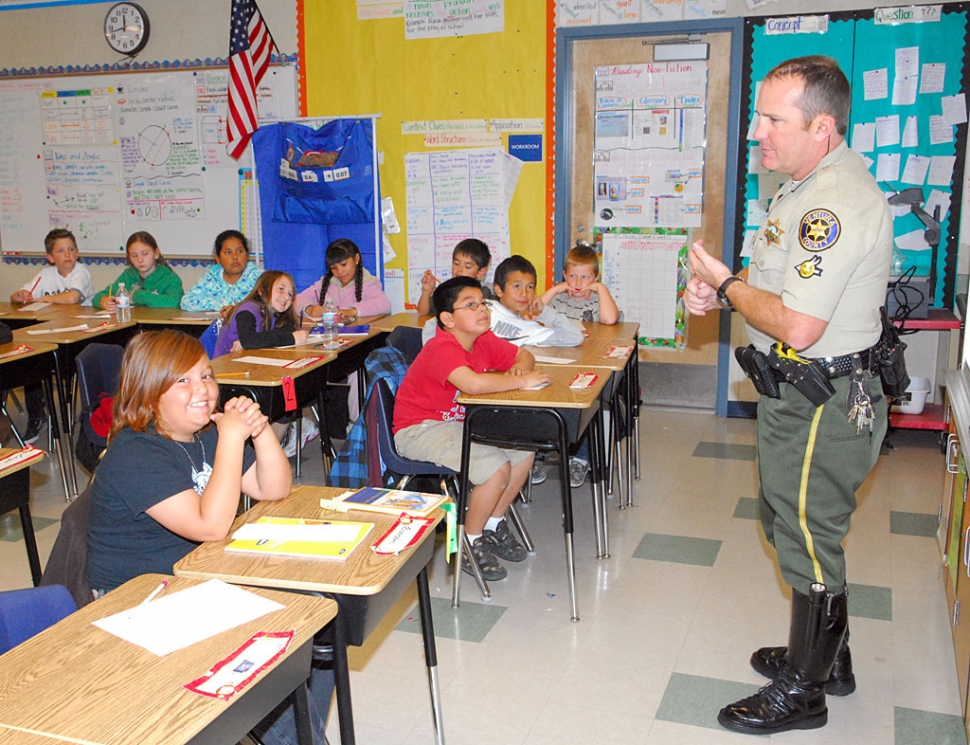 Motorcycle Deputy Tony Biter talks to the children at Mountain Vista School on Wednesday March 11, as part of the Adopt a Cop program.
By Joyce Schifanelli — Wednesday, March 11th, 2009
When Mountain Vista Elementary School Principal, Chrissy Schieferle became aware of some of her fourth grade students exhibiting at-risk behaviors, she was concerned and determined to do something about it. Working with a fourth grade teacher, Mrs. Nutley, they began researching approaches to the problem on the Internet. They studied several prevention/intervention programs used by schools across the country, and were most impressed with a "prevention" method successfully employed on the East Coast, the "Adopt-A-Cop" program. Armed with information, Schieferle approached Captain Tim Hagel and Sergeant Dave Wareham of the Ventura County Sheriff's Department (Fillmore's Police Department). Together, the trio brainstormed for ways to apply the program's principles to children as young as nine years old, while battling with shrinking law enforcement and school budgets. Several planning sessions later, Schieferle, Hagel and Wareham presented the Adopt-A-Cop program to the School Board on January 6, 2009. The "pilot" program was scheduled to commence the following week and run through the end of the term. Fillmore's Board of Education honored the Sheriff's Department with a "Be the Change" commendation.
During the week of January 12, three deputies, "Motorcycle Cop" Tony Biter, Senior Field Training Officer Leo Vasquez, and Officer Danielle Delpit, each visited a fourth grade classroom for forty minutes, assisting as teachers' aides. Building positive relationships with law enforcement officers in Fillmore is their goal. During the first weeks, the officers talked about "keeping a positive attitude". They have moved on to responsibility, respect and character education with their primary focus on positive interaction between students and their law enforcement mentors. The "program" provides police presence on the elementary school's campus on a flexible schedule, three out of four weeks per month, and strives to prevent the development of negative stereotyping of cops. There is no cost to the school or the Sheriff's Department.
Volunteers, Biter, Vasquez and Delpit are top seasoned deputies in the Department. Officer Biter, is semi bi-lingual and known for his friendly, outgoing personality, with no complaints lodged, even after writing over 2,000 traffic citations in a year. Officer Vasquez is a very community oriented, bi-lingual, lifelong resident of Fillmore, and Officer Delpit, an aggressive, female gang officer, is considered a "crime fighting machine" amongst her peers.
Programs, geared at childhood intervention/prevention have become necessary in our current social environment. Captain Hagel notes that various programs such as the well known D.A.R.E. program, were developed to improve students' self esteem and detect bullying, alcohol and drug abuse, and were implemented only at the high school level twenty years ago. However, through the past decades, mired in changing attitudes, family breakdown and a barrage of communication devises, middle school students and even elementary school students are in need of additional positive reinforcement. The Adopt-A-Cop program's goal is for kids to experience the human side of law enforcement through interactive discussions as well as working together on teacher designed school activities, and then express those positive experiences to their friends and siblings.
The officers' visits during the first two weeks were "get to know each other" sessions. Most children in the twenty-six to thirty-one student classes did not readily interact with the officers, however, today, two months into the program, Schieferle, teachers, and all three "cop mentors" happily report that students are waving, referring to each officer as "our officer", increasingly interacting during classroom lessons, helping Officer Delpit with fractions, and asking when they will return. As time and circumstances allow, the officers stay to eat lunch with their students. Do the kids like Adopt-A-Cop? You decide as you read a few comments from Mountain Vista Elementary School's fourth graders:
"I think the Adopt-A-Cop program is truly important because it teaches you the consequences if you decide to do bad stuff. Because of the Adopt-A-Cop program I am trying my best at school."
"I think the Adopt-A-Cop program is exciting because it teaches us about cops and how they protect people. Because of the Adopt-A-Cop program, I am a better person at school."
"I think the Adopt-A-Cop program is great, awesome and fantastic because we all learned more about cops and how they work. Because of the program I made a new friend, Officer Biter, and he made me want to be a cop."
The Ventura County Sheriff's Department is actively involved and supportive of all our local schools, including Piru, by regularly participating in numerous special programs and events. Captain Hagel believes that children are most influenced by their parents and siblings between infancy until ten, however he stresses that it is essential to reach children with a positive message and a blueprint for a successful life during "the uncertain years", the ages of ten until twenty-one. At-risk children are much more likely to join gangs and become future gang leaders. We are appreciative to Principal Schieferle and the teachers of Mountain Vista Elementary, Captain Hagel, Officers Biter, Vasquez, Delpit, Wareham, and all those who give their time and expertise to help Fillmore's youths travel today's uncertain road to better lives.