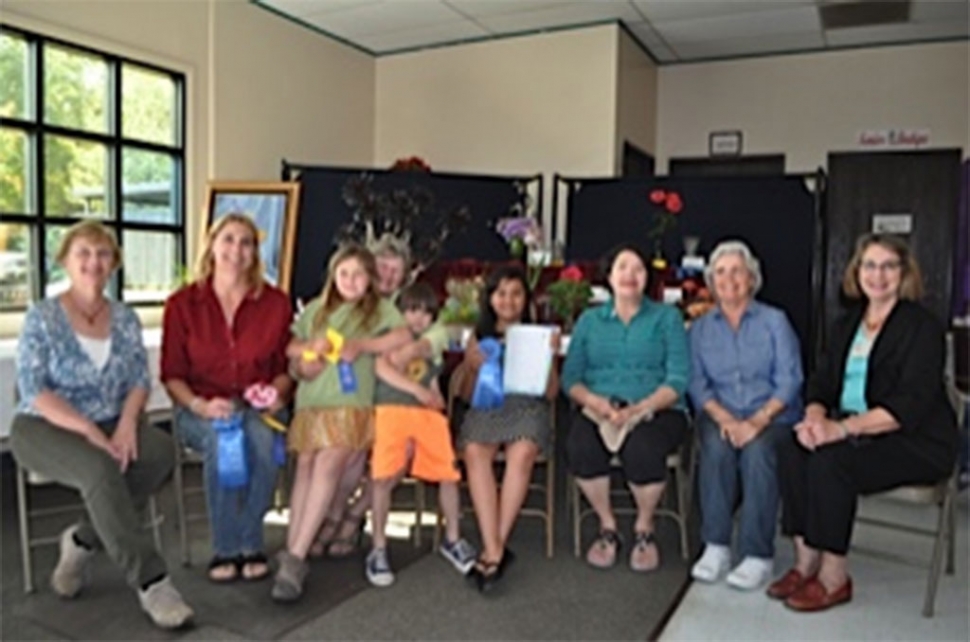 Fillmore Flower Show winners in no order Blanca Martinez, Joy Asenas, Regina Stehley, Carmen Zermeno, Linda Nunes, and Loni Larson.
By Gazette Staff Writer — Wednesday, April 16th, 2014
The 2014, Fillmore Flower Show, "100 Years of Flowers", for our centennial year, sponsored by Vision2020/Civic Pride Committee was deemed once again a success as we celebrated the sixth year of the returning show. Many willing volunteers, young and older, worked together to set up the tables and displays and little shop within the youth room for plant "sales" by donation.
By 6:30am, the senior center was already buzzing with people filling bottles with water for the entries which began arriving by 7:30am.
We had 256 entries this year and for the first time a group came from the Boys/Girls Club to make a team arrangement.
When the public arrived to view the show at 1pm, the room was filled with a sweet fragrance of the many roses and the tables were ablaze with ribbon awards and music was played by pianist, Joy Asenas. A small table beneath a historical display of newspaper articles gathered by Conway Spitler, held his photo and obituary as we dedicated this show to his memory. Our Flower Show Album created by Sarah Hansen enabled guests to look back over these 6 years of flower shows.
2014 Flower Show winners by division were: Best of Show, Blanca Martinez, with her potted black Swarzkopf succulent; Division I, (Rose: cut, single stem)Joy Asenas; Division II,(Iris: cut, single stem) Regina Stehley; Division III, (Other single stem, cut) Carmen Zermeno; Division IV, (Bouquets) Susan Hopkins; Division V, (Arrangements) Linda Nunes; Division VI, (Miniature Bouquets & Arrangements) Loni Larson; Division VII (Potted Plants) Blanca Martinez; Division VIII, (Dish Gardens) Carmen Zermeno; Division IX, (Youth Arrangements) Boys/Girls Club Team( David Reyes Recendez, Janet Contreras, Jessica Beserra, Alekzander Gonzalez, Celeste ?, Isaac Reyes Recendez, Fatima Moreno, Alonda Diaz, Leslie Zamora, Lindsey K. Diaz, Thomas Ramirez, Aldan Sanchez) ; Division X-Youth Composition- Ima Joy Zerudo.
This year we had the greatest number of prizes donated by merchants and individuals which enables us to bring in funds for our future shows and projects. We would like to recognize them and encourage support for their businesses. To be recognized and given "thanks" are: Ari Larson with Cookie Lee Jewelry, Avenue Pet, Carolyn Lasky, Chivas Skin Care, Diamond Realty & Investments, Judy Dressler, Elkin's Golf Course, Green Thumb Nursery, King & King Ranch, Little Shop of Hoarders, Mary & Ian Nunez Eggs, Nanette Keller Clothing, Otto & Sons Nursery, Patterson's Hardware, The Treasure Station, Trader Joe's, Vallarta Restaurant and Vic's Tires.
It is hoped that all who expressed an interest in entering next year and getting their children or youth groups involved, will begin to plan and prepare their yards now with a little extra care to be ready for 2015 and co-chairmen, Joanne King and Linda Nunes have asked that anyone with an interest in helping plan and put on the show, to contact them. They would love to divide up the work into committees.
Come to our Civic Pride meetings and add your voice and effort to improve quality of life and esthetic appeal in our community. Civic Pride Committee meets the third Wednesday of each month at 1:30 PM in City Hall.