Obituary
Freda M. Hoy (1923-2012)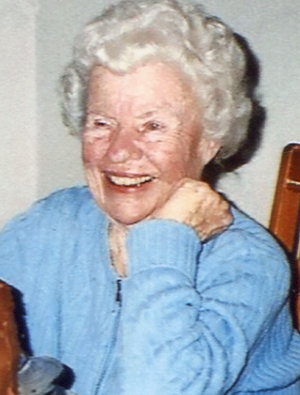 Freda M. Hoy (1923-2012)
Freda M. Hoy died peacefully in her sleep with her family at her side on Sunday, July 1st 2012. She was born on February 21st, 1923 in San Francisco, California. She was a devout Episcopalian and loved her family. She was very active in her faith and was the first woman appointed to the Vestry in the Southern California Diocese Region. She lived in the San Francisco area, Van Nuys and moved to Fillmore, Ca; 20 years ago. She was very active in her community and Trinity Episcopal Church. She was in charge of their Thrift Store for over 10 years, helping many locally and benefiting the community greatly.
Freda had a passion for flowers, sewing, cooking, bird watching and her family. She was always willing to help others and volunteer to bake for an event. Freda's favorite flowers were red tulips and yellow daffodils. She passed on to be with her husband, but cherished memories will live on in the hearts of her family.
Two special family favorite memories are: her famous Christmas Persimmon Pudding with Hard Sauce and Lemon Sauce for dessert for every Christmas Dinner for the last 32 years. It wouldn't be the Christmas season without Freda making her special dessert for her family to enjoy. Another treasured memory is her also famous Chocolate Cake that she would make every 4th of July, this was the special cake that won her husband's heart the first time they met over a dinner for the Merchant Marines her mother had planned. The chocolate cake won her husband and we would enjoy it every year with her re-telling the story.
She is preceded in death by her husband of 49 years, Robert J. Hoy Jr.
Freda is survived by her 5 children: son Christopher Hoy (wife Yuwadee), daughter Sue O'Flynn (husband Maurice), daughter Nancy Zeise (husband Peter), son Patric Hoy and daughter Annette Ross; 4 granddaughters: Nancy O'Flynn, Carmel Larson (husband Brian), Brandy Lopez (husband Edy) and Anya Zeise; 3 great-grandchildren: Eddy Lopez, Claire & Claudia Larson.
Her family would like to thank all the doctors, nurses and staff that attended to her in her final days. She received excellent compassionate care at Fillmore Urgent Care and Santa Paula Hospital.
Freda always had a kind word to anyone that came to her, she was a sweet generous lady in all aspects of her life. She will be sorely missed here on Earth by her family, but her passing is eased knowing that she will be reunited with her husband again and be in God's presence.
There will be a funeral service on Sunday, July 8th, 2012 at 1pm at Trinity Episcopal Church, 600 Saratoga St, Fillmore, Ca 93015.
In lieu of flowers, donations may be made to Trinity Episcopal Church in Fillmore, Ca in Freda's memory.