Obituary
Fred R. Howarth (1930-2013)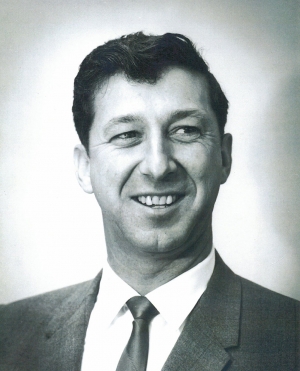 Fred R. Howarth (1930-2013)
A longtime resident of Fillmore spanning sixty years, Fred R. Howarth, died Saturday, July 6th following a brief illness. He was 83-years-old and was surrounded by family at the time of his passing.
Fred was born on June 11, 1930 and moved to Santa Paula in 1942. A student and graduate of Santa Paula High Class of '49, Fred was involved in school activities including being a member of the Varsity tennis team. Following graduation, Fred attended Cal Poly majoring in Agriculture before being drafted in the Korean War where he ranked as Master Sargent.
Upon discharge, Fred moved to Fillmore in 1953. In 1956, Fred married his wife Janet. Together, they became active in the Farm Bureau Young People's Group. They started a family with daughter Joan and son John.
While raising his young family, Fred became a successful citrus rancher; owning and managing his ranch in Bardsdale which he maintained for the next sixty years. During this time, Fred also served as a Field Representative for Calavo Avocados from 1969-1984 and was recognized as one of the company's
"Top Field Representatives" in 1971.
Fred was raised to the sublimed degree of Master Mason in 1963 in Fillmore Masonic Lodge No. 379 F. & A.M. of the State of California. He served as Master in 1969 and was a fifty-plus year member of Fillmore-Santa Paula Masonic Lodge No. 29l to which he received his fifty-year pin honoring his membership and service.
In 1992, Fred was honored with the HIRAM Award, the highest honor a Lodge can bestow on one of its members. Fred was a member of the Santa Barbara Scottish Rite of Freemasonary of U.S.A., a Charter member of the Ventura County Scottish Rite of Freemasonary of the U.S.A., a member of the York Rite Bodies of Freemasons of California, a member of Al Malakah Shrine of North America, The Fillmore-Santa Paula Shrine Club and a member of Shriners International. In addition, Fred mentored the Jobs Daughters Bethel No. 90 and served as Associate Bethel Guardian for ten years.
A long standing member of the Trinity Episcopal Church in Fillmore, Fred served on the Vestry and was active in the Church's agenda, participating in numerous fundraisers and outreach. His Christian faith was always the center of his life.
Fred's pride was his family followed by his passion and love for boating. Summers and holidays were spent in Nevada City where the family enjoyed a second home in the mountains aptly named "The Hollow Leg Ranch."
A Caring husband, father and grandfather, Fred is survived by his wife Janet Howarth of 57 years, daughter Joan Swift (Tim), son John Howarth (Barbara) and, his biggest pride and joy, grandson Kyle and granddaughter Sara.
Masonic graveside services with military honors will be held on Friday, July 26th at 11:00 am at Bardsdale Cemetary.
Church services will be held on Saturday, July 27th at 2:00 pm at Trinity Church,
in Fillmore. A reception in the parish hall will follow.
In lieu of flowers, the family requests a donation be made in the name of
Fred Howarth to further the ministry of Trinity Episcopal Church,
PO Box 306, Fillmore, CA 93015.