Obituary
Frank William Dunst (1917-2014)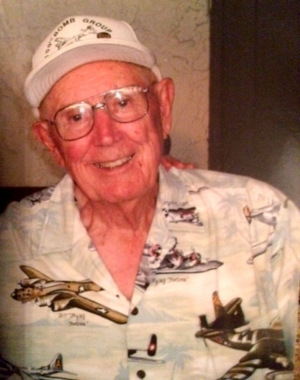 Frank William Dunst (1917-2014)
Frank William Dunst
7/20/1917 - 2/13/2014
Frank William Dunst was born in Erie, Pennsylvania on July 20, 1917. Frank's family relocated to Phoenix, Arizona, and that is where he met the love of his life Elaine. Frank and Elaine were married October 23, 1940. They were blessed with two children, Larry and Karen. Frank was a WWII Hero. He was a 1st Lieutenant in the 351st Squadron of the 8th Army Corps, a precursor to the Air Force; he was a B-17 Deputy Lead Bombardier from the Bloody 100th. He flew 32 missions mostly with the Herman Streich crew on the Fever Beaver. After the war Frank and Elaine moved their family to California, where Frank began his Pharmacy career. In 1948 Frank and Elaine bought Clough's Pharmacy, in Fillmore, California. It was a family owned and operated business until 1994. Frank was the President of the Ventura Pharmaceutical Association 1960-1961. He was a long time member of the Lion's Club. He earned a Life Long Membership award in 1999 for his many years of service as a Lion. He was also a member of the Fillmore Chamber of Commerce, and the Fillmore Club. Frank and Elaine loved to dance. They were members of the Valley Star Dancers, square dance club. Frank and Elaine also enjoyed traveling the world. Later in life Maui, Hawaii held a very special place in Frank's heart. He loved nothing better than to have a glass of champagne and look out at the ocean and say ALOHA! Frank was a devout Catholic. He rarely missed a Saturday evening Mass at Saint Francis of Assisi Church, in Fillmore. Frank's greatest joy was being surrounded by his family. His grandchildren and great-grandchildren brought him so much happiness.
Frank is preceded in death by his brother Robert Dunst, sister Rosemary Howard, and grand-daughter Nancy Dunst.
Frank is survived by his wife of 74 years Elaine Dunst, his children Frank Lawrence (Judy) Dunst and Karen Dunst- Hawkins, his grandchildren Kari (Gordon) Hawkins-Wilson, Kristen Dunst, Scott (Kelly) Dunst, and Ashley (William) Foster, his great-grandchildren Dylan and Emma Dunst and Jeremiah and Malakai Foster. Frank is also survived by his brother Urban Dunst. It was Frank's request not to have a funeral service. Please donate to your favorite charity in his name.