Obituary
Frank Hernandez (1959-2022)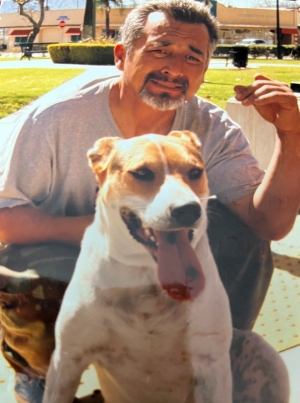 Frank Hernandez (1959-2022)
Frank Hernandez (Frankie) passed away peacefully on December 20, 2022 at the age of 63. He was born on Jan. 31, 1959, in Santa Paula, California to Virgina Garcia and Frank Hernandez Sr. who passed away before Frankie was born. When Frankie was 2 years old, Virginia married Oscar Carrillo who loved and raised Frankie as the eldest of 4 sons.
Frankie lived in Fillmore most of his life and graduated from Fillmore high school in 1978 where he excelled as an athlete in football and enjoyed participating in FFA. He was a sharp dresser and voted "best dressed" of his senior class.
Frankie enjoyed sports and was a fan of the Rams and the Dodgers. He loved spending time with his dog Charlie and playing his guitar. Frankie was a friendly guy well known in Fillmore and Santa Paula. He looked forward to visiting his mom in Fillmore and chatting with the many friends and neighbors he grew up with on Lora Lane. He had a big heart and a sincere love of the Lord. Frankie kept a bible close at hand and enjoyed talking about his faith with those who shared his love of God. His kindness and carefree spirit will be missed by those who knew and loved him.
Frankie was preceded in death by his father Oscar Carrillo, brother Alex (Beetle) sister in-law Arlene Carrillo and nephew Alex Jr. He is survived by his daughter Alicia Deckers (husband Zack) 4 grandsons, mother Virginia Carrillo, brothers Felix Carrillo, Tommy Carrillo (wife Kimberly), and nieces Marissa, Sonia, Sierra and Savana (Michael).
A Mass of Christian Burial will be held on Thursday, January 26 at St. Francis of Assisi Catholic Church, 1045 W. Ventura Street in Fillmore. Rosary will be recited at 9:30 am with mass immediately following at 10:00 am. Committal and Interment will follow at Bardsdale Cemetery at 11:00 am. In lieu of flowers, please consider donating to the Rescue Mission of Ventura County.