Obituary
Faye Ables (1931-2019)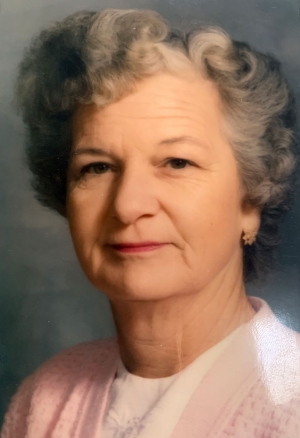 Faye Ables (1931-2019)
Faye Ables daughter of John Rickman and Dora McCaflerty born in Fillmore, California on October 18, 1931. Faye married RW Ables July 5, 19 45 when she was 14 years old. She lived in Fillmore for 71 years before moving to Tehachapi, California. They raised their two boys, John and Wayne Ables and worked in Fillmore as a telephone operator and the job she loved, working for the Fillmore School District in the cafeteria. She retired from Fillmore High School as a cafeteria manager. She loved the children she served. Most will remember her delicious cinnamon rolls and giant cookies made from scratch, She never let a child go hungry, whether they couldn't afford or just forgot their lunch money, she made sure they always had plenty of good old fashion home cooking. Faye worked for the school district for 37 years.
She loved her daughter in laws, Terri Ables and Denise Ables, grandchildren, Shannon Flack, Julie Kingsbury, Mellissa Avizu, and Lindsey Milsap, and as most proud of the accomplishments of her great grandchildren, Cameron Ables and MacKennzee Flack, Truxton and Taitlyn Kingsbury, Adrian, Juan Jr, and Adelina Avizu and Haley and Dakota Milsap.
Faye was a loving, always supportive and active mother, grandmother, and great grandmother. She loved to serve others.
She will be missed but not forgotten, as we know she has gone to be with the Lord on July 31, 2019.
Her siblings proceeded her in death, Buck Rickman, Ruth Loustaunau, Pat Reynolds, and Betty Martin. Survived by her loving and always caring partner, Gary Chamblin.
Memorial will be at Christian Life Assembly in Tehachapi, Wednesday, August 7th at 11:00am reception following.