Obituary
Esther Ramirez Robles (1927-2013)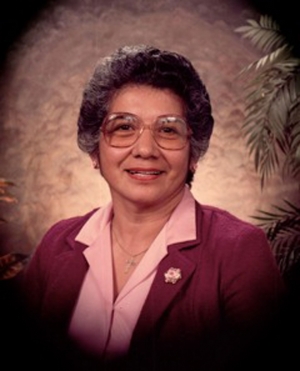 Esther Ramirez Robles (1927-2013)
Esther Ramirez Robles, 86 years young, of Fillmore passed away on May 16, 2013. She was born in Los Angeles, the daughter of Pablo and Guadalupe Ramirez, and was a resident of Ventura County for 84 years. Esther was raised on the Rancho Sespe in Ventura County and lived there until she relocated to Fillmore with her husband, Nicolas, in 1980.
A devoted wife, mother and grandmother, she will be remembered with much love for her bawdy sense of humor, her outstanding ability to cook, and her artistic talent for drawing and crocheting. Esther loved to laugh and she loved to dance and listen to all types of music. She found great pleasure in her work as a teacher's aide for the Fillmore School District and those she knew through that effort will remember her fondly.
Esther is joining those members of her family who preceded her, her parents Pablo and Guadalupe, her brothers Raul and Raymond, her sister Carman Davis and her granddaughter, Tracilyn Robles Arteaga.
She is survived by her husband of 64 years, Nicolas (Nick), her children Hortencia, her husband Jeffrey Parker and their children Bryan, Jessica and Amanda, her son Nicolas Jr, and his children Jennifer Robles Polanco, Veronica and David, her daughter Suzanne and her husband Russell Butler and their son, Samuel. Esther was the proud great grandmother of twelve. She is also survived by her eight brothers and sisters, Rachel Calzada, Henry Ramirez, Paul Ramirez, Jr, Art Ramirez, Tommy Ramirez, Linda Venegas, Gilbert Ramirez, Anita Limon.
Visitation will be held at the Skillin-Carroll Mortuary, 600 Central Ave., Fillmore, on Monday, June 3, 2013, between 2 pm and 9 pm, with a Rosary at 7 pm. A mass will be conducted at St. Francis of Assisi Parish at 1048 W. Ventura St., Fillmore on Tuesday, June 4, at 10:15 am, with burial immediately following at the Pierce Bros Cemetery in Santa Paula.