Obituary
Elvira Villa Tovar Perez (1922-2015)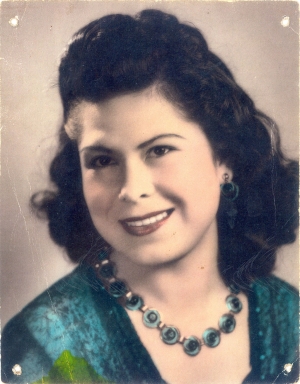 Elvira Villa Tovar Perez (1922-2015)
Vera was born to Bonifacia Torres Villa and Primitivo Villa on December 17, 1922. She was the 10th of 11 children. All of her family were seasonal pickers, going up north every year to pick grape and other fruits in season. She attended the schools in San Fernando. She met her future husband Dick Tovar when they were picking grapes. She was 16 and they were married one week after she turned 17.
They moved to Fillmore when their first daughter was born. She and her children would go to Moorpark to pick apricots and walnuts. Her husband Dick, became a field foreman for Sunkist. They lived on "C" street for 14 years. At that time there were about 30 homes for citrus workers. Everyone there knew her well because of her kindness to many. She took many to Drs. Appointments and shopping to Ventura, Oxnard, and even Los Angeles. She was a seamstress for many years and never used a pattern. She made clothes for many and even some wedding dresses and veils, and she would sew bead and pearls by hand. Being one of the first ones to buy a TV in Fillmore, their home was packed every night by all the neighbors, even her husband's boss. After 14 years they bought the old chicken restaurant called "The Grape Arbor." She made it into a home. Often people would walk in thinking it was still a restaurant.
She was a great friend. She took children to school daily for years. Bought school clothes for many children.
She was a great cook, and will always be remembered for her tamale pie, apple and pumpkin pies, and turkey dinners and many other specialties.
An unbelievable gardener. Throughout the years people would come by and take pictures of her yard. She raised many fruit trees and many kinds of flowers. Roses were her favorites.
When her children were small, Hobos would come to the house asking for food. She always prepared them a full meal.
The greatest thing about Vera was her great love and faith for Jehovah God, and his son Jesus. She was a true Christian in every sense. She loved and cared for others in God's caring way. She never complained about her life and was always grateful for what she had. For many years she and her husband would go to Mexico often, taking many gifts and clothes for many relatives and others on the ranches. Most important she took many Bibles to the many people who wanted to learn about God. At 2 of 3 O'clock in the morning, with kerosene lamps on, she would read the Bible to those who wanted to listen and learn about God. She was 92 years old when she died, but it was still too soon for all those who loved her so much. She was the dearest of mothers, grandmother, great, great, great grandmother and aunt and cousin to so many. She treasured God before anyone, and then she loved everyone else. She had great love for all of her loved ones. She may have been small but when she spoke she was heard.
She was married to Dick Tovar for 35 years until his death in 1974. She later married Salvador Perez for 20 years until his death in 2006, They were married for 20 years. She is survived by her daughter Helen Tovar Lopez. Her daughter Rosalie Arias and her husband Jesus. Her son Ruben Tovar and his wife Dolores. Son Phillip Tovar and his wife Sally. Son David Tovar.
Services will be at the Kingdom Hall of Jehovah's Witnesses at 818 Fifth Street on Saturaday, May 2, 2015 in Fillmore, At 2:00 O'clock.