Obituary
Eleanor Jean Perkins (1927-2012)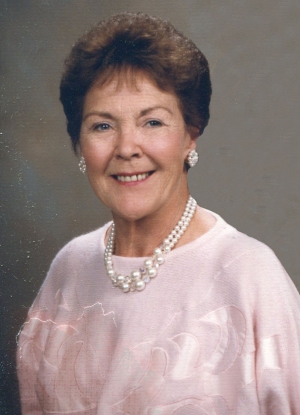 Eleanor Jean Perkins (1927-2012)
Our beloved Eleanor Jean Perkins passed away at Santa Paula Hospital on September 6, 2012, following a long and hard-fought battle. She was born in Fillmore, California on March 22, 1927 to Lester and Ruth Burroughs. Her family consisted of two older sisters, a younger sister and younger brother, placing her squarely as the middle child, the peace keeper. She graduated from Fillmore High School in 1945 and went on to marry Eddie Earl Perkins in 1947, a WWII Navy veteran. In 1949, they were blessed with a daughter, Susan, and then welcomed their second daughter, Peggy, two years later. Eleanor's whole life was spent as a dedicated home-maker, wife and mother, with the majority of her life spent on Perkins' ranch where Eddie and she made their home. She worked in town from time to time and enjoyed her work at Western Auto and the Fillmore Bootery. Eleanor always remembered those times in her life fondly as she loved meeting new people, seeing old friends and doing something that she took pride in.
The cornerstone of Eleanor's life was her unwavering faith in God. She was an active member of St. Francis of Assisi Catholic Church in Fillmore and lived her life following Jesus' example of living simply and with purpose. Her faith was what sustained her throughout her life, saying nightly prayers and turning to God not just for the big things, but also to thank him for the little ones. She was passionate about nature, often choosing to spend her time outside with her flowers or perusing the ranch on her walks she so enjoyed. In 1996, Eleanor and Eddie reached a milestone in their lives, celebrating their 50th wedding anniversary with their family members by their sides. In 1999, Eddie suffered a stroke and Eleanor unselfishly became his primary caregiver, spending her days caring for him in their home until he passed away in 2002.
They shared a special bond that demonstrated to those who knew them the dedication and love that is possible between two people. Eleanor had a deep devotion to her family and is survived by her sister Kathleen Amrhine (nee Burroughs), daughters Susan League and Peggy Evans (Gene Evans, D.D.S.), granddaughters Carrie Alamillo (Timmy), Amy de la Piedra (Doug), Linsey Evans, and Abby League, great-grandchildren Moneh Tello, Evan Alamillo, Anthony Chessani, Della Alamillo, and Thomas Alamillo, and great-great-grandson David Tello, along with numerous nieces, nephews, and cousins. She is preceded in death by her loving husband, Eddie Perkins after 56 years of marriage, beloved parents Lester and Ruth Burroughs and siblings Elaine Moller, Patricia Erickson and Donald Burroughs. Eleanor's life was one spent loving God, her family and friends.
She was happiest surrounded by beauty and believed everyday was worth living to its fullest. She will be truly missed by all those who knew and loved her, whether it was by the name Mom, Mimi, Grandma Nor or simply and blessedly Eleanor. "You'll find that life is still worthwhile, if you just smile." We'll keep on smiling, Eleanor, because we were honored that you were here to teach us how. Eleanor's family would like to extend their deepest appreciation to all the men and women at Santa Paula Hospital, and a special and heartfelt thank you to Norma Viorato for her dedication to caring for Eleanor and the love and happiness she shared with her daily. A private memorial service will be held Thursday, September 13, 2012. Arrangements were entrusted to Ted Mayr Funeral Home in Ventura. In lieu of flowers, please consider making a donation to the Fillmore Alumni Association in Eleanor's name.