Obituary
Edward Joseph Martinez Sr.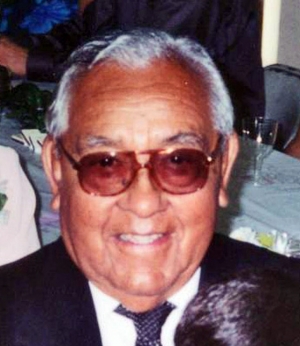 Edward Joseph Martinez Sr.
Edward Joseph Martinez Sr. was born October 31, 1923 in Piru, Ca. and died May 21, 2008 in Ventura Ca. surrounded by his loving family after a lengthy illness. Burial was at Bardsdale Cemetery on May 27, 2008 under the direction of Skillin Carroll Morturary.
He is proceeded in death by his parent's Merced & Julia Martinez, his 3 sons Edward Jr., Kenny and Robbie Martinez.
His is survived by his loving wife of 61 years, Helen his 4 sons, Vince (wife Chris) of El Monte, Johnny of Delano, Adrian (wife Marisa) of Fillmore and Marc (wife Stella) of Castaic. 15 grandchildren, 18 great-grandchildren and 1 great- great grandchildren due in September. He is also survived by his 3 brothers Jesus (Chuy) and Salvador (Chavie) both of Piru and Manuel (wife Eleanor) of Fillmore, 2 sisters Lucy and Carmen both of Santa Barbara.
Edward was born and raised in Piru and was a World War II Veteran of the 82nd Airborne. He retired from the company Bermit, in Saugus. He had a love of garage sales and a passion for fixing televisions. He will be greatly missed!
The Martinez family would like to thank Ventura Convalescent Home "The Californian" & their wonderful staff, the Ventura Assisted Home Hospice, Dr. Snow of Ventura Community Hospital and her great staff. We would also like to thank the communities of Piru and Fillmore for all your love, support and prayers through this difficult time. Edward always cherished the memories he had growing up and through out his life.