Obituary
Edmund J. (Ted) Bailey (1926-2013)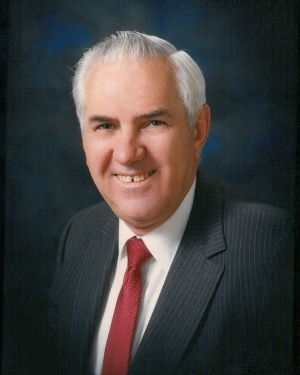 Edmund J. (Ted) Bailey (1926-2013)
Edmund J. (Ted) Bailey, 87, was born June 15 1926 in Los Angeles, CA and passed away suddenly after a long illness at home with his wife by his side on July 18, 2013. He was a Ventura County resident since Dec 1969 for 43 years.
He graduated from USC in 1953 with two Bachelor's Degrees in Mechanical and Industrial Engineering. Immediately following graduation from USC in 1953 Ted went to work for Union Oil Co. where he spent his entire career becoming the company's expert in the handling of natural gas and gas liquids, retiring in 1989 after 40 years. Upon graduation from high school in 1944 Ted was drafted into the Air Force where spent 2 years in Okinawa before being honorably discharged in 1947. Ted grew up in Pini where he attended grammar school. He attended Fillmore High School where he met his future wife Anita Jane Elkins. They were married in 1951 and enjoyed nearly 62 years of marriage. Ted loved his job and the traveling it involved and was often flown by the company's private jet around the world to help resolve complicated problems. He enjoyed many trips to places such as Indonesia, England. Netherlands. Etc. working on special projects. He and Anita enjoyed many wonderful historical trips around the U.S. such as following the entire Oregon Trail from Missouri to Oregon and the trail of the Lewis and Clark Expedition.
Ted also enjoyed spending time at their vacation cabin at Camp Scheideck near Mt. Pinos. He was so very proud of his five grandchildren and their many accomplishments especially their college education.
Survived by his loving wife Anita (Elkins) Bailey, daughter Mary Ellen (Bailey) Gravel and son-in-law Gus Gravel all of Valencia, CA, daughter- in-law Wendy Bailey of Kernville, CA and his five grandchildren Kelly, Patrick and Garret Bailey and Desiree and Cameron Gravel, all of Valencia, CA. Preceded in death by his son Robert (Rob) Bailey in 2007.
Funeral will be held on Thursday, July 25, 2013 at 10 a.m. at Skillin-Carroll Mortuary 600 Central Ave, Fillmore, CA. followed by interment at Bardsdale Cemetery. Memorial gifts may be sent to Fillmore High School Alumni Association, PO Box 385, Fillmore, CA 93016 or a charity of your choice. Please sign the guest book at
obits.VenturaCountyStar.