By Martin Farrell — Wednesday, August 30th, 2017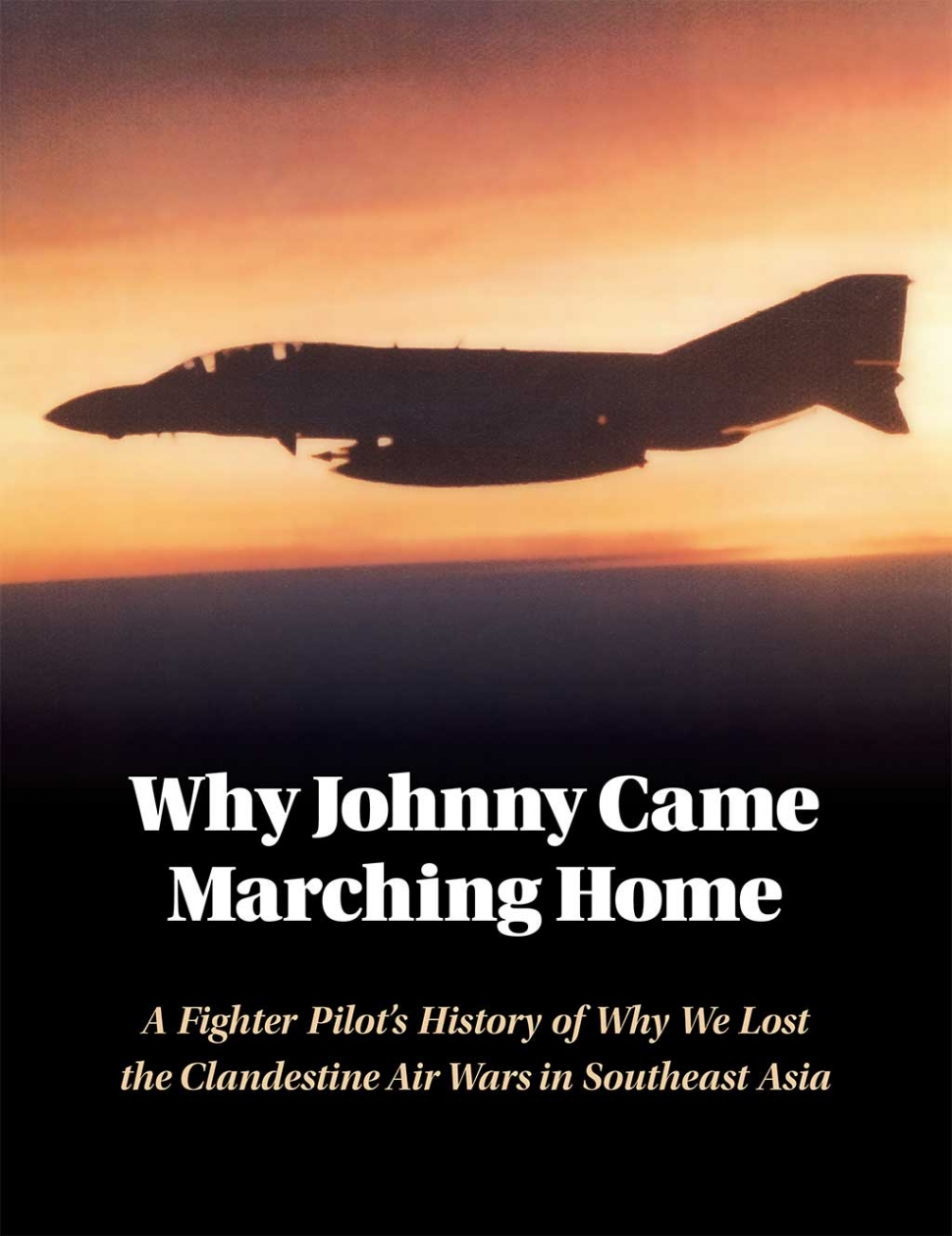 "Why Johnny Came Marching Home. A Fighter Pilot's History of Why We Lost the Clandestine Air Wars in Southeast Asia." The author, Russ Goodenough, Combat Fighter Pilot USAF, flew 148 combat missions throughout North and South Vietnam, Laos and Cambodia.
Following my column this week is an introduction to a truly extraordinary book by Air Force Captain Russ Goodenough (ret), entitled: "Why Johnny Came Marching Home - A fighter Pilot's History of Why We Lost the Clandestine Air Wars in Southeast Asia". A look at the endorsements tells us how important this book really is. During the following weeks the Gazette will be posting excerpts from the text online. What I have read of the book so far verifies many stunning revelations of political corruption and incompetence throughout the maintenance of that long war. This is a must read for anyone who cares about "real facts".
****
Pray for the people in Texas and Louisiana struggling with the greatest rainstorm in American history.
Giving credit where it's due, President Trump is handling the rescue efforts superbly, with the great help of many federal, state, county, and volunteer assistance. It's good to see America coming together again.
****
Why Johnny Came Marching Home
A Fighter Pilot's History of Why We Lost the Clandestine Air Wars in Southeast Asia
By Russ Goodenough, Combat Fighter Pilot, USAF Capt. (ret).
Captain Goodenough flew 148 combat missions throughout North and South Vietnam, Laos and Cambodia.
It's my distinct honor to introduce this extraordinary new book by one of Fillmore's native sons, Russ Goodenough. Among the many books written about the Vietnam War, the air war over South East Asia in particular, this book is unique in its detailed documentation of the political corruption and incompetence which caused us to lose that war.
The name Goodenough Road is familiar to every Fillmore resident. It's named after the author's grandfather, who was an early farmer-homesteader here. Russ was born in Los Angeles, but grew up in Fillmore, graduating from Fillmore High School in 1958.
The preface to his book states: "His introduction to writing started early. While in high school, he wrote weekly stories for the local newspaper, the Fillmore Herald, relating to what had transpired at the high school football games. He would quarterback the team and write about it afterwards." "My personal preparations for war and connection to Southeast Asia began as a young boy in a Southern California ranching and oil town. It started in a movie theater in the little town of Fillmore, California. In 1949, at the age of nine, I paid my 10-cent ticket fee to see a movie called "Fighter Squadron" at the tiny Fillmore Theater. I still remember my seat, which was on the left side of the balcony in the "loge" section.
The endorsements of this book speak to its authenticity and distinct revelation of the "real facts"
about the air war in Southeast Asia. Russ Goodenough is a graduate of the United States Air Force Academy.
"This is a serious document about war, its history, its conduct, its folly, with lessons learned for soldiers, sailors, airmen and politicians. Russ Goodenough writes with passion. He knows of which he speaks. He has been there, done that. Feel the G's, smell the cordite. Strap in with Russ for a wild and dangerous ride through aerial combat in the Vietnam War."
Air Force Major General (ret.) Don Sheppard, former CNN Military Analyst and co-author of "Bury Us Upside Down".
"Using his personal combat logs and correspondence, Russ Goodenough creates and unparalleled account of the air wars in Vietnam and Laos during the mid-1960s,which beyond providing pinpoint details of combat operations, convincingly conveys the terror, exhaustion, and frustration experienced by American fighter pilots. His work goes far beyond the war story and stands as a damning condemnation of the political decisions that exposed aircrews to totally unnecessary levels of risk and the appalling loss of airplanes and lives."
"Although the knowledge I gained during a 1965 Pentagon assignment directed toward assessing the potential for escalation left me with serious doubts about the conduct of the war, I never understood the magnitude of the consequences until I read Russ' book. This is a landmark piece of literature that should be read by anyone concerned with the politics of war."
Robert F. Davey, MBA, PhD, USAF Instructor Pilot (F-5) during time of SSEA Air Wars; Author of "Moon War"; Professor Emeritus, Aerospace Engineering, California State Polytechnic University.
Purchase on Amazon https://www.amazon.com/Why-Johnny-Came-Marching-Home/dp/1544902336