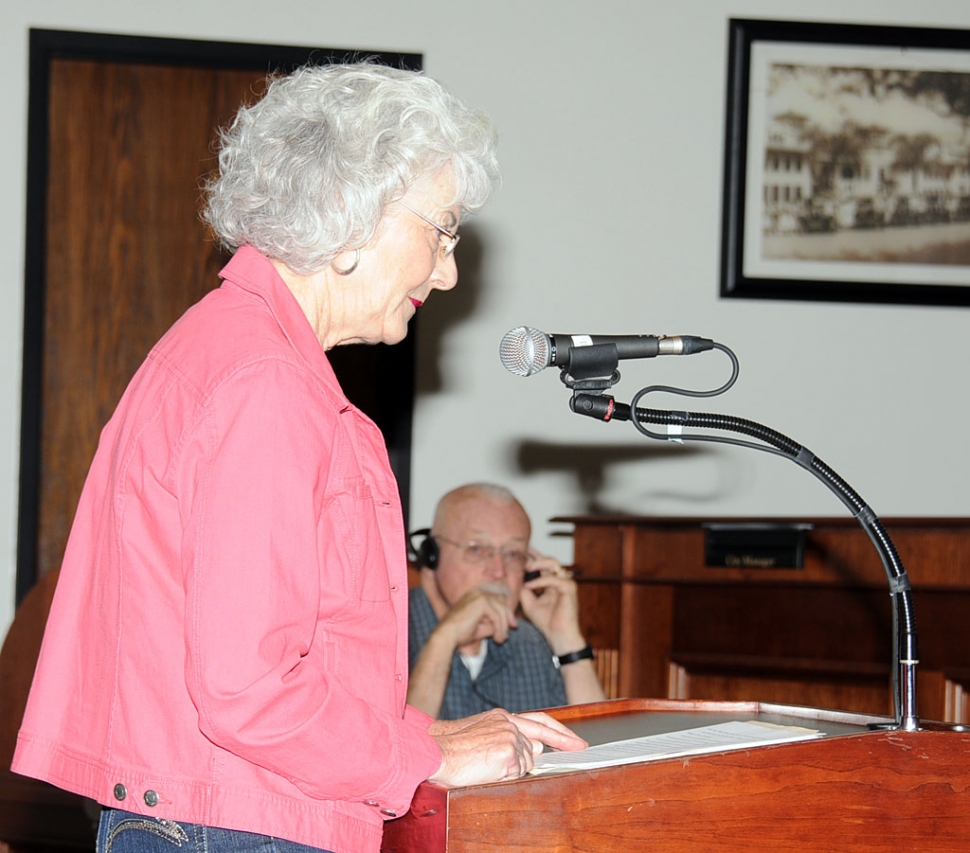 Jean Westling, speaking at the October 9, 2012 council meeting, with husband Clay Westling in background with headphones.
By Martin Farrell — Wednesday, October 10th, 2012
Thanks to the time spent researching a number of issues since Tuesday's council meeting, I have only a few minutes to summarize.
First, congratulations to Sheriff's Deputy Jerry Peterson on his retirement. He's done a great job for the past 27 years. I've seen him at high school events and at horrendous automobile accidents. He's always been there for us.
Jerry, I wish you and your family the happy retirement you richly deserve. You made a real difference in our quality of life here in Fillmore.
***
Bob Stroh and Gary Creagle – I'm posting that laundry list of answers you have been crying for these many weeks. It was written last week, but due to a lot of research (which is ongoing) the posting is late. Look for it here on Friday 10/12/12 (fillmoregazette.com by the way has 30,000 unique viewers per month in a town of 14,000. Can't be too bad!).
***
The reason I'm posting a photo of Clay Westling's wife, Jean, is because so many in attendance at the last council meeting were against it, and she demanded that I not do so. She is no doubt a lovely lady but I'm sticking to my story about Clay's incompetence and political bias. Ask those who have dealt with him pre-election. I reserve my First Amendment rights to take photos of anyone at public meetings. We need a new city clerk, one without a personal agenda.