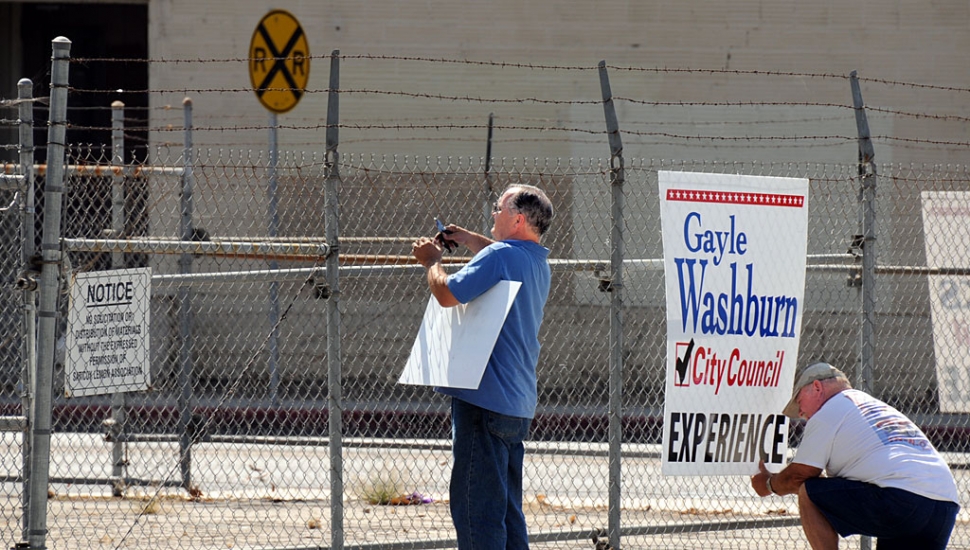 Council candidate Jamey Brooks and his Campaign Manager/Life Coach Gary Creagle posting unauthorized campaign signs last week. The property owner's posted sign is ignored.
By Martin Farrell — Wednesday, October 3rd, 2012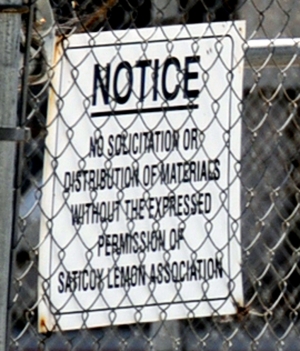 EDITED 10-4-12
This is a new one for me. Having promised answers to the laundry list of attack allegations made by Gary Creagle and Bob Stroh at last week's council meeting, I found myself finishing a very long editorial, too long for the print edition of the Gazette. I will, therefore, post it to fillmoregazette.com, and try to coble together some short comments here.
One purpose for Creagle's and Stroh's personal attacks on me is to distract from the coming election on November 6. I will try to focus on the election here, and finish answering their accusations online.
You hear this often, but it's never been truer today: This is the most important election in our country's history – and the same holds true with Fillmore's election for city council, city clerk, and city treasurer.
Clay Westling, our present city clerk, is campaigning with the other incumbents (see political signs). As sitting city clerk he should not cooperate in such a way. His position and duties are perceived to be more like a judge, independent and impartial. But he has proved to be a tool of the council majority, put in office through the efforts of Gary Creagle who remains closely associated with Westling and Jamey Brooks. It should be no surprise; his campaign manager last time around was Gary Creagle. He is inextricably bound to the (I must use this nickname again) Katzenjammer cabal.
Westling has proved to be a terrible city clerk. He's in charge of city elections and public notices. Yet he refused to provide candidate notice to the Gazette, the city's newspaper of record, or post that information in designated city areas. It was like pulling teeth to get him to finally send the official notice to the Gazette. Obviously he was resisting any public notice (except for a sheet of paper at the corner of his upstairs table in city hall) because he didn't want to have anyone else run against him. How easy it would have been for the incumbent to sail back into that office unopposed. Two weeks after he had filed his own papers he finally agreed (at the city manager's insistence and Gazette prodding) to have the candidate filing instructions published in the Gazette.
Westling also refused to accept candidate statements from Manuel "Manny" Minjares and Douglas Tucker until unnecessary changes were made. Instead of facilitating the election process, which was his responsibility, he seriously obstructed the process to his advantage. Westling is self-serving and far too close to the cabal to be an honest, independent, and objective city clerk. It is the city clerk who decides which public information will be released when requested. The Gazette has been trying to obtain information on one council person which is extremely important, and Clay Westling has, after four requests (FOIAs and RPIs)refused. This issue will be referred to the District Attourney's office very soon.
The main players (for years) in this cabal have been Gary Creagle, Bob Stroh, Jamey Brooks, Clay Westling, Gayle Washburn, Brian Sipes, and Patti Walker. A supporting cast of about 40 others stand at the ready.
To understand just how this group came to take over all city functions refer to Clay Westling's address to the city council on April 27, 2010, (see fillmoregazette.com) and ask yourselves what have they accomplished aside from confusion, acrimony, and deconstruction of the work of many previous city councils and city managers. This statement will also be posted separately online in the Gazette's "Politics" page.