By Martin Farrell — Wednesday, November 30th, 2011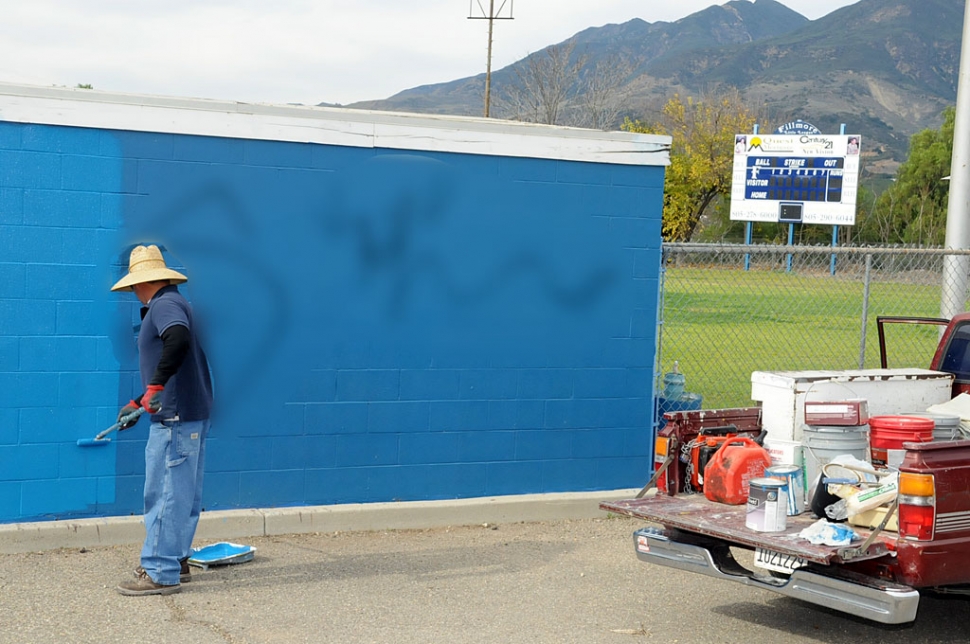 The tagging team that messed-up the town a few weeks ago has done it again this week. These little punks sprayed graffiti on several Sespe School walls, the School District building, softball field, Memorial Building, library, and elsewhere.
At a time when the city has laid-off scores of employees and staff at every level (who face the Christmas season without jobs) when the city budget is in the red, and with people running city hall who haven't a clue how to fix things, we now have to pay to paint-over this criminal scribbling. Records show that in the past graffiti removal has cost the city from $30,000 to $40,000 per year. That's wasted money – your tax money – that's money that could have gone into the school. It was your softball field, library, elementary school, and Memorial Building that was vandalized.
This is expensive, destructive, felony activity, and it's time to arrest these cowardly felons and put them in jail. These cowardly little bastards think it's great fun to hurt our community and steal our hard-earned money, just for kicks.
The Gazette will pay $200 for the arrest and conviction of any one of the five in this tagging crew. We will pay a $100 bonus for the names of this group's members. We don't need to know who provides this information, just call the Sheriff's Crime Stoppers at 800-222-TIPS (8477). Just think, you could earn an easy $300, plus up to $1,000 more that Crime Stoppers would add to the pot – just in time for Christmas!
So, if you're tired of having this little band of bed-wetters messing-up your town, it's time to give Crime Stoppers a call. They won't ask for your name – and you'll be a hero!
***
John Scoles, prominent Fillmore attorney and avid runner, was badly injured this week, in a collision with a vehicle, while jogging along the footpath crossing A Street. He is recovering at home after the incident, and expected to return to work in two weeks, according to his law partner Laura Bartels.
It is ironic in the extreme that John should have suffered this accident because he has lobbied our school district for years to be able to use the school track, as he had done for 40 years prior to the installation of our new all-weather track. He repeatedly told the district (and city hall) that it was both dangerous for joggers to use the streets, and physically (and unnecessarily) punishing. The District has stubbornly refused (until recently) to permit any public use of the new track, fearing damage due to vandalism or misuse. John has patiently addressed the necessity for public use in his numerous addresses to city hall and the school district, with only grudging success.
Had the public known that they would be excluded from the hugely expensive track before it was purchased, they would not have provided the funds. I distinctly recall extensive talks, and an agreement between then superintendent Contini and city hall permitting public use.
It's time to open that track!
Get well soon, John.